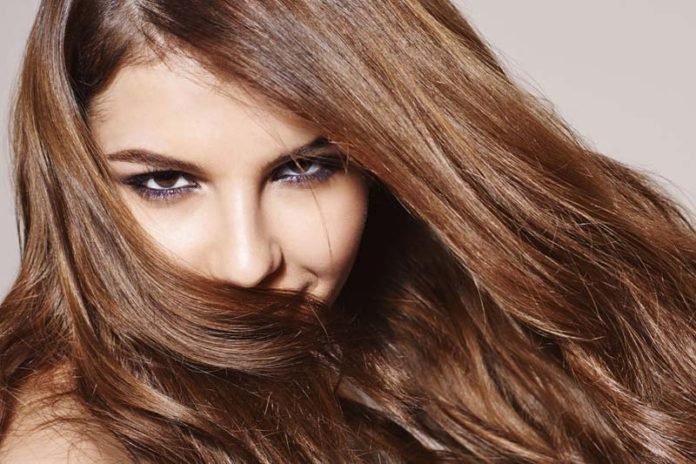 10 Amazing Homemade Recipes for Hair Growth : Whether you're looking for a way to make your hair grow faster and stronger without resorting to doubled edged solutions such as biotin; or whether you've noticed a few extra hairs on your pillow and are looking for a way to prevent the fall, these easy to make Homemade Recipes for Hair Growth can help you promote hair growth and also good for your skin without spending thousands.
1. Rosemary and Coconut Oil Hair Mask
Rosemary has wonderful properties for your hair. It can help strengthen its roots, grow it faster and even reduce the risks of dandruff which means that this wonderful smelling herb ca do wonders for your hair.
Mix from two to three drops of rosemary oil (essential oil works) in two tablespoons of oil. For smell purposes we recommend coconut and almond oil but avocado and olive work just as well.
Once the oil has been prepared, spread it over your scalp and massage it for a few minutes.
Leave the oil on for at least an hour then shampoo and rinse it out.
For better results rinse with rosemary water, which you can prepare by boiling rosemary springs in water. Let it cool before using it to rinse.
2. Castor Oil Hair Mask
Castor oil is rich in omega 9 and helps moisturize your hair, as well as fight scalp infections.
Mix castor oil with almond or coconut oil with a 1:1 proportion.
Gently massage it on your scalp.
Leave it on for about an hour, then shampoo and rinse.
For better results, use a deep cleanse or clarifying shampoo to shampoo it out.
3. Egg Hair Mask
Eggs are not only full of protein but also keratin, which can do wonders for your hair.
Mix two egg yolks with two tablespoons of olive oil until they're perfectly integrated.
Massage the mixture on your scalp and leave for 10-20 minutes.
Rinse thoroughly with cold water and shampoo it out.
4. Egg Hair Mask #2
If the first recipe doesn't work for you, try this one. This particular recipe is rich in protein and can help your hair become more manageable, though it requires a much more through rinse than the previous one:
Mix one egg, ¼ cup of plain yogurt and a tbsp. of mayonnaise until they're thoroughly integrated.
Apply all over your hair and cover with a shower cap.
Leave for half an hour and rinse thoroughly.
Rinse very, very well and blow dry it. If the smell hasn't disappeared, use some perfume.
5. Indian Gooseberry Hair Mask
Indian gooseberry not only encourages hair growth but it also helps reduce the appearance gray hairs.
Heat coconut or almond oil in a pan and add small pieces of indian gooseberry in it. Cook until they're charred.
Strain the oil, making sure to remove all pieces of charred berries.
Let the shampoo cool and massage it on your hair and scalp, paying extra attention to the later.
Leave the hair mask for half an hour before washing with mild shampoo and rinsing thoroughly.
6. Amla and Lemon Hair Mask
As we mentioned before, amla, also known as indian gooseberry, promotes hair growth. Coupled with lemon, it can help reduce dandruff while also stimulating circulation, growth and preventing hair loss.
Mix a tablespoon of amla powder with lemon juice and spread over your scalp, massaging.
Leave for twenty minutes before rinsing out thoroughly.
7. Lemon Juice Hair Mask
As mentioned, lemon juice can help stimulate circulation, prevent hair loss and even reduce dandruff.
Keep in mind that using lemon juice in excess can lighten your hair color so thread carefully.
Mix freshly squeezed lemon juice and coconut oil in a 1:2 proportion.
Apply the mixture to your hair and leave it on for 30 minutes. Remember to massage on your scalp.
Rinse thoroughly before shampooing it out with mild shampoo.
Rinse again.
8. Beetroot Juice
This isn't a hair mask but rather a recipe that can help encourage hair growth by supplying you with the right vitamins and minerals.
Choose the vegetables you'll use for your juice. Beetroot has to be an ingredient but not the only one, you can add apples, lime, celery, etc.
Wash your ingredients, pat them dry, peel and cut them.
Add all the ingredients in a blender and blend thoroughly.
If the consistency is too thick you can always add water.
Drink beetroot juice at least twice a week to get all the amazing hair and health benefits.
9. Fenugreek Hair Mask
Fenugreek seeds are rich in protein which can promote hair growth.
Leave 1 cup of fenugreek seeds in water overnight.
Take the seeds out of the water and grind them thoroughly. Use a food processor for best results.
Spread coconut or almond oil on your hair and then cover it with the fenugreek paste.
Leave it on for at least an hour before rinsing thoroughly and shampooing out.
10. Aloe Vera and Coconut Milk Hair Mask
The ingredients in this recipe not only smell great but also help strengthen your hair.
Mix ¼ cup of coconut milk, ¼ cup of wheat germ oil and ¼ cup of aloe vera gel. Mix thoroughly until all the ingredients have been combined.
Apply the mixture on your hair Leave it on for at least half an hour then rinse with lukewarm water.
Don't shampoo unless absolutely necessary.
What do you think about above recipes? You don't need any pots and pans or a cookware to make. They are very easy to follow, right? Make them now for hair growth.
Share with us your experience in the comment.
Thanks for reading!
You can read more about homemade recipes for hair growth at hairlossrevolution.com
If you wish to get your post published in Women Fitness Magazine, You are most invited for Guest Post.
Related Videos:
DIY : Hair Masks for Extreme hair growth
Fastest Hair Growth With This Magic Homemade Recipe 3 Ingredients Only!
Homemade Herbal Magic Hair Growth oil- Healthy,Thick Hair, Stop hair Loss,Herbal Oil for Hair Growth
How onion helps faster hair growth-DIY Magical Onion juice hair mask-how to make & Use
This is The Best Recipe For HAIR GROWTH FASTER. TRY IT and Be AMAZED!!
DIY Aloe Vera HairMask for hair growth
Top 10 Homemade Hair Mask Recipes for Hair Growth
Homemade amla hair oil for super fast hair growth/get thick soft shiny black hair
Home Remedy For Baldness & Hair Regrowth DIY
Extremely Effective Homemade Mask for Hair Growth
10 Amazing Homemade Recipes for Hair Growth
Brief Author Bio : 
Emma Claire

I'm Emma, and I'm absolutely in love with food blogs like Cook Novel. I'd like to share the interesting recipes, food tips and top lists of kitchen gadgets. I'm a foodie at heart but being the mother of 3 kids, it's not always easy to keep up with fancy dinners… so I rely on the support of other blogging moms like me to help along the way.
10 Amazing Homemade Recipes for Hair Growth
home remedies for hair growth and thickness, homemade tips for hair growth faster, how to grow hair faster naturally in a week, fast hair growth secrets, hair growth home remedies, indian home remedies for hair growth, Homemade Recipes for Hair Growth
natural hair growth tips, home remedies for growing hair faster and longer, home remedies for hair growth and thickness, hair growth tips in tamil, hair growth foods, fast hair growth secrets, what can you eat to make your hair grow faster,
hair growth tips in hindi, hair growth oil, Homemade Recipes for Hair Growth