12 Ways to Help Someone Living with Alzheimer's : Alzheimer's is a disease that causes one to lose their memory. Their behaviour and the way they think eventually gets worse over time and can start to interfere with their daily living. While we would love to help someone, who is living with Alzheimer's, we may not always know what to do or how to even deal with the situation, especially if it's someone who is close to you.
Make sure that you create an environment for them that is safe and loving where they won't be able to harm themselves. This blog will give you a better understanding of what you're dealing with. Here are 12 ways to help someone living with Alzheimer's.
Educate yourself about the disease
Develop a routine and a schedule
Do not argue with your loved one
Allow them to have some sort of independence when possible
Keep up with their medications
Be in the now with them
Exercise
Take care of yourself while you take care of them
Allow them to have fun
Remember they can still feel and be emotional
Keep life simple for them
Rely on family members to assist
Educate Yourself About The Disease


Educate yourself about Alzheimer's and learn everything you can about the disease. You will be able to empathize with your loved one when you do. Talk to their doctors and find out what you can do to help them live as normal of a life as possible. If you know what you're dealing with you may not become overwhelmed in the process.

Develop A Routine And A Schedule


Keep your loved one on a routine and schedule. This is very important as this can eliminate any type of confusion they may experience. By having a schedule and a routine, it won't be frustrating for them to try to remember what they need to do. There are benefits in routines for people who have Alzheimer's and if need be, they can always be simplified as time goes on.

Do Not Argue With Your Loved One


Arguing with someone who has Alzheimer's will only upset the person and agitate them even more. Focus on the way there are feeling at the time and be patient and understanding. You must be the one to just agree and let it go to prevent any type of argument. If they continue to grow agitated, continue to be patient and don't show that you are upset or angry. Keep your emotions in check for their sake.

Allow Them To Have Some Sort Of Independence When Possible


Try to keep them active and involved. The longer they can remain independent in their own space, the happier they will be. You may want to help them out in a lot of situations, but it's very important for them to do things on their own as they would normally do. You need to begin the activity to help them remember, then do so. But they should remain independent for as long as they possibly can.

Keep Up With Their Medications


Keeping up with their medications will help you not to forget the doses they need and the times they need to take them. You can purchase a daily pill box to keep you and them on track. Also, if you need to let doctors know what they have been taking and when it will be much easier to remember if you already have them listed. This is also good so that they aren't mixing certain medications together which could be harmful.

Be In The Now With Them


While it may be difficult and tempting to try to make your loved one remember certain things, they may not be able to. You can't take it personally and get upset because they can't remember certain things. Even if they don't remember you. You need to be where they are now in their head and continue to love and help them when needed.

Exercise


Your loved ones still need to remain healthy in the midst of what's going on. Plan a set time each day to do something physical so they can remain in shape it will not only help them mentally but physically as well. They may even enjoy the exercise.

Take Care Of Yourself While You Take Care Of Them


It's easy to lose yourself when you're taking care of someone else and neglect all of your needs. Remember to take care of you while caring for someone else. You can't be a help to anyone if you fall ill because you aren't taking care of yourself properly. Don't burn yourself out, and if you need to, try to find a support group for caregivers who are going through the same thing. Most times because you have the sickness and caring for someone in common you can share things that may be helpful to one another.

Allow Them To Have Fun


People living with Alzheimer's can still have fun and enjoy certain things like going to a park, a museum if they feel up to it. Anything that makes them happy and smile is a plus.

Remember They Can Still Feel And Be Emotional


While they may forget the events of their life, they will not forget how you treat them. It's important to still be kind and caring as they still feel the same emotions that relate to how you treat them. Try not to upset them.

Keep Life Simple For Them


Try to keep life as simple as possible for your loved one. As the disease progresses, you'll need to simplify even more.

Rely On Family Members To Assist


If you have family members that are willing to assist you so that you don't overwhelm yourself, rely on them on certain days. Make a schedule that works for everyone so that you all can take turns with your loved one. That tip alone can help your family out tremendously.
Living with Alzheimer's is not easy and taking care of someone with Alzheimer's is just as challenging. Stay informed about the disease and find support when you can.
Related Videos about Ways to Help Someone Living with Alzheimer's :
4 Tips in Caring for Someone with Alzheimer's
Loving Someone With Alzheimer's
How to Care for Someone Living with Alzheimer's, Dementia or Memory Loss
How to Listen to an Alzheimer's Patient (Support Podcast Health)
Caring for a Loved One with Alzheimer's Disease
Related Videos about Ways to Help Someone Living with Alzheimer's :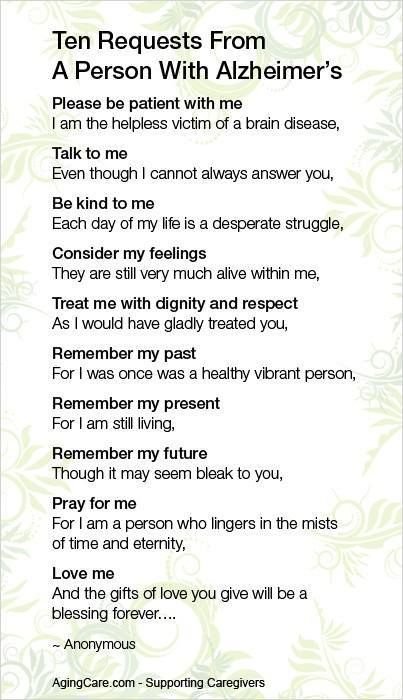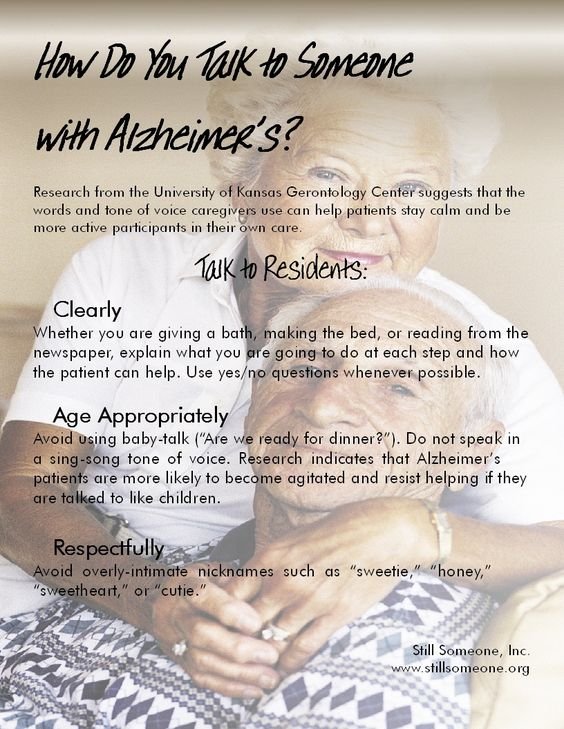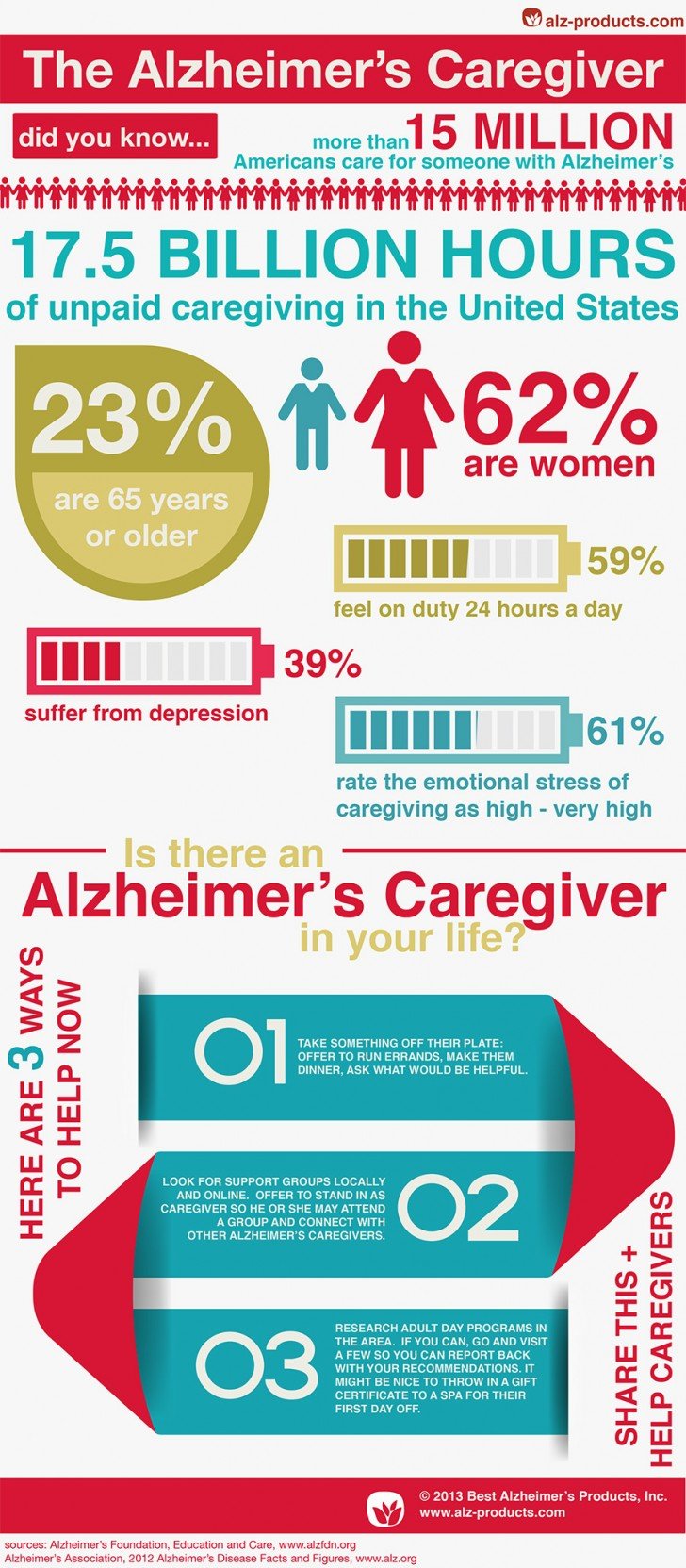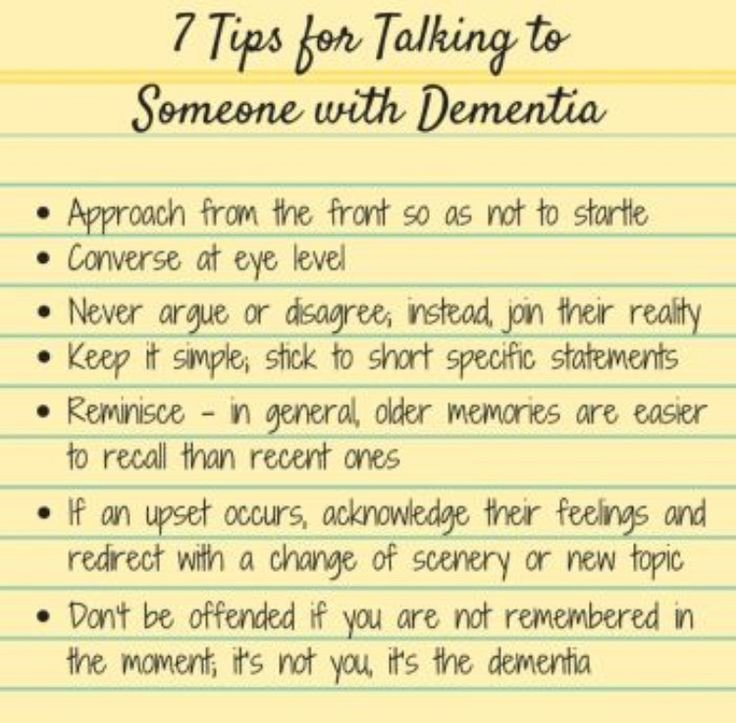 12 Ways to Help Someone Living with Alzheimer's
how to help someone with dementia remember, how to help someone with early dementia, how to comfort someone with alzheimer's, caring for someone with alzheimer's, caring for parent with dementia at home, caring for someone with dementia carers handbook, dementia tips for carers, how do you calm down someone with dementia?,