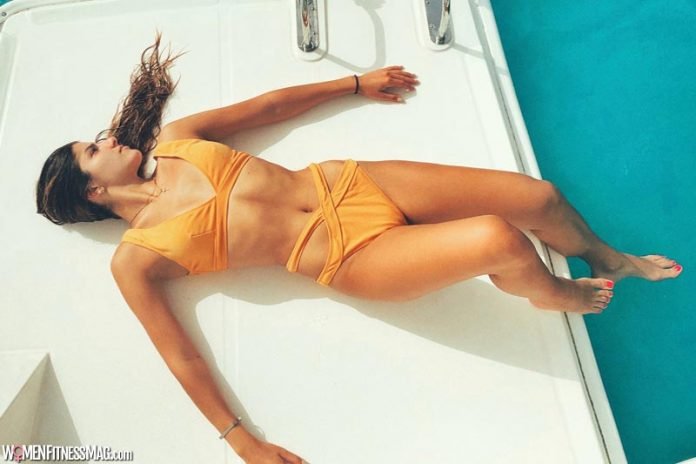 3 Celeb Inspired Swimsuit Styles You Need in 2020 : Warm days and balmy nights might be a way off yet, but that hasn't stopped us dreaming about our summer 2020 wardrobes. And with our favourite stars eschewing the winter weather for sun and sandy beaches, we've got no shortage of celeb inspiration for 2020's biggest swimwear trends.
With Miami Swim Week 2019 and the Instagram's of beach babes, like Elena Matei and Gigi Hadid as inspiration, we've come up with a list of 3 celeb inspired swimsuit styles for you to rock in 2020.
Animal Print

Animal Print Bikini

Resurfacing year after year, animal print truly is a swimwear trend that just won't quit. Animal print swimsuits are all about embracing your wild side and letting your confidence shine through, so it's no surprise that they're a clear favorite with some of the fiercest femme celebs around.

For inspiration, check out supermodel Elena Matei's shoot for Beach Bunny's 2020 campaign. Beautiful, blond Matei absolutely embodies the raw power of a jungle queen as she poses in a sexy tiger print bikini. We love the retro hi-cut style of the bottoms and that bling-factor added by the metallic ring detailing.

While leopard print is the timeless classic, we expect summer 2020 to bless us with some fashion-forward zebra, giraffe and even snakeskin swimwear.

French-Cut Bottoms

French-Cut Bottoms Bikini

High-cut swimsuits, also known as French-cut, have been popular since the 80s and this year is set to be no exception. The reason the Baywatch inspired style is so popular is that it's almost universally flattering. Even if you weren't genetically blessed with mile-long legs like Eva Longoria, leg openings that extend to the hip can help you fake legs for days.

On a recent Mykonos vacation, model sisters Bella and Gigi Hadid proved that French-cut bottoms are here to stay. The glamorous pair opted for a decidedly skimpy take on the classic, with Gigi posing in a tiny orange thong and matching bikini top. Not to be outdone, sister Bella was seen donning an equally high-cut white and black polka dot string bikini that left very little to the imagination.

Ladies, if you've got it, flaunt it!

Monokinis

Monokinis

First debuted in the 60s, the original monokini comprised high-waisted briefs attached to two thin straps. The straps started at the waistline and formed a halter around the neck, leaving the wearer's breasts completely bare.

Unsurprisingly, the very risqué monokini has been reimagined over the last decade and is now more like a hybrid between a bikini and a one-piece, connecting the top and bottom of a bikini with a strip. The style is perfect for ladies wanting to look a little sexy without bearing quite as much skin as a traditional bikini.

Our celeb inspiration comes from Kylie Jenner, who shared a snap with her 158 million Instagram followers of a gorgeous warm-toned monokini. The stunning monokini is decorated in brushstrokes of red and yellow that remind us of flames, licking their way up Jenner's toned torso. To complete the edgy look, a subtle, gold body chain runs just beneath her navel, attaching to the top of the high-cut bikini bottom. Kylie's look is sensationally sexy, but summer 2020 also promises to offer up a number of slightly more wearable styles, including classic black monokinis.
With so many hot new styles to debut, we can hardly wait for summer. Until then, we'll be on Instagram, wishing for the Hadid sisters' wardrobes.
Related Videos about Celeb Inspired Swimsuit Styles You Need in 2020 :
Get These Celeb Inspired One-Piece Bikinis
HOTTEST Swimwear Trends
NU WAVE SWIM Spring Summer 2020 Miami – Fashion Channel
IVY Swimwear Fashion Show SS2020 Miami Swim Week 2019 Art Hearts Fashion
VDM The Label Swimwear Fashion Show SS2020 Miami Swim Week 2019 Paraiso Miami Beach
WILDFOX SWIMWEAR 4K / Summer 2020 Bikini Fashion Show
CHLOE' ROSE SWIMWEAR Swimwear Spring Summer 2020 Miami – Fashion Channel
TOTTI SWIMWEAR Spring Summer 2020 BFW Minsk – Fashion Channel
Kai Lani 4K UNCUT / 2020 Swimwear Collection
POEMA SWIM 4K UNCUT / 2020 Swimwear Collection
3 Celeb Inspired Swimsuit Styles You Need in 2020
spring summer 2020 swimwear trends, swimwear trends 2020, celebrity swimsuits 2019, celebrity swimsuits 2018, celebrities in bikinis 2018, celebrities in one piece swimsuits, celebrities in swimsuits, beach trends 2020,