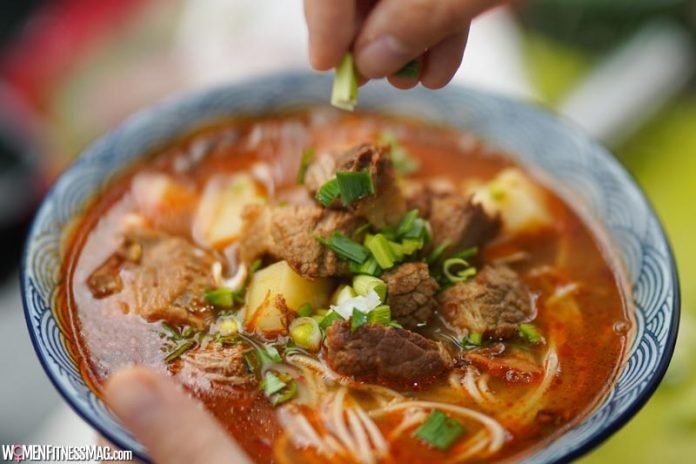 5 Easy Comfort Soups to Make this Winter : Each season has its own weather patterns, temperature, and light conditions that repeat every year. In the northern part of the world, winter starts on December 22 and in most areas, brings cold temperatures and the possibility of snow. The days get shorter as the sun goes down earlier and this is when we typically start craving those comfort foods like soup.
Soup has been around longer than any other food dish and is thought to have been on the menu for the past 22,000 years. It was probably made around the time that man was still eating raw meat since fire had not been discovered yet. So, the first soups were probably cold.
Today, we still have cold soups as well as hot and we even have dry soups and cubes of bouillon. Soup can be divided by thin, thick, cold, and hot varieties. The thin soups are broth, bouillon, and consommé. Thick ones include puree, velouté, bisque, chowder, and cream. Then there are the cold and hot soups, of which there are too many to list.
5 Easy Comfort Soups to Make this Winter
During the winter, we typically spend more time indoors and many people like to sit around the fire in the evenings to get rid of the cold chill of the outdoors. There is nothing better than having a bowl of soup around the fire with the family on a snowy December evening. Here are some of my favorite comfort soups for winter:
Easy Stovetop Beef Stew
Although some people may not consider this a soup, it is definitely a comfort food and something we enjoy when it gets cold outside. And our easy stovetop beef stew is loaded with chunks of tasty beef, buttery potatoes, sweet bell peppers, and tender carrots. You could also add in some mushrooms and other veggies.
In fact, this would be great with chunks of pumpkin, squash, and zucchini as well as corn, peas, and green beans. Start out with stew beef first so you do not have to cut it up yourself and make sure you brown it. This helps lock in all the juices. Don't skip the wine or the Worcestershire sauce. These really make the stew rich in flavor.
Homemade Turkey Soup
What do you do with all of your Thanksgiving leftovers? This homemade turkey soup is a fantastic way to use up your leftover turkey and vegetables. Just add some broth and noodles along with some of your favorite spices. Whatever veggies you have will work fine but we like celery, carrots, and onion in ours.
Since you are cooking with turkey, use poultry seasoning for the best results and if you use homemade stock or broth, this dish will be brimming with flavors. Add whatever pasta you have on hand and some flour for thickening and then serve it with a chunk of Italian bread.
Homemade Chicken Noodle
We all love chicken noodle soup and this one is perfect for the chilly temperatures that make you want to curl up on the sofa. You may have heard that chicken noodle is good for illnesses, and this is actually true. The broth is full of vitamins and minerals and will help rehydrate you when you have a fever.
It does not matter whether you use chicken breasts, thighs, or even a rotisserie, any kind will work great in this dish. We used egg noodles but any noodle you choose is fine. Add carrots, onion, garlic, and some herbs like parsley, thyme, and basil and cook for about 20 minutes. For the creamy version, add milk or heavy cream.
Crack Chicken and Dumplings
Try our new version of chicken and dumplings and you may never go back to the original recipe again. With hunks of tender chicken and homemade dumplings, this dish is a comfort food that dates back to the depression. This recipe still has the basics with peas, broth, and chicken, but we put a different spin on it.
The ranch seasoning brings a tangy taste that you would not expect but will definitely love, and the bacon and cheese add protein as well as extra flavor. The dumplings are easy to make and turn out tender and juicier than any you can buy in the grocery store. Top it with more bacon and green onions before serving.
Beef and Macaroni Soup
With a bowl full of fresh vegetables, ground beef, and tender noodles, this recipe for beef and macaroni soup is perfect for those chilly nights by the fire. It is so easy to do and takes less than 30 minutes so you can whip this up after work for a quick weeknight dinner. You can use any kind of noodles, but we used elbow macaroni for ours.
The beef broth and Worcestershire sauce are two of the main important ingredients along with the Italian Seasoning and minced garlic. All the herbs and spices get absorbed by the pasta and veggies, so you get a mouthful of flavor in every bite. Serve with garlic bread and a nice side salad for a hearty winter meal.
Related Videos about 5 Easy Comfort Soups to Make this Winter :
best healthy soup recipes for better immunes | tasty and filling soup collection | soup recipes
5 Soups To Warm The Soul
Healthy And Hearty Soups That Will Fill You Up
6 Soups to Keep You Warm This Winter | Easy Soup Recipes
Ginger Garlic Soup | soup for cold and cough | Healthy Soups | Vegetable soup | soup recipes
5 Simple Soups To Warm Your Soul
5 Easy Comfort Soups to Make this Winter
12 favorite winter soup recipes, creamy soups for winter, comforting winter soups, list of soups and stews, easy hearty soup recipes, winter soups and stews, thick, hearty soups, hearty soups and stews,