Awesome Benefits of Muay Thai for Fitness : Muay Thai has become one of the best and trending forms of exercise. Also well known as the "art of eight limbs," it is characterized by the use of fists, shins, elbows, and knees.
Strikes are thrown from mid, long or a close range. Any form of physical activity like walking around does a lot to your body than just sitting the whole day. But what if you considered trying this type of boxing?
Muay Thai is one of the most effective ways to get the shape and still maintain your physical health. There's a lot of fun too involved. Though it calls for athletic qualities, benefits of practicing it are countless.
To be more convinced, here a few other advantages that should make you try this kind of boxing.
Stress Relief
This is one of the best solutions Muay Thai Hong Kong can provide for you. Living in a very chaotic and noisy world, you often accumulate a lot of stress. You need an outlet so as to avoid breaking down.
There's often a good feeling to hit something when annoyed and the experience leaves you relieved! Intensive martial arts like Muay Thai Hong Kong enable you to concentrate on nothing else but you. You are able to connect with yourself.
Doing something that detaches you from the daily routine really does well for your mental health.
Ability to Defend Yourself
As you've seen, Muay Thai involves punching, knee strikes, elbow strikes, and kicking. These techniques will eventually translate to powerful self-defense skills later in real life.
The training is whole round and gives you self-confidence. After the training, you already know how your body will react in different situations. This type of attitude is key when it comes to self-defense. Facing a different and more capable opponent each time will teach you important lessons.
The person in front of you may be physically stronger than you are, and will outstand you. This becomes true when you progress and probably face the same opponent in the future.
No one ever wants to be in any threatening situations. Men and women can, without doubt, benefit from learning this kind of martial art.
Socialization
You will find a strong sense of comradeship at Phoenix Fight Club Muay Thai gym. This is because of the common interest of working toward self-improvement. Dirt, oil, and sweat are shed during the process.
These way great friendships are created while they stay together. There's a beautiful opportunity for you to meet people from different walks of life.
As you grow older, you tend to lose friends on the way as they pick responsibilities. Here at the gym, you've got the chance to interact and form a new circle of friends again.
In summary, Muay Thai Hong Kong is the place to be if you want to take better care of yourself.  You are never late to start appreciating your body and nurturing it. Also, when starting to practice any type of sport, there's a risk of injury. So it's important to inform your healthcare professional before or after the exercise.
Related Videos about Awesome Benefits of Muay Thai for Fitness:
Female boxer Arifa from Jordan trains at Tiger Muay Thai, Thailand
The Women of Tiger Muay Thai
Muay Thai Training & Techniques
Female Muay Thai Training
BEST Muay Thai Motivation For GIRLS
Muay Thai Training – A day in the life – 7 Muay Thai Gym (Thailand)
Related Infographics about Awesome Benefits of Muay Thai for Fitness: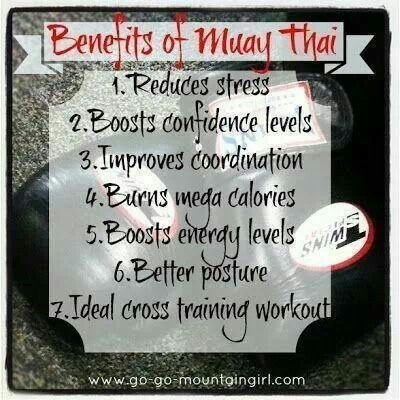 Awesome Benefits of Muay Thai for Fitness
muay thai workout benefits, benefits of muay thai for females, muay thai mental benefits, muay thai effects on body, muay thai body transformation, muay thai body shape, muay thai benefits weight loss, muay thai body transformation female, fitness with Muay Thai program