Chef Mel aka "The Happy Chef" Announces Culinary Quickies Book Series : Chef Melanie Alafaci, aka 'Chef Mel, The Happy Chef', is pleased to announce her ongoing cook book series, Culinary Quickies, which will work in conjunction with her current running YouTube series, Chef Mel TV.
An executive chef, culinary personality and founder of the cooking School, Vanilla Zulu, Chef Mel is making cooking fun again for both professional and amateur chefs. Her teachings include cooking tutorials, recipe ideas, making anything look spectacular with even the most basic of ingredients, as well as plate presentation, and valuable 'cheffy' skills. Chef Mel's enthusiasm, confidence and culinary know-how promises her readers will live happily ever after in their kitchens.
We chewed the fat with Chef Mel to find out what butters her biscuits:
What made you decide to be a Chef?
I was born to a mother and father that lived in the Zambezi Valley bush in tented camps. My father was one of the last 'bushmen' employed to control the spread of Tsetse flies in the early 70's. My family fled the Rhodesian Bush War for rural South Africa in the early 1980s after two family members were shot and killed in the worst of it in 1979. Melanie remembers walking over the border with nothing but two suitcases, her father's hunting rifles, and the clothes on their backs.
Cooking quickly became a comfort for me, growing up on remote farms where entertainment was sparse.
My parents intuitively gave me a cookbook at age five and my older brother would read the recipes aloud while I concocted my food masterpieces. Having fresh produce and plenty of time, and glamourous recipe books and magazines from the local library, meant I had hours of culinary practice. Yes, I was always going to be a chef!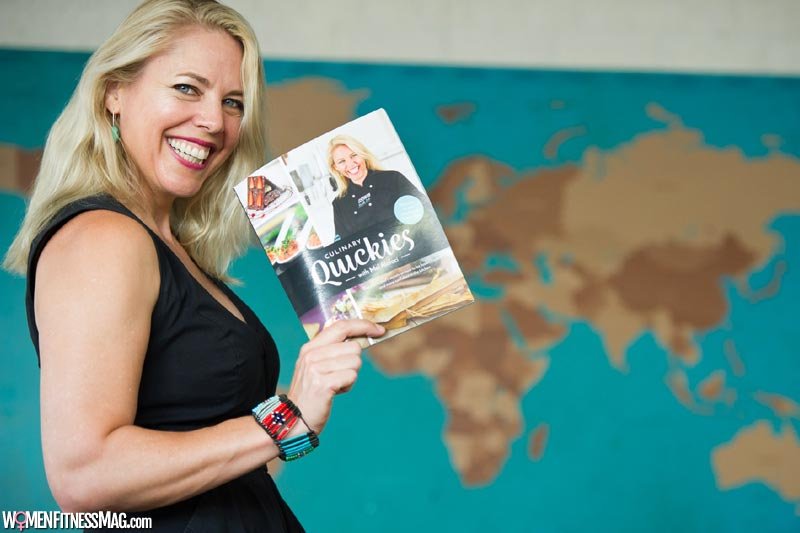 Which 5 words best describe your cooking style?
Colorful, Delicious, Creative, Simple, Versatile
What Kitchen Utensils can you not be without?
I really can be quite thrifty with equipment, so I don't really need all the latest gadgets.  My absolute musts are a sharp knife, a chopping board with a wet cloth under it so that it doesn't move when I chop, my pretty blue kitchen aid stand mixer, and my trusty airfryer!
What is an overrated food trend right now and why?
Plant-based meat…there are so many other beautiful and creative and versatile ways to make absolutely stunning vegan and vegetarian meals, I think that trying to make vegetables look and taste like meat is completely overrated.
What 5 ingredients can you not live without?
Crushed tomatoes/tomato passata, a sexy, fresh, robust extra virgin olive oil, cheese! (I usually have Pecorino, Parmesan, Mozzarella and an aged Cheddar), Moroccan spice and coconut cream
What is one of the most underrated ingredients and why?
Fresh spices!  Most people don't realize that ground spices have a sell by date, and that old spices have lost all of their flavor and personality, that is when your cooking starts tasting disappointing!  I recommend roasting and grinding whole spices just before you need them, or at least keep your bottled, ground spices in the freezer to keep them fresher for longer. I always say OLD SPICE is a men's deodorant and doesn't NOT belong in your cooking!
What is your favorite dish to cook and why?
That's a tough one.  I love cooking all styles of dishes, to me it's about what I found fresh and gorgeous at the store, what the weather is like…and who I'm cooking for. Top one is probably crispy skin salmon!
What should people not be afraid to cook?
I have a list!  Crème Brulé, steak, fish, any type of stir fries!
What advice would you give to the home cook?
Step away from the pan – stop stirring so much. Sometimes food just needs to be given some time to brown off and seal to perfection. Keep the sizzle up in the pan, especially when cooking meat or mushrooms.
Season your food – a simple salt and pepper seasoning can bring most ingredients to life.
Learn how to sharpen your knives…and ALWAYS put a wet cloth under your chopping board to stop it slipping.
What do you always avoid ordering on a menu?
Gnocchi! I know how cheap and easy it is to make!
Favorite late-night snack?
Ice cream
What is your guilty pleasure?
Almond Croissant or Baked Cheesecake…unfortunately I have been cursed with a sweet tooth.
Go to meal when you are super low on time?
Buddha Bowl – throw raw veggies, avocado, chickpeas, and cheese, and a dollop of mustard mayo
Easiest meal to impress someone?
Death by Chocolate Brownie…or freshly baked focaccia with my famous whipped truffle butter
Who is your food icon?
Jamie Oliver…I love his passion for putting basic ingredients together. He's a no fuss chef, just like me.
Who are your fantasy dinner party guests and what would you cook for them?
Ellen Degeneres– I know she would enjoy my signature Vegan Tower of Pleasure.
Arnold Schwarzenegger – I want to workout with him before I feed him (I'm a fitness junkie).  I think Arnold would enjoy my Vegan Tower of Pleasure as well!
Dwayne Johnson aka The Rock – I also want to work out before I feed him, and I was thinking of a dough kneading competition between him and Arnold…bliss!  I think Dwayne might enjoy my famous change your life bolognaise, or maybe my Crispy Skin Salmon on lemon pea puree…
Morgan Freeman – who has coincidently been in every single one of my favorite movies. I'm not sure what his favorite meal is, but if he could also narrate the menu that would be amazing.
Agneta from ABBA – I think Agneta deserves my death by chocolate platter featuring spiced ras el hanout brownie house
What is your death row meal?
An entire baked New York Style cheesecake with a tub of vanilla gelato and a tub of whipped cream…all to myself.
You are from South Africa, what should Americans know about South African cuisine?
South African cuisine is very multicultural. The food is amazing, with influences from Italy, Greece, Portugal, Malaysia, The Netherlands, Germany and India to name a few.  Those cuisines, combined with an African flair, make for some absolutely delicious combinations. Sharing and eating food is a cultural pastime, it's one of Africa's favorite things to do.
What news or products can we look forward to from you?
I'm working on launching my amazing range of food products that are designed to make life easier in the kitchen!  I've called the range a Chef's Toolbox, because I believe having these products handy in the kitchen will allow you to be more creative and have some serious culinary fun.  I'm also just about to publish my second book, Culinary Quickies – Dinner Inspiration, featuring more quick, easy and absolutely clever recipes to dazzle yourself and your guests.  I really do want to inspire more people to fall in love with their kitchens and homemade food all over again!
Author:
Chef Mel, aka The Happy Chef, works to teach new and seasoned chefs how to be happy in their kitchens again by cooking with happiness, confidence and love. Her cookbook, Culinary Quickies, won the International Book Award and was a top finalist in the United States. To learn more about Chef Mel, please visit YouTube series, Chef Mel TV.
Chef Mel aka "The Happy Chef" Announces Culinary Quickies Book Series
Chef Mel aka "The Happy Chef" Announces Culinary Quickies Book Series