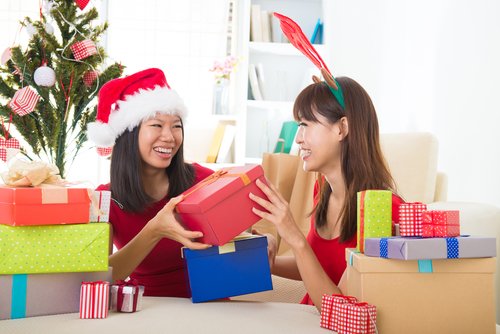 An older sister is a defender, listener, conspirator, sharer and counselor. Having an older sister is like having a good friend. Although it seems easier to buy a perfect Christmas gift for an older sister than for an older brother, sometimes it's hard to choose the best present. Here are 8 best Christmas presents your older sister will definitely like.

1. Books
They say a good book is food for the soul. If your older sister is fond of books, why not buy the book of your sister's favorite author? Even in the age of the Internet, books are still popular. This is why they top my list of the best Christmas presents for your older sister.
2. Spa gifts
Each girl and woman love to be pampered. Spa gifts have always been amazing presents. Don't worry, spa gifts are not as pricey as you think. You can buy spa products depending on your budget. Put them together in a Christmas basket and allow your older sister to indulge in a bit of luxury this holiday season.
3. Movie passes
I don't know any girl who doesn't love a great movie and I'm pretty sure your sister likes movies as well. So if there's a movie releasing on Christmas and your sister wants to watch it, it's a nice idea to present her with movie passes. She can go out with her best friends or you could go with her and have some fun together.
4. Chocolates
Chocolates and women are known to be inseparable. A big box of chocolates is a wonderfully delicious Christmas gift that your older sister will definitely like, especially if she can't live without a small piece of chocolate a day. If your sister on a diet, it's better to choose a dark chocolate.
5. Photo gifts
When it comes to purchasing a Christmas present for your older sister, money is not a big criterion. Sometimes priceless presents are the best ones. If you don't have enough money to buy an expensive gift for your sister, a picture of the two of you can be a wonderful gift.
6. Espresso machine
Most people like coffee. A contemporary and elegant espresso machine can be a good kitchen companion of your sister this holiday season, of course, if you've saved up for it. Sure, you could choose the espresso machine that fits your budget, but avoid buying a cheap espresso machine.
7. Ugg boots
Yes, the right size ugg boots can also be a great Christmas present for your older sister. They will keep your sister warm and highlight her sense of fashion. And when combined with the right and beautiful kind of clothing, a pair of ugg boots looks awesome.
Christmas Presents for Your Older Sister