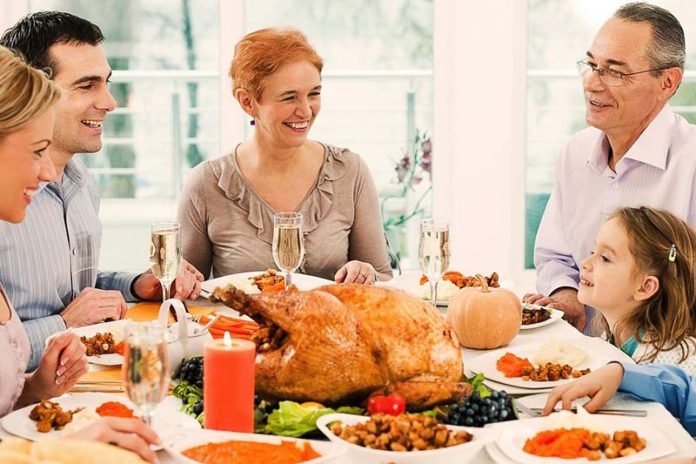 De-Stress Thanksgiving: Thanksgiving can be one of the most hectic holidays. The sheer amount of food your family is expecting can overwhelm even the most level-headed mom. With a few easy tricks, though, the day can go so smoothly you'll actually have time to sit back and watch some of the game with your family.

How to enjoy De-Stress Thanksgiving
1. First things first
Start your cooking the night before. Now this doesn't just mean make sure the turkey is thawed. By getting your prep-work and other smaller dishes out of the way the night before, Thanksgiving Day will be much easier. A great trick for speeding up the time you'll spend in the kitchen is to boil and mash potatoes the night before and let them sit in a crock pot with all the mix-ins overnight. All that's left the next day is to turn on the heat and let them warm up.
2. Think of your side dishes
Most of your side dishes can be started the night before as well, removing the stress of prepping from three in the morning 'til noon. Roasted vegetables can be peeled and chopped the night before. Green bean casserole can be mixed the night before, leaving just the topping off. Veggies for a side salad can be cut and stored in a large Ziploc container. Do you want to sneak some extra vegetables onto your kids' plates? Slice some Brussels sprouts and bacon to brown in a pan the next day and top it with parmesan cheese. This dish will taste so good they'll forget they've got Brussels sprouts on their plate.
3. Cranberry sauce
Homemade cranberry sauce can be thrown together in an hour's time the night before too, and everyone will be thrilled it's replacing its canned counterpart. Nothing beats fresh cranberry sauce, especially when you can add a splash of orange into the mix and give your cranberry sauce a zing you'd never find from a can.
4. Desserts
Likewise, desserts are easily prepped the night before. An apple pie can be thrown together with a spritz of orange or lemon juice to help the apples stay crisp, ready to be baked the next day. Rather than putting out a plate of cookies, bake your favorite kind of cookie the night before and serve them as ice cream topping in martini glasses. Put together a ring mold of juice and fresh or frozen berries to put out in a punch bowl. And to spice up a Thanksgiving favorite, try a pumpkin cheesecake rather than the classic pumpkin pie.
5. Invest in a large roaster oven
As for the day off, most of your work should be done for you. The biggest struggle of course is the bird itself. Instead of taking up your entire oven with the turkey, invest in a large roaster oven that can sit on the counter. The only prep-work that's going to require counter space the day of is stuffing the bird, and then everything else will just need to be cooked. Although the skin won't be quite as crispy in a roaster over, the meat will be twice as juicy. And after the turkey starts cooking, all that's left is figuring out when to place everything else in the oven.
So, instead of spending this Thanksgiving a slave to your kitchen, do your prep work the night before and give yourself time to enjoy the day with your family and be thankful for everything in your life. Do you have any tips for a stress-free Thanksgiving Day? Share them with us please!
Related Videos on De-Stress Thanksgiving :
How to Have a Stress-Free Thanksgiving
How to Plan the Perfect Thanksgiving
Tips For Stress Free Thanksgiving Cooking
HOW TO HAVE A STRESS-FREE THANKSGIVING!
Have a Stress-Free Thanksgiving
De-Stress Thanksgiving
no stress thanksgiving, thanksgiving tips and tricks, thanksgiving life hacks, thanksgiving tips for healthy eating, funny thanksgiving tips, De-Stress Thanksgiving, planning thanksgiving dinner checklist, creative ideas for hosting thanksgiving dinner, thanksgiving planner printable, thanksgiving food checklist,
De-Stress Thanksgiving