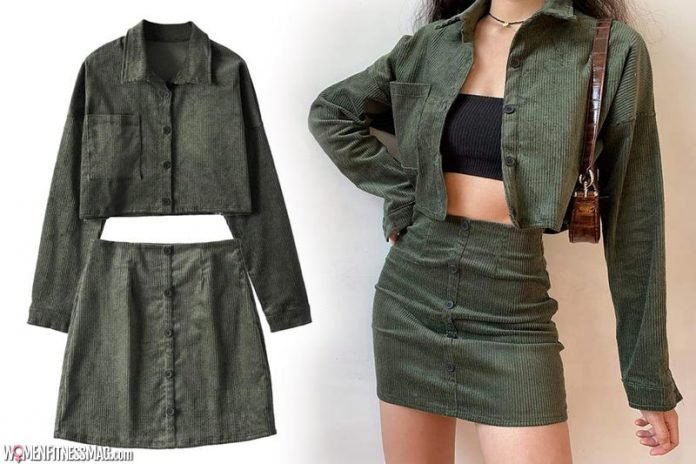 Elegant Ways Of Wearing Two-Piece Skirt Set : During quarantine, most women have not dressed up till their waistline. Perhaps, it is alright to share that some muscles become habitual to casual wear. Now, it is time to gear up some motivation to get on the floor with shimmer. Are you scared of visiting public places out of your comfort zone?
By the way, you are not alone in the struggle. Once you come out of a nutshell, everything will look perfectly accomplished with maximum beauty and little effort. Wear your lovely two-piece skirt set to rock the world. Who runs the world? Girls!
Select neutral color palettes


No one looks fabulous while carrying the same color from head to toe. It even ruins your ideal personality like trash. Obviously, no one wants to look like a comedian. So, select the best color theme according to your skin tone. Every skin color is beautiful, and you should enhance your beauty with a silky touch of neutrals.

Moreover, you can add spice to your outfit with a combination of a sugar brown and a creamy white color. Are you ready to highlight your event? Assuredly, you will steal the charm of the night.

Comfort zone with popping colors


Are you obsessed with matching co-ords? Never mind! Add some popping colors to your life. For a calm look, carry a bright-colored jacket over your shoulder. You would not believe it, but your pictures or selfies will reach the top level. When the sun starts to shine, they expect you to give a matching vibe to the brightest sun. Here is the honest advice! Go with a neon jacket in the morning. It is perfectly well for a brunch day. Your colleagues will make you a role model in terms of fashion.

Step outside with a fabulous top


Every co-ord will look iconic with the addition of an oversized cardigan. If you are planning for semi-casual attire, cardigans are the game-changers. In traditional times, women matched the top with a mini-skirt with elegance. Likewise, the modern world keeps going with the same trend of wearing it.

Luckily, it has become a favorite part of a corporative look. You can recreate a formal look with a long coat or a blazer. The people surrounding you will surely appreciate the styling hacks. A fashion can never go wrong with the fusion top.

Chill out with loungewear co-ords


A fitness freak can utilize loungewear countless times for a spotlight. A perfect gym look also adds value to your personality. A kneaded tracksuit will level up your game to win the hearts of your fans. If you are a social influencer, you are required to pay more attention to your everyday looks. A bombshell trackies for a cardio class will gather your fans like a fire. It is better to choose matching co-ords with the same color. If you want to achieve a bold look, textured pants with a plain top are the ideal choice.

Mixing looks for a great combo


Are you tired of the same fashion trends coming on your way? Conceal your sorrows because recreation will be a fun job. Wearing a loose top matched with an animal-printed design will be alluring while wrapping it with a decent belt. For a formal look, take a soft bright belt to give you a minimal look.

if you are willing for an unusual change, wear a skinny sweatshirt as a top. It will undoubtedly produce an attractive vibe all around you. Mix and match something unique from your wardrobe. We guarantee that your latest wardrobe will recreate you with your predicted terms.
Conclusion
Thanks a lot to reach the end of the article. We have trained you enough to beat the heat with perfect ideas for wearing Two-Piece Skirt Set. You can solve your queries while contacting us. We will find you soon the best solution. Now, we'd like to end this article. Till then, smash your beauty game!
Elegant Ways Of Wearing Two-Piece Skirt Set
two piece outfits skirt and top, two piece outfits for ladies, two piece outfits pants and top, elegant two piece pants set, two piece sets boutique, two piece dress, elegant two piece dresses, matching crop top and pants set,