Health Supplements Guide: Power Up Your Wellbeing : There are many ways to naturally maintain your health such as eating healthy, avoiding cigarettes and alcohol, getting enough exercise, etc. However, as much as we try to eat healthy and exercise, with the busy lifestyles we lead, it's often impossible. So, you may want to include some quality health supplements in your diet to give your well-being an additional boost.
But it's important to know that the supplement industry is unregulated. And as such, there are many products that claim to be effective when in reality, they're not. And even worse, many supplements can be dangerous and contain unwanted substances. So, if you're looking for a reputable brand of supplements for all of your needs that's been thoroughly tested and found to be safe, browse through the wide range of Blackmores online or at your local pharmacies.
About Blackmores
Since their beginnings in the 1930s, Blackmores have  been a leader in the supplement industry. The company was founded by Maurice Blackmore – an English immigrant with ideas about revolutionising healthy eating. He believed that the health-giving properties of herbs and minerals can be used to develop an innovative healthcare system.
Maurice also started one of the first health food stores in Australia and established the first naturopathic college in the country – with the help of his colleagues and friends. Even today – many natural health practitioners implement his teachings. In 1975, his son Marcus took over the business with the same enthusiasm for natural health remedies that his father had. He furthered the vision of Blackmores as one of the leaders in natural health in the world.
Range of Products
If you browse through the range of products from Blackmores online, you will notice that this brand is quite versatile – targeting various health issues and nutritional needs. You can find health supplements containing different vitamins and minerals, all with a different role for the body. The following products are definitely their most popular ones.
Blackmores Cholesterol Health for reducing cholesterol buildup in the body;
Blackmores Hair, Skin & Nails for maintaining them strong and healthy;
Blackmores Macu-Vision for maintaining healthy eyesight;
Garlic 3000 formula for improved immune system and general health;
Blackmores Glucosamine Sulfate which promotes joint health, mobility, and flexibility;
Blackmores I-Folic and Pregnancy & Breastfeeding supplements for a healthy mom and baby.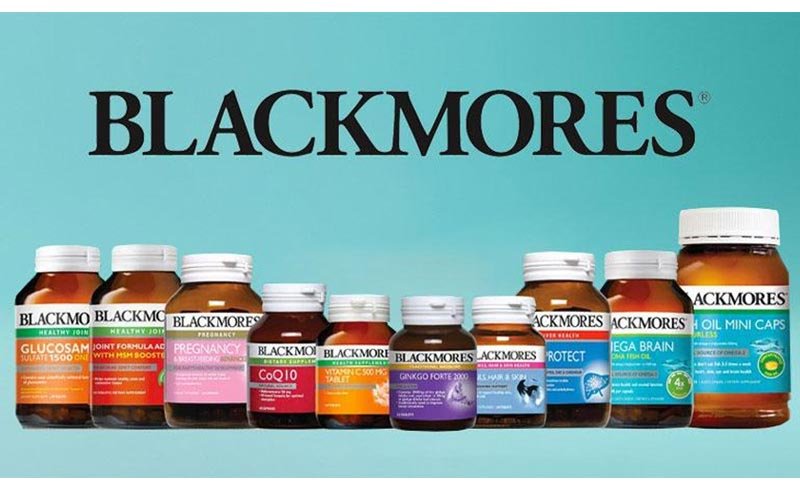 Blackmores is well-known for putting the well-being of their customers at the forefront of their operations. This is why they use premium ingredients gathered from all over the world. What' also unique about Blackmores health products is their high-quality and versatile ingredients.
This innovative brand stops at nothing to deliver the best solutions for your health. For example – their vitamin C supplement contains additional mineral ascorbates that make it gentler on your stomach. It also contains rosehip and acerola, which are natural sources of vitamin C.
Quality and Safety of Blackmores Products
You can always be sure that a Blackmores product is top quality, given the premium ingredients that they use and the extensive testing that these products go through. The company has enlisted a strategic sourcing team with the responsibility to maintain supply chain transparency. This helps safeguard the quality and alignment with their principles of sustainability. For example, the company conducts audits of the fisheries they source their fish oil from and keep records of the fishing zones for each batch that is used in their products.
After the knowledgeable team of formulators (naturopaths, chemists, scientists, and pharmacists) develops the product, it passes through more than 30 quality tests and checks before it's released on the market. Unless a product meets the company's high-quality standards – it's simply not accepted. Blackmores' primary concern is the health of their consumers, so they guarantee the highest quality inside every bottle of product.
Apart from that, Blackmores strives to be a leader in the field of innovation. They have invested a large part of their budget in scientific research every year in order to offer better health solutions to their customers. They invested in over 74 clinical trials, research projects, and academic activities in 2018, for example.
Are Blackmores Products Sustainable?
A healthy planet means healthy people. And this is exactly what the Blackmores group has recognised and is strongly committed to ensuring sustainable practices across their business. This includes their goal of zero carbon emissions by the year 2030.
Blackmores is extremely proud of the progress in reducing their carbon footprint. Every day they're striving to ensure that their supply chains are ethical and sustainable. Despite the challenges in waste diversion (which were additionally impacted by the pandemic), this company still delivers sustainable and high-quality products. Here are some of their recent achievements when it comes to helping the environment:
They managed to drop their carbon emissions by 162 tonnes despite the first full year of manufacturing;
They use renewable sources for 25% of their energy needs;
They've developed a Financial Sensitivity model to calculate what climate impacts can potentially result from their future endeavors;
They've developed eco-friendly and 98% of their packaging is recyclable with the goal to get to 100% by 2025;
Improved safety and sustainability systems.
Giving Back to the Community
The Blackmores Group is committed to giving back to the communities that they operate in all across Asia-Pacific. They want to make a difference by helping to support the development of healthier communities and donating to charitable organisations. With their dedication to a variety of social concerns, this inspirational company is helping to shape a brighter tomorrow.
Employees at Blackmores are also urged to participate in a donation scheme that deducts 0.5 percent of their taxable pay into an interest-bearing trust account. This sum will be matched by Blackmores and donated to the employees' registered charity of choice. Throughout the year, Blackmores contributes to various community groups, fundraising efforts, and public awareness campaigns.
Project Kindness
This project is the company's way to give back to the local community of Malaysia. It's led by 91 employees in Kuala Lumpur who team up with a local Café to serve over 7 thousand meals to the homeless and hungry. Blackmores believes that a little kindness can go a long way – not just one day a year, but all 365 days.
Other similar projects include helping the victims of Typhoon Damrey by cleaning up and repairing their homes.
Conclusion
Blackmores is an Australian industry leader in health supplements for over 80 years. This brand has a passion for delivering high-quality and rigorously tested products. Whether you're looking to improve your diet, or you need help with treating a certain health issue – check out Blackmores online and you will find a solution.
Related Videos about Health Supplements Guide: Power Up Your Wellbeing :
Health Supplements Guide: Power Up Your Wellbeing