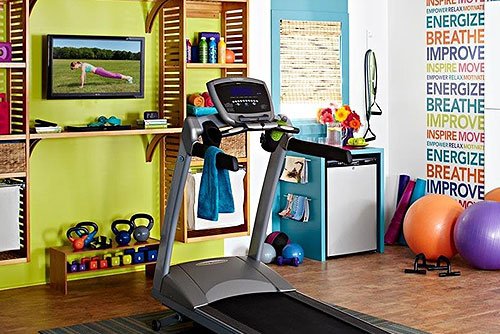 A gym membership is notoriously useless. One way to circumvent the crowds, having to wait for your favorite exercise machine to be free or just paying every month for a club to which you never go is to create your own dream gym at home. For inspiration, here are examples of the home gyms we love:
Keeping it simple
In your own little corner of your own little room, it is possible to have a full array of equipment that will provide a well-rounded workout in the privacy of your own home. While this arrangement may seem modest, it offers cardio, endurance and strength training. Remember: At a minimum, 20 minutes per day, three days a week are sufficient to keep fit. With ease of access, that is a schedule that is easy to keep.
Your point of view matters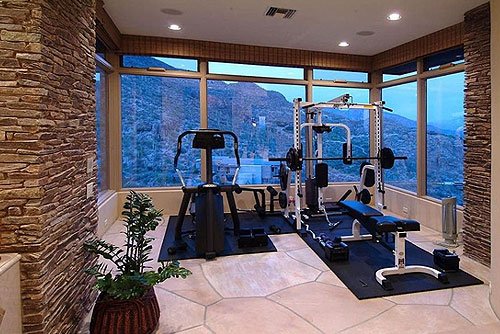 Making the most of your environment is a big boost to what inspires participation. This example of a home gym situated in a room with a view offers a feast for the eyes while refining form and physique. There is no taking the stairs to nowhere with the visual of a mountain before your eyes. The movement of sunlight contributes to the mood making the living view the best image to enjoy while working out.
Having it your way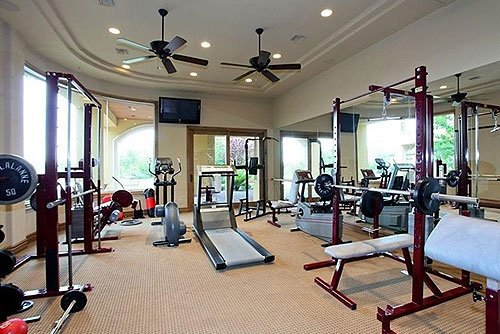 Let's face it: When you're designing your own home gym, you get to decide the layout. If you like to get a complete workout with a full complement of equipment to target specific areas of the body, there is nothing that says you cannot have the layout of your dreams. You could plan the best exercise regime in this fully equipped home gym and never have to wait for someone to finish their routine before you can get started.
Go the distance with your own boxing gym
In this sweet set up, the laundry basket is the only place you will be throwing in the towel. It is not hard to imagine arriving at your next bout in the best form with this home gym equipped with punching bag, speed bag, treadmill, stationary cycle, fitness bench and more.
Keeping the home in the home gym

The Mediterranean influence in this home gym includes unique ceiling architecture with the warmth of a flush-mounted satin nickel, shaded light and mini-pendant bar lights. The bar provides the all-important social connection that makes the workout experience so much more enjoyable. The comfortable stout wood and leather bar seats touch off the wood trim and other room appointments that make this home gym a place you want to stay.
A vintage flair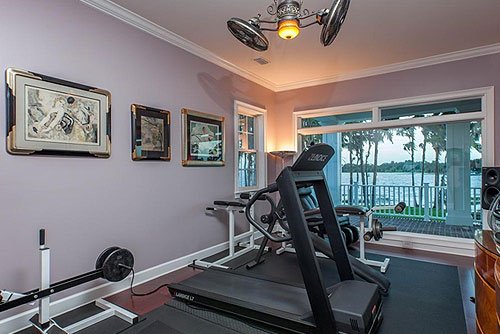 This contemporary home gym is offset with vintage wall hangings and furnishings. The giant picture window drawing in the waterfront view lends to the fantastic experience gained from working out here. A home gym is no more perfect than being a home you never want to leave.
For more home gym inspiration visit Modernize!
If you wish to get your post published in Women Fitness Magazine, You are most invited for Guest Post.
Home Gyms We Love
Article by: Jane Blanchard
Images Via Zillow Digs