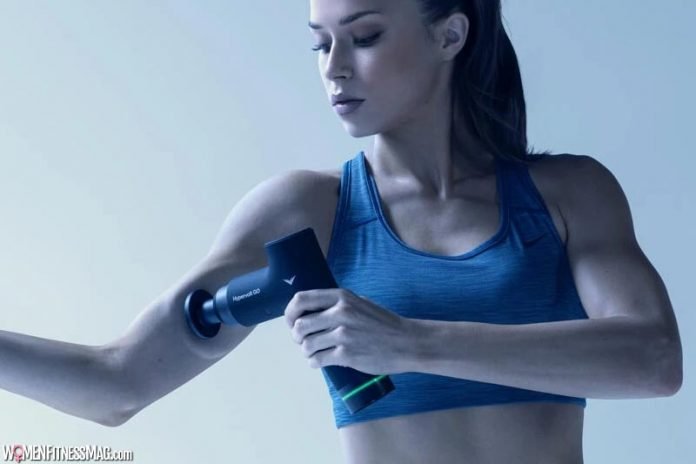 How The Hypervolt Go From Recoverfit Can Benefit Home Workouts : 2020 was the year of home workouts and the first part of 2021 has seen a continuation of the trend! Whilst many are enjoying the freedom of being able to work out from their home whenever they want, others are struggling without access to the gym.
The lack of exercise centres also means a lack of recovery facilities, which is one of the reasons why Recoverfit has brought the new Hypervolt Go to the UK market.
What is the Hypervolt Go?
The Hypervolt Go is a massage gun with a difference; it offers a high-end performance that normally only athletes are accustomed to at a fraction of the price of more premium massage guns.
The Hypervolt Go is a more compact version of the massage gun offered by Hyperice making it perfect for when we are able to travel again! Until then, the affordable price of the Hypervolt Go makes it an interesting investment into your home workout recovery scheme.
Ryan Brunt, former professional football player and founder of Recoverfit is passionate about recovery and helping people when they are working out from home.
"Naturally, Recoverfit is passionate about recovery and the potential it has to increase overall fitness and performance." The whole team are currently using the Hypervolt Go for our home workouts and it is really adding to our overall recovery."
The Hypervolt Go currently retails for around the £199 mark in the UK so it is far from the cheapest option on the market. That being said you are paying for premium performance and many will not be put off the price when it comes to investing in their fitness through better recovery.
How does the Hypervolt Go help with home workout recovery?
With many exercising at home there is an increased risk of injury and the lack of larger recovery equipment could put you at an increased risk of injury. If you are looking to build muscle then recovery is important.
Massage guns like the Hypervolt Go help increase blood blow to the necessary areas which can bring fast muscle relief and increase the quality of recovery over time. This increased quality of recovery can seriously benefit your performance in your workouts which leads to more progress over time.
Ryan also chatted about the need for good quality recovery when exercising from home.
"I think there has been a big focus on the 'working out' part of fitness a lack of attention on recovery. The Hypervolt Go will help you soothe muscles after a workout but it is not a silver bullet. We always recommend making sure you have the basics covered. Diet, sleep and stress levels all need to be on point and in check if you want to optimise your recovery. Start with the fundamentals and work your way up!"
Keep prepared for when gyms open again!
Good home workouts combined with good a good recovery regime will put you in good stead to hit the ground running when gyms open up again in the near future. Keep your head down and focused on your goals to make sure you have plenty of strive for in 2021.
Related Videos about How The Hypervolt Go From Recoverfit Can Benefit Home Workouts :
How The Hypervolt Go From Recoverfit Can Benefit Home Workouts
hypervolt benefits, hypervolt instructions, how to use hypervolt attachments, how to use massage gun heads, massage gun heads explained, best massage gun, benefits of massage gun, theragun pre workout,