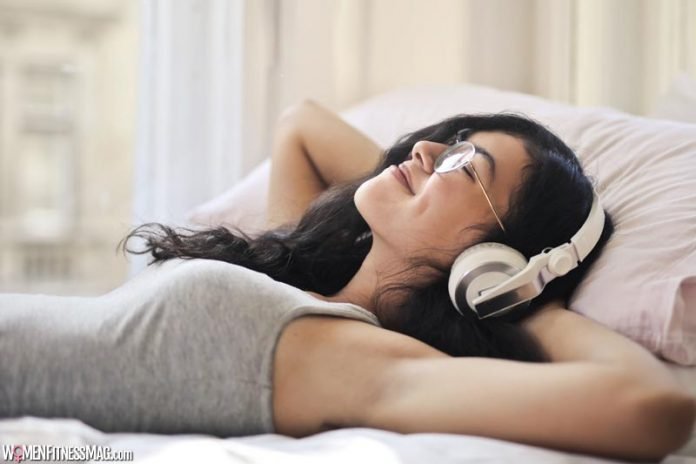 How to Use Erotic Audio Porn as a Form of Self-Care : The importance of self-care has attracted a lot of attention in recent years — and for good reason. With stress and anxiety at an all-time high, it's never been more important to slow down, take a deep breath, and reboot. Self-care comes in many forms from eating healthy and exercising to getting enough rest and meditating.
By definition, self-care is the practice of taking action to preserve and improve one's health. But health also comes in many forms including physical, mental, emotional, and spiritual. As you strive to improve your overall health and wellbeing, there's one outlet you may have overlooked.
Your sexual pleasure.
No, we aren't just talking about having sex or achieving orgasm (although those are extremely important, too). We're talking about becoming more in-tune and connected with your body. Exploring your wants, desires, and needs. Listening to your body and openly sharing what you've learned with your partner. While the quickest way to achieve this is through masturbation, some women require a little more coaxing to fully relax and let go.
Erotic audio porn is a perfect way to do exactly that. Unlike traditional pornographic material that can be slightly raunchy, intimidating, and sometimes degrading, audio sex stories offer an intimate, personal experience that will consume you from the inside out.
Ready to learn more? Leave your inhibitions behind and keep reading to discover exactly what erotic audio porn is and how to use it as a form of much-needed self-care.
What is Audio Erotic Porn?
Have you read erotica? Have you listened to books on tape? Audio erotic porn combines these two experiences to create an intimate and captivating new way to explore your innermost desires and fantasies — and discover new ones! Audio porn is erotic sex stories read aloud for your listening pleasure. You can select from numerous categories including romantic, mature, fetish, BDSM, and group sex. Simply choose a sex story that piques your interest (among other things), lay back, and relax as the seductive voice fills your ears and stimulates your senses.
Some stories are read from just one character's perspective while others let you choose who's story you want to hear and experience. You can imagine yourself in the character's shoes or perhaps you envision yourself as a sexy spectator.
Erotic audio porn skirts the line between reading sex stories and watching pornographic videos. It's slightly less intimidating and a lot more intimate! The best part is, you can listen alone or with a partner, making it a shared experience. For the purpose of this article, though, we'll focus on solo listening and how to utilize audio sex stories for self-care.
The Connection Between Erotic Audio Porn and Self-Care
You may still be wondering exactly how erotic audio porn (or any porn for that matter) can help with self-care. Remember how we mentioned that self-care encompasses many things including physical and emotional wellbeing? Sexual exploration, discovery, and pleasure are not only good for your physical health but also for your overall mental wellbeing. The more in-tune you are with your body and needs, the more empowered and confident you feel. Not to mention, studies show that women who experience regular orgasms have a reduced risk of developing type 2 diabetes and heart disease. Other physical health benefits of orgasm include reduced stress, better sleep, and boosted estrogen and collagen levels which may lead to a more youthful appearance.
Regardless of your current sexual situation, erotic audio sex stories can unlock new levels of pleasure and self-discovery, boosting self-awareness and confidence.
Here's are a few ways to incorporate audio porn into your self-care routine.
Listen and Learn
Do you have a rather reserved sex life? If your sex routine is stuck in a rut, it might be time to switch things up and explore different avenues. You won't know if you like something until you try it. There may be various sex positions and scenarios that you've yet to explore — or even heard of.
Erotic audio porn will open your eyes to completely new experiences and possibilities. You can safely and comfortably experience taboo sexual situations like a threesome or bondage without reservation. Have you fantasized about being tied up and dominated but never had the guts to go through with it? Try it on for size with an erotic sex story and see how it makes you feel. Are you tense or turned on?
You may even stumble upon a fantasy you never knew you had. Erotic audio sex stories can help you learn more about yourself and your sexual desires than you ever thought possible. This sense of self-awareness is a huge part of self-care for women.
Explore Your Body in New Ways
If you don't know how you like to be touched and pleasured, chances are, your partner won't either. Before you can completely surrender yourself to someone else, you must first connect with your own body, needs, and thoughts. This type of self-care is physical, mental, emotional, and even spiritual for some.
Many of us don't spend enough time tuning into our needs. Meditation and mindfulness are designed to help you quiet your mind and acknowledge your thoughts and feelings without judgment. Similarly, listening to audio porn alone, in a comfortable setting, is an extremely intimate experience. Choose an erotic story, place your headphones on, lay back, and start to slowly and gently explore your body. Play around with your favorite erogenous zones and discover new ones along the way. Experiment with different toys, pressure, and techniques.
By tapping into your innermost desires, you'll learn to pleasure yourself, feel more comfortable in your own skin, and enjoy more intimate sex with a partner. More intense orgasms might be another added bonus!
Unapologetically Indulge in Your Fantasies
We all have fantasies. By indulging in them, you're practicing a very special type of self-care. Every woman deserves to feel desired, in control, and uninhibited, as long as it's done safely. While you may fantasize about group sex, sex in public, or being dominated, you may not be in a situation to act on these desires. But that doesn't mean they don't need room to breathe.
Audio porn allows you to explore these naughty desires without shame, guilt, or reservation. By doing so, you're validating your own feelings and needs. This is an incredibly empowering experience that can carry into everyday life, giving you a stronger sense of self. You may also enjoy a deeper emotional and spiritual connection with your lover by sharing these fantasies and allowing yourself to be completely vulnerable.
Become More Self-Aware and Sexually Satisfied
Sexual pleasure and satisfaction are about more than just getting off. And self-care is about more than just facials and pilates. When you open your mind and body to new experiences, you learn more about yourself, and in turn, can share more intimate experiences with your partner.
When it comes to self-care, nothing provides physical, mental, emotional, and spiritual empowerment quite like sexual exploration. With audio erotic sex stories, you can take things as slow or as far as you want, unlocking new levels of pleasure and self-awareness every step (and stroke) of the way.
How to Use Erotic Audio Porn as a Form of Self-Care