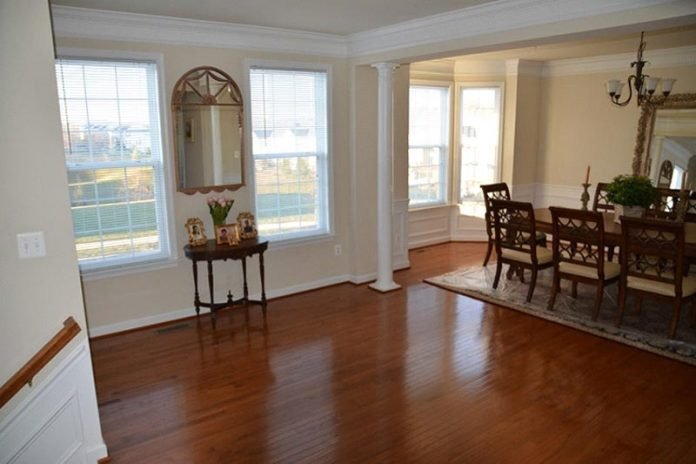 Know all About your Vinyl Plank Flooring : Have you ever thought, we invest a lot of time when it comes to planning our dream home? Now, when the question is your mind you will realize about the truth hidden in it. Yes, we all want to have the perfect home, with all the customizations and input according to our demands and wants.
Flooring is one aspect of the home, which is considered the most important, reason being it is the base on which you walk around your house. That being said, it somehow becomes a matter of prestige to have a perfect flooring with the clean design which compliments the wall and interior decoration of your home. Now, out of all the available flooring options in the market, vinyl plank flooring is gaining some traction lately because of its smooth finish and ability to last long.
Recently Vinyl Plank Flooring has become very popular as the floor covering choice is not just ideal for bathrooms and kitchens which are prone to become wet, but also for other rooms of a house. Real plank wood flooring itself is very popular but costs much more. Vinyl plank flooring is a far cheaper do-it-yourself option for your floors. Flooring manufacturers have also greatly improved the look and styling of vinyl plank flooring, enticing buyers to get it for their houses. So, vinyl plank flooring is here to stay as it is one of the most durable flooring options available. Check out what you need to know about it.
What is Vinyl Plank Flooring?
Vinyl Plank Flooring, also known as luxury vinyl plank (LVP) is vinyl flooring that is available in long and narrow strips, instead of square vinyl shapes. They give homes an appearance of having a wooden plank floor. They are available as large boards which are easier to install, due to lesser number of boards required. Typically, it is 36 or 48 inches long, and about 6 inches in width. They have deeper embossing and are more improved visually, to be a close replica of wood and stone. Thus, giving your money's worth and you don't feel like your investment is wasted.
Benefits :
Price: Wooden flooring can dent a big hole in your pocket and the best alternative to this is vinyl plank flooring. You will get durability as well smooth finish with exactly same looking wooden finish on it at half the price of wooden flooring.
Easy Installation: Vinyl plank flooring has one of the easiest installation processes and even you by yourself can install the it. The installation process of this flooring option doesn't require any pre preparation and that makes it a more convenient option.
Durability: When we select any flooring option for our house, the first thing that comes in our mind is its durability. Any addition done to our house is done keeping in mind the durability criteria. Vinyl Plank flooring is one of the strongest materials for flooring. As compared to wooden surface which over the period of time can lose it sheen, because of termite attack or moisture, it is safer.
Aesthetics: When it comes to aesthetics, there is no such flooring option that can match its versatility and finish. You can simply get it in any color, and it gives you freedom while designing your home's interior. Everyone wants their home to be attractive, and vinyl planks provides the same.
Features :
It has a very deep surface embossing making it look very similar to a wood plank. They are available with heavily distressed or antique look, dinged, scratched, hand-scraped, and dotted with nail holes. These various types require thicker planks, because it is not impossible to emboss the thinner planks that deeply.
Cost :
Vinyl Plank Flooring is of course cheaper than wood flooring. They are at least five to six times less expensive than wooden planks. Prices are in the same range as those of laminate flooring. This point gives it an added edge over other options available in the market.
Installation Tips :
You can opt for a professional to install vinyl plank flooring for you, or you can decide to do it yourself. They are quite easy to install, and these tips will help you with the process.
Prepare: Prepare the area where you will install vinyl plank flooring. Sweep the floor first to remove small objects. Remove the baseboards and check if you need underlay to handle moisture.
Place the planks: Start from a corner and lay the first vinyl plank as close as possible to the wall. Make sure that it is straight. Place the second plank beside the first one and lock it into place. Keep going and use a mallet to tap them into place for secure fastening.
Cut the planks: You may find that at some point, a plank is too long for the space. Measure the space and score the plank. Measure it with a ruler and a utility knife and then score the plank. You can then snap it off at the scored edge.
Stagger the Planks: Lay down the planks row by row. Use any leftover piece from the first row in the second row, if it is at least 8 inches long.
The Final Row: The last row might need planks to be of a different size depending on the space that is left, and the shape of the room. Measure twice and cut once and you should be fine.
When shopping for Flooring, you need to take your time before making any selection. Have a good look at what is available and do remember to check the clearance section, where you might be able to get high quality vinyl plank flooring at a discounted price because that particular style has been discontinued. Your aim is to get the best quality at the best price!
Author :
Ashley Kinsela is a knowledgeable and qualified blogger. Here you can see my skills which gives you brief ideas on understanding all the concepts with different themes. I adore writing a blog on many topics, like Home Improvement, Automotive, Business, Health, Lifestyle, Entertainment, Pet, etc.
Related Videos :