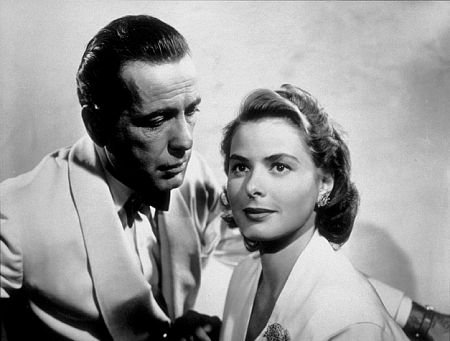 Most Romantic Movies Ever : Looking for some romantic movies to watch tonight? Here are the top 10 Hollywood movies to watch with someone or on your own – It will take you through many emotions, they can make you laugh, cry and fall in love!
Most Romantic Movies Ever
1. Casablanca
Casablanca (1942) is the ultimate Hollywood romance. Set in Morocco in WW II, the ex-patriot owner of a bar, Rick, has to choose between Ilsa, the love of his life, or helping her husband in the Czech resistance against the Nazis. He's never stopped loving her, but he never expected to see her again. When she walks into his place, it's obvious she feels the same way, but her devotion to her husband's cause drives her most of all. European exiles and refugees from the ongoing war were extras or played minor roles. In a special moment of "dueling anthems" many of the actors were crying and someone observed that he realized they were real refugees.
The film has classic moments that are part of the English language: "Play it again, Sam," "Here's looking at you, kid," "We'll always have Paris," "Round up the usual suspects," "This is the beginning of a beautiful friendship." The film won three Academy Awards for Best Picture, Best Director, and Best Screenplay. It's become iconic and rated as one of the best films ever, but what gives it this power is the tension and chemistry between Rick, played by Humphrey Bogart, and Ilsa, played by Ingrid Bergman. It hasn't lost any of its power.
2. The Princess Bride
Photo: siblingcinema.com
A delight of a movie, a "fairy tale" about a sweet and beautiful young woman, Buttercup, and the one true love of her life, Westley. He must find her after they have been apart a long time and save her from evil events in the kingdom of Florin. It is partly tongue-in-cheek, with a frame story of Peter Falk reading it all as a story to his grandson, played by Fred Savage. Robin Wright is Buttercup, and Cary Elwes her great love, who always says to her "As you wish." Their love has to face Westley's capture by pirates and the abduction of Buttercup. A masked man in black figures in the movie, along with Inigo Montoya (Mandy Patinkin) who seeks revenge for his father's death and is famous for saying: "Hello. My name is Inigo Montoya. You killed my father; prepare to die!"
The film has a fantastical element set in a rural landscape filled with enemies and unexpected friends. Cameos by Billy Crystal, Wallace Shawn, Carol Kane, and Peter Cook bring great comedy. Rob Reiner directed it and it has become a cult classic, a joy to watch from start to finish.
3. Notting Hill
Photo: dailymail.co.uk
Notting Hill became the highest grossing British film released in 1999. Starring Hugh Grant and Julia Roberts, it also features a small part by a young Hugh Bonneville (the Lord Grantham of Downton Abbey fame). Grant plays a bookstore owner who finds a famous American actress in his shop. Though hapless as a lover, Grant discovers Julia is interested in him, and that his way of life enchants her because of its normality (despite odd moments that are in quintessential Hugh Grant style).
Great comic scenes are also provided by Rhys Ifans as Grant's Welsh roommate. The locale is the real and unique Notting Hill in the Royal Borough of Kensington. The two keep meeting up, but their relationship sets off a news frenzy that threatens to keep them apart. The film has a great screenplay and wonderful acting – not a wrong note anywhere, and plenty of laughter follows their evolving romance. The film won a BAFTA.
4. Moonstruck
Photo: dca.org.uk
Cher and Nicholas Cage are the romantic center of this wonderful comedy. Loretta Castorini (Cher) feels she must remarry and chooses a very average and unexciting man, Johnny. But then she meets Johnny's brother (Cage), who makes bread in a bakery. He's an exciting and passionate man and they fall totally in love. Knowing it is a mistake, certain they can't betray Johnny, they still can't stay away from each other. Meanwhile, her mother (Olivia Dukakis) is convinced her husband Cosmo is seeing another woman and tells Loretta to never trust a man. Johnny is having second thoughts about Loretta, too, but no one knows this. High energy, fabulous dialogue, a close Italian family, and a story to warm the heart. The movie was nominated for six Oscars, including Best Actress for Cher, who is dazzling in the role.
5. Sleepless In Seattle
Photo: wowthatscool.com
This Nora Ephron comedy stars Tom Hanks and Meg Ryan. The story focuses on Sam's (Tom Hanks) inability to get over grieving when his wife passes away. He moves to Seattle to escape memories. On Christmas Eve his young son Jonah, without Sam's knowledge, explains his dad's problem on a national radio talk show that is listened to by Annie (Meg Ryan). Annie is a journalist in Baltimore, already engaged to a man (Bill Pullman), but suddenly she finds herself falling in love with Sam, sight unseen. She writes to him proposing they meet, but their efforts keep running amuck and they don't seem able to get together at all. A pivotal and famous scene occurs at the Empire State Building. When the movie ends you want to watch it all over again…
Other actors include David Hyde Pierce of Frasier fame, Rosie O'Donnell, and Victor Garber from the TV show Alien. Rita Wilson, Tom Hanks' wife in real life, has a cameo role as Sam's good friend. A marvelous score is the undercurrent, including songs like "As Time Goes By" (from Casablanca!), "Stardust" by Nat King Cole, "Stand By Your Man" with Tammy Wynette, and "When I fall in love" with Celine Dion.
6. Amélie
Photo: blog.birichina.ca
Amélie is a romantic comedy about a girl (Audrey Tautou) who is fragile in health, at first, and lives most of the time in her imagination. She sees very little of other people and the outside world, but she dreams of love. As a young woman she ventures out to be a waitress in the center of Paris. When she finds a small box filled with someone's childhood mementos, she seeks to return it to its owner, who she must find. With an innate mischievous spirit, she begins to involve herself in the lives of people around her, befriending a shut-in, a hypochondriac, an unsuccessful writer, and others who cross her path. She becomes attached to the people she meets and falls in love with life. In time, she begins to discover that she can claim love for herself.
The film met with critical acclaim and many awards in Europe. It was nominated for five Academy Awards.
7. Under the Tuscan Sun
Photo: www.cinemanet.sk
A writer named Frances (Diane Lane) is devastated after her marriage ends when her husband leaves her for another woman. She takes a bus tour of Tuscany but she can't shake herself out of her despair and move on. Then on sudden impulse she gets off the bus when it stops to let sheep pass by on the road and buys a villa in the town of Cortona that is in need of much repair. She gradually assembles a very quirky crew of helpers that include a good friend from San Francisco who is pregnant, a married real estate agent who is her lover for a while, and Polish immigrants who are wandering through the town. Her home becomes a jewel in Tuscany, and along with it comes the love of her life.
With gorgeous scenery the movie is a real treat to watch, immersing us not only into its color and incredible beauty but into a lovely feeling of escape. One co-star is Sandra Oh from the "Gray's Anatomy" TV show. Diane Lane received a Golden Globe nomination as Best Performance by an actress.
8. Roman Holiday
Photo: filmbalaya.com
This is a captivating and utterly romantic caper that takes place one summer in Rome. Princess Anne (Audrey Hepburn), arriving in Rome from an unnamed country, is eager to be free of the confines of conventional court life. She escapes from her royal entourage during a visit to their embassy. She manages to get a ride in the back of a delivery truck, and no one knows where she is. Falling asleep on a park bench, she is discovered by Joe Bradley, an American newspaper reporter, played by Gregory Peck. He takes her back to his apartment where she sleeps on his sofa. The next morning Joe dashes off to cover the Princess Anne press conference, unaware who she really is. When he does discover her true identity, he sees it as a way get an exclusive interview, without her knowing. He and his cohort Eddie Albert, a news photographer, work out a plan. But then, instead, Joe discovers Anne's endearing ways have drawn him in and he begins to fall in love with her, and feels he must tell the princess the truth.
The film received an astonishing ten Academy Award nominations. In this, her first film, Audrey Hepburn won an Academy Award for Best Actress. The director William Wyler was already highly acclaimed for his direction of Ben-Hur and Funny Girl.
9. A Walk in the Clouds
Photo: phim.clip.vn
A Walk in the Clouds stars Keanu Reeves, Debra Messing, Giancarlo Giannini, and Anthony Quinn. More stunning scenery shows up in this romantic, warmhearted fantasy—this time in the wine country of the Napa Valley and Sonoma in Northern California. As a soldier returning from the war, Paul (Keanu) meets a young woman (Aitana Sánchez-Gijón) who is returning home from college and is very fearful of encountering her domineering father. She is pregnant and terrified. Paul offers to pretend to be her husband, and he goes with her to the vineyards her father owns, where the grape harvest has begun. In time, they fall in love, which threatens the family in a new way, but their passion gives them courage to forge a way together.
10. The Holiday
Photo: www.tribute.ca
This movie is too much fun! It stars Cameron Diaz, Kate Winslet, Jude Law and Jack Black. The comedy is constant and it is a first-rate feel-good experience. The premise is that two dissatisfied young women decide to exchange houses for a while – Amanda (Cameron Diaz) lives in Los Angeles and Iris (Kate Winslet) lives in Surrey in the U.K. Their homes are quintessential models of the ideal life (as only movies can make such things). Iris' cottage is as picturesque as the Cotswolds and the hacienda extravagance of Amanda's home in L.A. is lavish.
Initially both women are ecstatic and for Iris the California life is amazing, but Amanda gets bored in the small English village. She is almost ready to throw in the towel when she meets Iris' brother Graham (Jude Law). Everything shifts and she decides to wait and see a little longer.
Iris meets film composer Jack Black who becomes a love interest, but she also encounters her neighbor, a once famous screenwriter, now aged ninety. He helps her feel good about herself, and she helps him leave his hermit life and learn to walk without a cane so he can accept a celebration in his honor by the Screenwriter's Guild. Gradually for Amanda and Iris their new lives intertwine in ways that bring both friendship, joy, and love into their lives. The last scene is a delight.
Is there a special romantic movie you always enjoy watching that isn't on this list? By all means mention it in a comment if you have one to recommend to readers.
Most Romantic Movies Ever