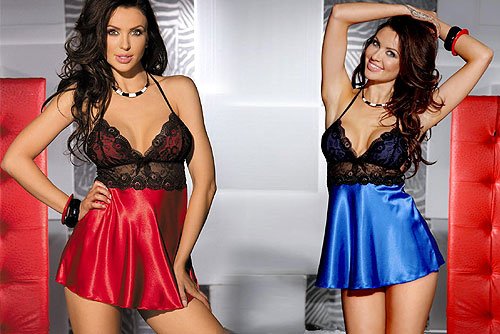 Here's a fact: every woman in this planet must have at least one lingerie in the closet. By every woman, that means including you. The truth is you don't have to wait for your wedding night or special occasions to buy lingerie. You can make ordinary nights with your partner an exciting one through lingerie.
There is one type of lingerie that must be part of every woman's closet – babydoll. It has come a long way since it was first introduced in 1930s. At present, babydoll is among the well-loved pieces of lingerie because of its ability to bring out both the innocence and sexiness in a woman.
Learn about what babydoll lingerie is and find out what it can do for your sex life.
Babydoll as a lingerie
Babydoll is a type of lingerie that can be either a flirty piece of lingerie or something you can wear for the day – but with a blazer or cardigan. To be specific, it has a bra type top and a loose fitting body that is hemmed just right above the knee. It is made of sheer and lightweight fabrics such as silk, linen, chiffon, organic cotton or nylon.
Although it can be worn as a day dress, which can look amazing especially when you combine it with the right pair of accessories, baby dolls are first and foremost a staple outfit inside the bedroom. At the same time, it is known to emphasize both a woman's innocence and sex appeal. Since the loose fitting skirt falls just between the belly button and upper thigh, babydolls come with matching underwear to add to the appeal.
That's not all. There are styles that either expose or emphasize the breasts to add more appeal. You can even find styles that come with a cup, known as bralette, to enhance your cleavage. Also, babydoll's designs as a lingerie vary. You can find something with lace, ribbons, embroidery, ruffles or sequins.
Babydoll dress for a better sex life
Have you considered baby doll when it comes to honeymoon or that special night with your man? If not, then now is the time to do it.
The good thing about babydoll is that it flatters almost all body types. It has the ability to hide figure flaws while still creating that silhouette for a sexy look. In other words, it can show off your bust or legs, especially if any of this is your greatest asset, while it hides your not-so-toned tummy and hips.
Aside from this, babydoll brings that sweet and innocent look, which can be appealing and sexy. Once your man sees you in that, he'll surely get excited because once it is taken off, he will find a sexy and even more beautiful you. It is like unwrapping a present on Christmas day, which can be really exciting.
The key here now is choosing the right style for you. Don't go for something too sweet since it can be unflattering, or too short since it can be awkward, especially when you're not in your 20s anymore.
When you do Babydoll dress online shopping, always make sure you go for reliable and trusted online sellers. Check out the materials – should be a made of a high quality one – and their sizing chart since some stores' charts vary. At the same time, compare the prices. Go for babydolls that can give you more value for your money. If there are freebies and discounts such as free shipping or free gifts, then much better.
So, are you ready to wear your babydoll dress?
Surrender Yourself to your Partner with Babydoll Dresses