Things Ladies Should Know Before Getting The Very First Tattoo : A nice tattoo will leverage your sexiness to a new level. But ladies, what are the things you should know before getting the first tattoo? Let us show you now!
Tattoos have become a unique beauty trend, prevalent in many countries around the world. Those attractive tattoos work as a guardian to honor the beauty of the body, especially for women. It is an impressive and sophisticated form of fashion, creating a unique style for the owners.
But ladies, besides considering the best beginner tattoo machine, are you ready for the following to get your first tattoo?
Make sure you flick through the end of our post to get to know some basic notes before tattooing and avoid some unwanted embarrassing experiences.
Things That Girls Should Know To Be Ready For The First Tattoo
Pain
Does the tattooing process hurt? This is one of the questions girls most wonder about and is also the reason why they hesitate to make the final decision. So what is the truth?
The bitter truth is, you should be prepared for pains. In fact, since the skin will be affected by needles, the tattooing process often leaves you with slight pain.
However, this type of pain is like constant mild stinging pain, not quite the writhing one. According to some studies, the severity of the pain is tolerable for women, so you can breathe a sigh of relief.
As a rule of thumb, bony areas near the surface of the skin make tattooing more painful than places with enough "flesh".
Besides, tightening your muscles can make the tattooing process more difficult, so don't torture yourself. Instead, try to relax and breathe evenly. It is best to bring a book or music player to distract attention from the tattoo machine's pain and annoying shrieks.
Recovery time
As mentioned above, your skin will be affected by the needles so that tattoo ink can penetrate and stabilize for a long time on the skin. Hence, a proper recovery time is essential.
The recovery time after tattooing will also depend on each person's situation. If you are in good health, it takes about 2 weeks on average to recover. But if you have less stamina, this time may be longer.
Aftercare steps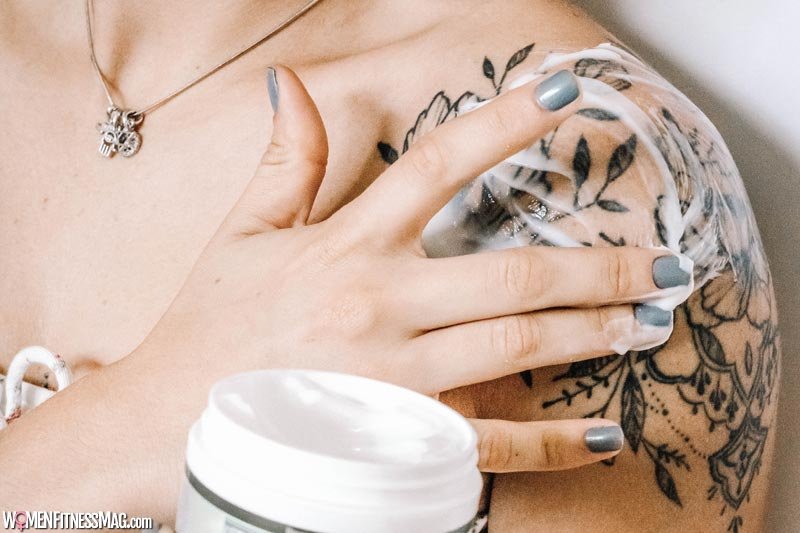 To prevent the wound from getting worse after tattooing, the tattooist will use anti-bacterial ointment. After that, a bandage is used to cover the wound. This is considered an essential step to protect the wounds from external factors. Most advice comes from tattooists that the appropriate time to keep the bandage is between 4 and 6 hours.
After taking the bandage out, wash the wound with warm water with a bar of fragrance-free and antimicrobial soap. Besides, bear in mind that you should stay away from the sun as the sun rays can cause your skin to blister and the tattoo to fade.
Do not drink alcohol immediately after getting a tattoo. Alcohol, while helping you relieve pain, can make you bleed faster. As a result, it not only makes the tattooing process more difficult and time-consuming, but post-tattoo maintenance also becomes inconvenient.
If you find yourself unable to bear the pain, you can take a pain reliever, but it also doesn't promise long-term effectiveness, and you can not expect to completely lose the sensation of pain.
The prejudice
Getting a tattoo for girls is sometimes very challenging because of prejudice, especially if you live in some Asian countries. Although being well received by the majority of young people, the art of tattooing on the body is still met with opposition and prejudice.
As a result, you have to consider some invisible impacts that you will have when getting a tattoo on your body. Ask yourself some questions, like "Will tattoos reduce your chances of getting recruited?" " Is the chance of you being rejected by the family high?", etc.
If everything's still fine, and you can handle it perfectly, then ladies, you are ready to welcome a tattoo to your lives.
What will a tattoo look like as you get older?
Many people wonder what tattoos will look like when they get old. As you age, your skin will age and become wrinkled, whether you have tattoos or not. But remember that nothing lasts forever, and this statement applies very well to tattoos.
As time flies, the clarity of those meticulous details decreases with age. But don't take it seriously. Over the years, when we lose our memory, the tattoo will remind us of a youthful youth living enthusiastically, even if it is blurred, right?
How To Have The Most Satisfying Tattoo For The First Time
Choose the right position
Girls should choose tattoos in the most beautiful and sexy position on the body. Typically, women will prioritize charming positions in addition to expressing each person's personality. You can consider having the first tattoo on the thigh, the back of the hand, the neck, or even the breast.
Share the same mindset with your tattoo artist
If you and your tattooist don't share the same mindset, the final result may differ from what you initially imagine, which may lead to dissatisfaction. So, elaborate on what you want your tattooist to do and inform him in detail to avoid this embarrassing experience.
Conclusion
It is undeniable that the world of tattoo art is getting richer and more diverse. Tattoos, in addition to the mission to show off the individuality of the girls, are also known as the feng-shui factor that brings a lot of luck to the owner.
Hopefully, after flicking through our post, you now have a clear overview of tattoos, as well as some essential things you need to consider before tattooing.
Thanks for your time!
Related Videos about Things Ladies Should Know Before Getting The Very First Tattoo :
Everything You Need to Know Before Your First Tattoo
10 Tips Before You Get Your First Tattoo
10 Tips Before You Tattoo
Top 5 Things You Should Know Before Your First Tattoo
Getting Your First Tattoo: Do's & Don'ts
Things Ladies Should Know Before Getting The Very First Tattoo