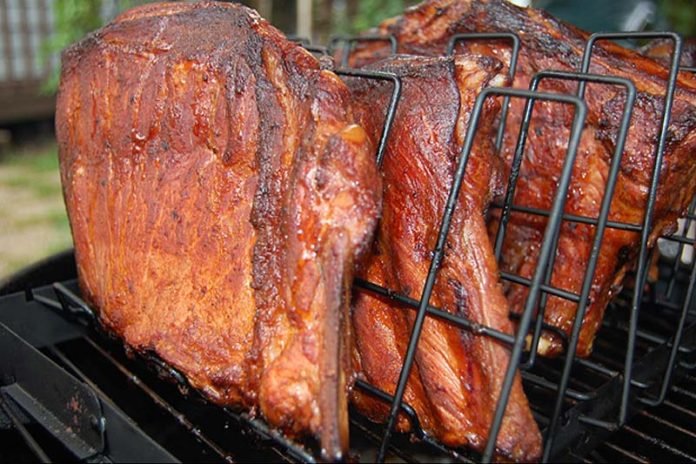 Top 4 Recipes with Pellet Grills That Blow Your Mind : The popularity of pellet grills has been increasing lately because most people enjoy cooking outdoors. This equipment is truly an amazing investment and makes sure that you know everything about how to choose the best pellet smoker and grills.
The next step is to find out what you can do with your pellet grills. Although there are various dishes that can be made with pellet grills, we introduce some of the best recipes that will blow your mind.
Top 4 Recipes with Pellet Grills
This list of top 4 recipes includes all types of dishes. They can serve as a dessert or a main course for your meal. Above all, they are delicious, healthy and quite simple, especially with the help of pellet grills.
Cheeseburger
The main ingredient that we would like to mention is beef. And with pellet grills, beef can transform into an important element of a cheeseburger, which is very flavorful. The cheeseburger's quality is heavily dependent on its ingredients' freshness. Therefore, you should select freshly ground beef, combined with fresh vegetables as toppings.
When cooking beef with pellet grills, you can choose the level of doneness based on your personal preference. Normally, for those who prefer medium-rare, the temperature of pellet grill should be around 130-140 degrees Fahrenheit.
You can know when to flip the beef as you notice the brown color on one side.
This is a great recipe that you should start with your pellet grills.
Ribs
The main ingredient in the next recipe with pellet grills is pork which is more common and also economical. Undeniably, ribs are delicious and rib recipes always attract people's attention because of their amazing flavor.
The recommendation is to use low heat so that the ribs can become perfect. You also want to eradicate paper thin membrane that can be found in the ribs' backside.
One of the most important factors that will affect the flavor is seasoning before you cook. There is a variety of spices used to make ribs more flavorful, such as salt, chili powder, onion, black pepper, garlic, sugar, coriander or cumin.
The making of ribs will take a quite long time, so make sure that you allocate enough time for preparation. The meat should be kept in the fridge for one night first.
Then, you can put it into a pan full of apple juice. The pan should be placed on the pellet grill, and it takes about 5 hours to finish this recipe.
Smoked Chicken
It might sound tricky to use pellet grill to have smoked whole chicken which is usually made with an oven. However, the result will blow your mind.
This recipe works with the whole chicken so that you might have a lot remaining after the meal. Do not worry! It will help you have a quick meal after that, especially if you are too busy to cook.
The process is quite similar to how we do with ribs. And seasoning plays an important role in making its flavor.
Cinnamon Buns
Last but not least, cinnamon buns are something you can do with pellet grills for your breakfast or simply Sunday brunch.
You can prepare it in the evening and then when you wake up; it takes only about 1 hour to make it warm again.
Tip
You can even use Traeger Renegade grill. The Traeger Renegade boasts an elite digital controller. This feature will help you cook anything to perfection, monitor the cooking time of the meat, and helps you adjust the temperature to your liking. The wire front prep rack located on the side can hold plates and tools steady tools as you work on the grill. You can also open the hopper clean-out door to change wood pellets — no more hassle emptying out and reloading wood pellets.
Conclusion
In general, the applications of pellet grills are versatile, no matter which ingredient you want to cook. Besides, they also provide a variety of cooking methods to make your preparation more interesting.
If you have any other amazing experience with pellet grill, do not hesitate to share your recipe with us now!



Resource: The Nom Recipes
Related Videos:
How to Smoke the Perfect Ribs
HOW TO COOK ON A PELLET GRILL
Traeger & Pellet Grill BBQ Benefits
Pellet Grill Fish Tacos Recipe
Top 4 Recipes with Pellet Grills That Blow Your Mind
pellet grill chicken recipes, pit boss pellet grill recipes, green mountain pellet grill recipes, pellet grill recipes ribs, pellet grill recipes brisket, pellet grill recipes burgers, pellet grill recipes turkey, pellet smoker chicken recipes, pellet grill chicken recipes, pit boss pellet grill recipes,
Top 4 Recipes with Pellet Grills That Blow Your Mind