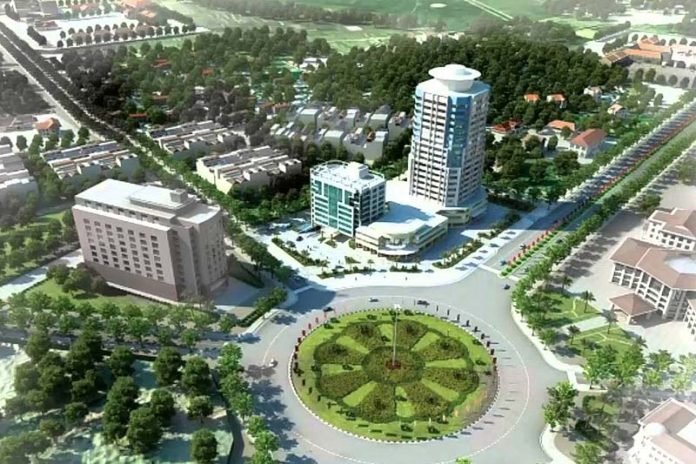 Ultimate Guide Travel To Bac Ninh, Vietnam: Bac Ninh is an ancient piece of land with many special cultural traditions. The first thing people think of when talk about Bac Ninh is Quan Ho, a type of folk music has been carved into the mind of Vietnamese in ages.
However, Bac Ninh also has many other beautiful sights and tourist attractions. Some of the places are Do Temple (worship place of the kings of the Ly Dynasty), Dau Pagoda, But Thap Pagoda, traditional craft villages such as Phu Lang ceramics, Dong Ho paintings, Dai Bai brass foundries… There are lots of places in Bac Ninh that should be visited once in a lifetime.
Ultimate Guide Travel To Bac Ninh, Vietnam
When is the best time to visit Bac Ninh
From Ha Noi to Bac Ninh is 31 km far, to Tu Son is 20 km and about 30 km to Dong Ho village or Dau pagoda in Thuan Thanh. It doesn't matter whether to come here at any time in the year. Bac Ninh always welcome visitors, especially in the spring festival season. One of the most famous is Lim festival, which lasts from 13th to 15th of January.
The tourist spots in Bac Ninh are scattered throughout the area, so it takes you more than 1 day to visit all of the places (usually 2 – 3 days). It is suggested to divide the area and choose the route that suits your taste and time the most. You can take a look of some of these routes:
Tour no.1:
Dong Ho painting village, But Thap Pagoda, Dau Pagoda, Luy Lau ancient citadel, rapeseed flower garden (the best time to go is during the blooming season between November and December)
Tour no.2:
Do Temple, Bac Ninh city, Ba Chua Kho Temple, Lim festival, Ninh Hiep cloth market and Tho Ha.
Tour no.3:
Phu Lang ceramic village
Each of these routes takes 1 day to go. However, it is possible to combine your interested destinations into a 2 or 3-day trip.
How to reach Bac Ninh
There are always some low-cost airlines in Vietnam for consideration is VietjetAir, Vietnam Airlines and Jetstar but I suggest use Vietnam Airlines is the best choice because they are so friendly and professional.
Once reaching Hanoi, there are many choices to go to Bac Ninh: by motorcycles, buses or coaches. If car is your choice, it would be better to know some bus routes.
For tour no.1, bus no.204 is the best choice to move from Luong Yen to Thuan Thanh.
In tour no.2, bus no.54 goes to Bac Ninh city can help. It can reach some of the places: Do Temple, Dinh Bang, Lim…
With tour no.3, it would be more convenient to use a motorcycle as your mean of transport. Coach is one of the choices, but after that, it still takes a long way to get into Phu Lang.
For accommodation, there are many choices of hotels from the website of traveloka.
Or if you want to experience homestay traveling, Jungle House is one of the places to be considered:
Tourist spots at Bac Ninh
As noted above, some places which worth visiting the most are:
Do Temple
This is an ancient temple which was built in the reign of Ly Cong Uan, so far most of the works have been restored and rebuilt. The temple is the place where the eight kings of the Ly dynasty are being worshiped, and also the place where their descendants converge. It is located in Dinh Bang village, Tien Son, Bac Ninh. The village is also famous for their tradition of making Phu The cake (the "Husband and Wife" cake).
At Do Temple, the temple festival is yearly held on March 15th follows the lunar calendar – the day Ly Cong Uan was crowned as the first king of the Ly Dynasty. Do Temple Festival is an old traditional festival where the Vietnamese descendants have their hearts toward the origin of our motherland and remember the wise kings who had contributed the country.
As being at Do Temple, you should visit Dinh Bang village temple as well. This place is also an ancient temple with unique architecture to be admired.
Lim Festival
Lim festival is a special artistic event of the North's longstanding traditional culture. The Quan Ho folk songs in the festival had become the common cultural property of the Vietnamese people, representing the lyrical folk music of the North.
Lim Festival is held annually from the 13th to the 15th January of the lunar month. The main location is on a hill of Lim town. The festival has 2 parts: the "ceremony" and the "festival". From 12th to 15th January, the villages of Noi Due, Lien Bao, Lim town will open the temples and pagodas for traditional ceremonies. The morning of 13th January, the 4 villages of Noi Due gather at Dinh Ca Hamlet, organize the procession to Nguyen Dinh Diem tomb on Lim hill. Then offer incense at Hong An Pagoda as well as others temples, pagodas in Noi Due and Lim town. The procession is quite grandiose and unique, which is a pleasure for visitors to join in. The festival part takes place at Lim hill, with many traditional entertaining activities such as swinging, blind man's buff, Quan Ho singing…
Dong Ho painting village
Dong Ho painting village is famous for folk paintings, located in Song Ho Commune, Thuan Thanh District, Bac Ninh Province (35 km away from Ha Noi). Dong Ho Village (sometimes locally known as Ho village) is located on the south bank of the Duong River, next to Ho wharf, which is Ho bridge nowadays. In the old days, the paintings were sold mainly for the Lunar New Year. The rural people bought paintings and pasted on the wall until the end of the year, then removed for the new ones.
Come to visit Dong Ho village, visitors can learn about the production process of paintings – which is keeping saved by only two families left. The others are now working on joss papers (also known as ghost money) supplying to the Northern provinces.
Phu Lang ceramic village
Phu Lang Village (Phu Lang Commune) is located in the East of Que Vo District, about 10 km from the district town and about 4 km from the Luc Dau River. Phu Lang is located on the banks of the Cau River with many wharves which always ready to serve visitors. Moreover, Phu Lang owns many beautiful mountains, creating a charming marine landscape which hardly to be found at Bac Ninh.
The material for Phu Lang ceramics is light pink clay bought in Thong Vat village, Cung Kiem (Viet Thong Commune), then be transported back to Phu Lang on big boats. Through many steps, the clay is smoothly plasticized and then formed in shape on the turntable by the craftsman's hand.
The major products of Phu Lang pottery include jars, bowls, vases and many other items. Different from Tho Ha, Phu Loc pottery is covered with an enamel layer which has eel skin color patterns, makes the products to look more elegant and durable.
While being at Phu Lang, don't be afraid to wandering around into the village. Because only then that you can see the ceramic kilns with your own eyes and learn how to create a pottery. If you like photography, this should be the place for some nice poses.
Bac Ninh backpacking travel
It is a great thing to visit the land of Quan Ho by motorbikes. The road is not too difficult, and the most important part is you can easily go to many places. It is possible to combine two above tours but only takes one day to finish.
Using motorcycles, travelers can take the initiative in traveling and resting. It also is more convenient to visit some tourist spots of the village which are far inside.
Most of the tourist attraction are close to the center of the town, which makes the traveler's choice of restaurants are way easier.
Related Videos:
Bac Ninh Travel Photo – Vietnam tour
Vietnametravel – Bac Ninh Travel
Bac Ninh Cultural Tours
Travel Tips: Packing Hacks, Tips & Essentials
Travel to Bac Ninh
bắc ninh vietnam, bac ninh tourism, bac ninh city map, tỉnh bắc ninh,
Travel to Bac Ninh