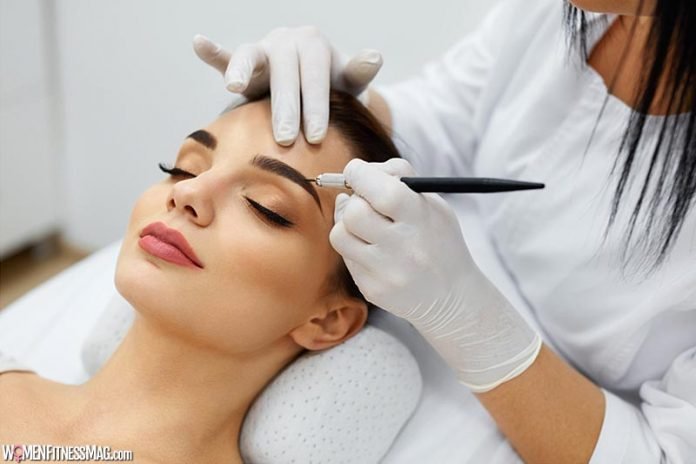 What Is Microblading and How Does It Work? You might be obsessed with Solange Knowles's and Cara Delevingne's amazing eyebrows. And rightfully so. Having beautiful eyebrows can frame your face to perfection.
But to give your face more definition you must go for eyelash extensions as well. You can get eyelash extension from the experts like 
projectbaddie.com
as they use the best techniques to give you natural looking eyebrows. Have you been contemplating whether to go for microblading or not?
Keep reading if your concerns include "is microblading safe". Here is everything you need to know about microblading that will hopefully make your decision easy.
How Does Microblading Work?
Before we answer "is microblading safe" it's essential to know how the process works.
During the procedure, a technician uses small blades to make hair-like incisions above the dermis layers while depositing pigments to the incisions.
With time, your brows will fade away and require touch-ups. To achieve the desired look, the technician punctures and penetrates the skin with a pigment color that best suits your skin color. This creates the illusion of fuller, darker, and groomed eyebrows.
Is Microblading for Everyone?
As good as it is, microblading is mainly reserved for those with thin sparse brows. If you naturally have full ones, the procedure can enhance what's already there.
Overall the results are most desired by those with sparse-thin brows. It can be a big change for individuals suffering from alopecia. Also, if you suffer from rosacea or eczema, or you're prone to keloids, then this may not be for you.
Specialists also advise expectant and breastfeeding moms to wait for a more convenient time. You can learn more here about whether permanent makeup is the right option for you.
How to Prepare for Microblading
There are a few things that you're required to avoid before the microblading procedure. These are things that will thin out your blood. If you use retinol, aspirin, or drink a lot, avoid them one week to your appointment.
Retinol makes your skin thinner, which can result in more bleeding. The excessive bleeding pushes the pigment. This causes the color not to stick perfectly.
You should also be prepared to refrain from caffeine, alcohol, and any other blood thinners during the healing process.
Microblading Is Not So Painful
Besides the concerns of "is microblading safe?" this is the next worry for most prospects.
Well, pain is relative. Some people feel it more than others. But generally, it feels like many tiny scratches. You may feel a bit of pressure but it's definitely bearable.
The technician usually applies a numbing cream at least 30 minutes before the procedure, and top it up during the process to reduce the discomfort If you've got a low pain tolerance, it's best if you apply the numbing cream an hour before the procedure.
Some people think that the cream causes skin inflammation (which can ruin the quality) is a myth. However, this has not been proven to be accurate.
Microblading May Take a Few Hours to Complete
The process may take anywhere between two and three hours. Your technician will be required to measure your brows. Then they will decide on the depth, width, and size that suit your face.
Brow mapping is a very critical step in microblading, and it should take longer than the procedure itself to make sure you get desired results. Dry skin retains the pigment better than other skin types. People with oily skin will require more touches to get the desired healed results because the excess sebum can push out the pigment interfering with the results.
On the other hand, microshading works well for oily skins and people who love to retain the make-up look 24/7. Instead of the hair-like strokes, the technician uses a round needle to poke and make pigment deposits above the dermis. The focus is either directly or around the microblading.
The drawback of microshading is that it may cost more, and requires a higher level of expertise than microblading.
How to Ensure You Avoid any Health Hazards
So is microblading safe in regards to overall health? The risks involved include the transfer of blood-borne products, infection, and scarring. Therefore, you want to do proper research and make sure you go to a technician who uses a sterile environment. Professional technicians will be well aware of this and should take the appropriate precautions.
The other thing you should confirm is that your technician has extensive experience in skincare. Check their profile and take a look at their educational background like where they studied. You can schedule a consultation where the technician should explain how they conduct the procedure (what products they use, where they source them, etc.).
Another quick tip is never to trust anyone who uses black pigments! Technicians should only use dark brown pigments even when doing an individual with darker colored skin.
How Long Does It Take to Heal & After Blading Care
For an average person, it takes two weeks to heal. However, healing can take up to a month for the color to set in properly. Although many sites will advise you not to wash your brows for several days after blading, this may lead to an infection.
During the first 24 hours, blot your brows every two hours to sterile gauze and purified water to remove lymph fluids. After a day, wash your brows gently every three hours with a slightly damp Q-tip and antibacterial soap.
You may experience a few after-microblading effects such as swelling, itching, scabbing, and redness. You can use Vaseline to alleviate these effects.
How Long Does Microblading Last?
The pigments may last anywhere between one and three years. Yet, you're required to go for a few touches every six months.
Is Microblading Safe for You?
In short- yes. If you're still wondering is microblading safe for you then look no further. If you've tried every pigment, powder, pencil, and stencil at the counter and your brows are still thin or fine, you can benefit from this procedure.
You'll get the brows of your dreams for a longterm period. Many people have safely gotten the procedure and are still in love with their results to this day.
For more tips and advice on beauty, check out our blog.
Related Videos about What Is Microblading and How Does It Work?
What is Microblading? | Microblading Eyebrows
Microblading Procedure – Before/After
ALL ABOUT MICROBLADING + BEFORE / AFTER
Microblading Process step by step
Microblading Eyebrows Step by Step Tutorial
What Is Microblading and How Does It Work?
microblading procedure, microblading definition, microblading tattoo, microblading eyebrows before and after, microblading eyebrows near me, microblading aftercare, microblading uk, microblading near me,