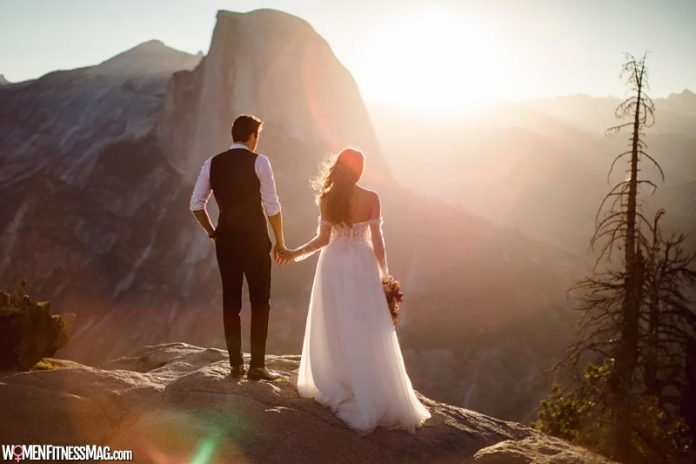 What You Need to Know Before Planning a Yosemite Wedding : If you are planning a wedding and are looking forward to having a stunningly unique experience, then you probably already have a Yosemite wedding as your number one item on the planning list. Undoubtedly, Yosemite national park is among the most monumental places for taking your vows.
The venue offers numerous photo-worthy sites with its towering trees and massive granite giants, the lush meadows, and lazy rivers, what more can a newly wedded couple look for?
If you want an exclusive nature wedding or a rustic adventure, a Yosemite elopement is your best option. To help you and your guests have the best experience, here is what you need to know before planning your elopement.
The Off Seasons are Far Much Better
Even though most couples prefer the summer season for their Yosemite elopements, nothing can compare to spring and fall. These seasons offer you cooler weather and smaller crowds, the perfect combination for an intimate wedding. At this time, it is also very easy to secure accommodation either as a camp or enjoying some nights at the magnificent Yosemite hotel.
Remember to Dress Appropriately
Dressing well for your wedding goes without mentioning. However, if you are looking forward to a Yosemite elopement, it is good to prepare for the unforeseen. No doubt, you have awesome wedding shoes but they might not be that good for the sunset spot in Yosemite. To be on the safe side, add a more suitable pair to your checklist. Also, remember to include a jacket to brace up for the low temperature while going for those epic shots.
Early Mornings and Late Evenings Offer the Best Experience
While at Yosemite, you might want to wake up a little extra early or wait for the day's last rays. The rising and setting of the sun offer the most beautiful light for capturing your romantic elopement or wedding. The snaps you take from the sunset or the sunrise light are to die for.
Pick a Renown Photographer
Top on your list for your Yosemite elopement or wedding planning should be the best Yosemite wedding photographer. This should be a person who knows the area well. You'd want to choose one who has lived there or has spent a considerable amount of time there to capture the most breathtaking shots of your rustic and intimate wedding. Photographers who are familiar with this exquisite site are your solution to the most beautiful sceneries and unique venues that are less frequented.
Try the Lesser Visited Locations
Glacier Point and Tunnel View are breathtaking views. The more reason why most people frequent the place. What most people are unaware of is that the valley has many other jaw-dropping sceneries without having to struggle in the crowds.
Pros of Having a Yosemite Wedding
You can never go wrong with a Yosemite wedding or elopement. This is mainly because it involves a shorter guest list that allows you to have a more intimate experience than is the case with a big, conventional event. Some people are not comfortable with the idea of saying their vows in the presence of a multitude. Instead, more couples are avoiding the hassles and costs by celebrating their marriage in simple, intimate ways.  Here are some of the benefits you get for choosing a Yosemite wedding or elopement.
Have a More Customized Experience
Having an intimate wedding allows couples to have more time to enjoy their matrimony to the fullest. After all, a wedding happens once in a lifetime for most people, and therefore, getting the most out of the event is paramount for better memories. It also allows your photographer to put more focus on the real moments than on the poses.
It is Economical
This goes without saying. An intimate wedding is a ticket to cut the total budget. On average, a cheap wedding will cost you anything between $20,000 while you can spend $55,000 on average in the most expensive event. Having fewer guests means less food, smaller space, and in some cases avoid transport and security costs.Yosemite elopement allows you to have a marvelous celebration by spending money only on what matters. You can save money on flowers, alcohol, favors, décor, food, hair, and makeup. You can however choose to spend a little to the experience more special and save money for your honeymoon.
Have More Privacy
An intimate Yosemite wedding or elopement is your ideal choice if you are reserved about saying your meaningful, private vows in front of many people. You only have your family and close friends or just yourselves witnessing your marriage. A big event is sometimes graced by people you are not acquainted with or those you just invited to make other people happy.
To sum it up, a Yosemite elopement is an incredible way for you and your partner to celebrate a new chapter in your lives. The adventure is a worthy experience.
Related Videos :
Planning an Earthy Destination Wedding in Yosemite
Yosemite National Park Wedding – the best place on Earth
Yosemite National Park Elopement
Yosemite National Park Wedding Video
What You Need to Know Before Planning a Yosemite Wedding
yosemite wedding permit, lower yosemite fall paved trail wedding, yosemite wedding planner, glacier point amphitheater wedding, yosemite wedding venues, yosemite elopement, yosemite elopement planner, yosemite wedding prices,