Where To Find The Best Boots For Ice Fishing? You can hear a lot of people fascinated with different types of sport. You don't have to play. You can always watch it on the TV or live. It all depends. Many people think that you have to have a ball for the activity to be called a sport. You have football, basketball, tennis, ping pong and others. But most of them don't even think about fishing. They always forget that it's qualified as sport.
Actually, it's known as one of the most popular ones worldwide. It does not depend on weather. You can do it whenever you want. The weather doesn't matter really. What matters is that you are prepared for anything that may happen. You should always wear the proper equipment. You shouldn't underestimate Mother Nature. Anything can happen while you are out there, especially in the cold winter. You have to learn what to wear and what not.
Where to begin?
If you are a new fisherman, this can get overwhelming. There are so many things that are new to you. You would have to find the proper fishing rod, the right baits and clothes. You have to do a lot of reading before you buy anything. So, get down to business. There are many sites that do reviews. You would have to dig to get to the right one for you. You should be prepared for all the money you will spend.
Style
Basically, it all comes down to style and personal choice. Everyone has a specific type of clothing they like to wear. Choosing footwear is the same. There are many options for ice fishing boots. You have to keep in mind where you are going. Do you want a higher or lower cut shoe? Experts will tell you that it's best for you to wear something that covers a lot of leg area. That way if you get into water by accident, you won't get that much wet.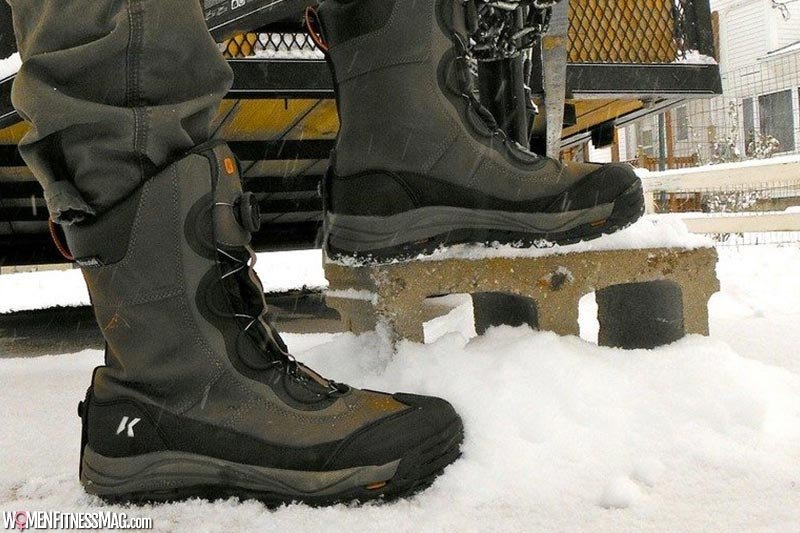 You can choose footwear that is more casual or bulkier. A lot of fishing boots are made to resemble the Wellington ones. If you don't like them, you could always go for something that looks simpler. You want to choose the ones that go around the ankles tightly. There's a difference in the soles. You have to try them before buying. That way you will get a sense of their weight. You have a lot of research to do to find the best ice fishing boots.
Proper foot insulation
This is an important aspect for choosing an ice fishing boot. When trying out different products, choose the one that allows your feet to move. You will probably sweat a lot in them. So, you need good insulation. Also, your feet should stay warm no matter the weather out there.  There is a special type of material that the manufacturers put in these shoes.
The material is called Thinsulate. It has different grades and levels of insulation. This is a crucial feature. You can't go to a store without knowing about this material. They may try to trick you. You can't allow that to happen. You should buy one level above. Don't be surprised when you see how heavy they are. It's because of the material.
What type of material should you choose?
When buying something, you should always look at the price. It could tell you a lot about the product. Something that is more expensive is likely with better quality. That means that it will last longer. It may seem like a big investment. But it pays off eventually. You should go for a shoe that will keep your feet dry and warm. If they're cheap, you won't get that.
What matters the most when you're going ice fishing is to wear waterproof boots. Most high quality products are made of rubber. This material is quite adaptable. Even if you get into a lake, you won't get wet. There are other types that are made from leather and nylon. Leather shoes look better that is for sure. Who doesn't like leather? If you own a pair, learn how to improve their waterproof quality here.
Putting the spray on them will make a big difference. They aren't that waterproof. Also, their insulation could be improved too. Even though they look so good, they may not be the right choice for winter fishing. You could buy nylon boots. They're the most popular ones. They aren't that heavy. When you try them on, you will know why people like them so much. You will be tempted to buy a pair.
The importance of waterproofing
You can't go ice fishing without the best waterproof fishing shoes. You should also buy waterproof pants. You can never be too prepared. It is a worthy investment. These products may cost a bit more than you are used to. But, you can't think of going out there without them. Some have a rubber thing inside. It is meant to protect you against water.
Traction
Even though it is the last thing on the list, it doesn't mean it isn't important. When you are walking on ice, you will probably slip. If you have bad shoes this will happen for sure. But you can't let this happen. If the ice is thin, you may fall into the water. So, buy shoes with better traction. You will be a lot safer this way.
Where To Find The Best Boots For Ice Fishing?
best ice fishing boots forum, ice fishing boots with built in cleats, best ice fishing boots 2018, ice fishing boots for sale, warmest women's ice fishing boots, best winter fishing boots, muck boots for ice fishing, review ice fishing boots,