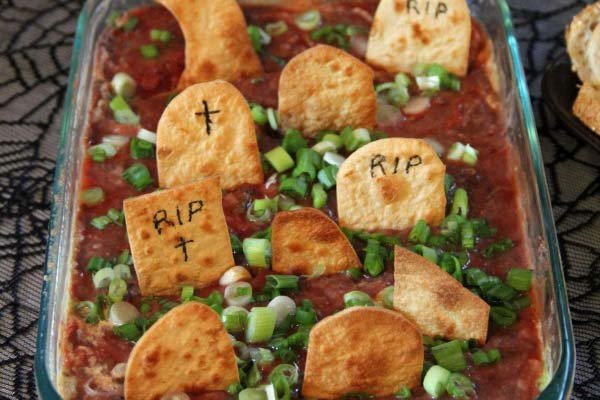 Creative Halloween Appetizers : Gone are the days where mini mummy pizzas were the most adorable yet scary Halloween appetizers. Take your this year's Halloween to the next level by making these amazingly spooklicious Halloween appetizers. Although some of them look a bit complicated, but the recipes are pretty easy to follow.
10 Creative Halloween Appetizers
1. Graveyard Dip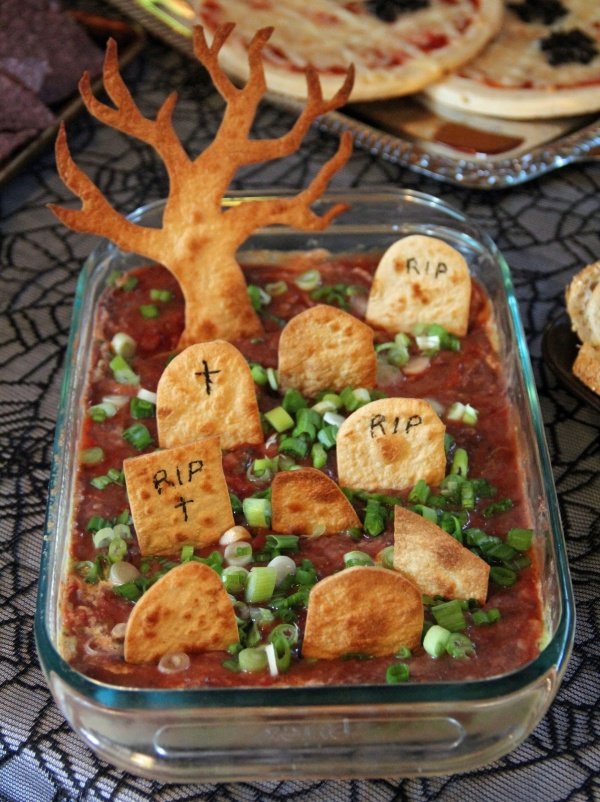 This Halloween treat does not take too much time to cook but will decorate any spooktacular Halloween party table.
Full recipe:
Ingredients
1st layer
1 can refried beans (Sue used refried black beans)
2nd layer
2 cups sour cream
1 pkg taco seasoning
3rd layer
1 cup salsa
4th layer
2 avocados, mashed
1 clove garlic, minced
2 Tbsp mayo
5th layer
1 bunch green onions, chopped
Directions
In a small glass dish (you can also use a pie plate), layer beans, then sour cream mixed with taco seasoning, then salsa, then avocado mixed with garlic and mayo, then sprinkle the onions on top.
Sue put the refried black beans on top of the dip instead of on the bottom just so it looked a little more like dirt in the graveyard. Feel free to layer this dish in any order you want.
Chill at least an hour or so…until ready to serve. (Can be made a day ahead and kept, covered, in fridge.)
To make the tombstones and tree you just need 2 large tortillas. Cut out the shapes you want, place on parchment paper lined cookie tray, and bake at 350 until the tortillas are nice and brown.
Place the tortilla decorations in the dip shortly before you plan on serving it as they will go a bit soggy if they sit too long.
2. Brain Dip
This one does not look like an edible treat, but trust me you can it this… well … brain. It contains mayo and cheese so dieters should be careful with the treat.
Full recipe:
Ingredients
1 can (10 oz) condensed mushroom soup
1 pkg (8 oz) cream cheese, softened
1 pkg unflavored gelatin
1/4 cup water
1 bunch green onions, chopped
2 cups shrimp, chopped
1 cup mayo
dash hot sauce
Directions
In a medium sauce pan, mix together mushroom soup and cream cheese over low heat until smooth. Remove from heat.
In a small bowl, dissolve gelatin in water.
When gelatin is dissolved, stir into soup mixture.
In a large mixing bowl, stir together onions, shrimp, mayo, and hot sauce. Stir in soup mixture.
Spread evenly into mold that has been sprayed with cooking spray. Cover with plastic wrap. Chill for several hours/overnight.
Unmold by dipping mold in warm water for a few seconds and then inverting onto serving platter.
Pretty easy, yes?
But, if you want something a little bit spicier then you may want to try Sue's tasty bean dip.
This is really super tasty.
Super.
I'm not lying.
Plus…it looks so cool on a Halloween dinner table.
3. Rice Krispy Treat Brains
Even your little ones will love these cute Halloween Appetizers.
Full recipe:
Ingredients
3 T. butter
1 10 oz. bag mini marshmallows
Red food coloring
6 cups Rice Krispies cereal
Non-stick cooking spray
Red gel icing
Instructions
Melt butter in a pot over medium heat (you can do this in the microwave too). Add marshmallows and heat until melted, stirring frequently. Add a few drops of red food coloring for a nice brain color.
Add the cereal and stir until evenly coated with the marshmallow / butter mix.
While mixture is still warm, spray your hands with non-stick spray and scoop up about 1/4 cup of marshmallow coated cereal. Form into a ball, then flatten a bit and give it a brain like indent with a spray coated knife. Set finished brain onto a parchment or wax paper covered baking sheet.
Let brains cool and then drizzle with red gel icing to give them that gorey brain look.
Makes 12-16 brains, depending upon how big you made them. Store in an air-tight container for 1-2 days.
4. Cheesy Goblin Head
I love this cute creature and if you make many of them, your festive table will instantly turn into a beautifully creepy area.
Full recipe:
Ingredients
2 – 8 ounce package cream cheese
1 – 8 ounce package shredded taco-flavored cheese
1/4 cup margarine or butter
2 tablespoons milk
2 8 ounce package cream cheese, softened
Tortilla chips
Pickled pepper
Pimiento-stuffed olives
Red pepper-stuffed olives
Shredded beets
Carrot sticks
Assorted crackers
Green sweet pepper
Directions
Place 2 packages of cream cheese, taco-flavored cheese, and margarine in a mixing bowl. Let stand at room temperature for 30 minutes. Add milk to the cheese mixture in the mixing bowl. Beat with an electric mixer on medium speed until combined, stopping the mixer occasionally to scrape the bowl with a rubber spatula. Cover bowl and chill 4 to 24 hours.
Form cheese mixture into a head shape and place on a serving plate. In a bowl, stir the remaining cream cheese until smooth. Spread head with softened cream cheese. Press in tortilla chips for ears. Using wooden toothpicks, attach a pickled whole pepper for nose, pimiento-stuffed olives for eyes, and pepper-stuffed olives for toes. Cut zigzag pieces of sweet pepper for eyebrows. Use shredded beets for hair and press in carrot sticks for teeth. Serve with assorted crackers.
5. Mashed Potato Monsters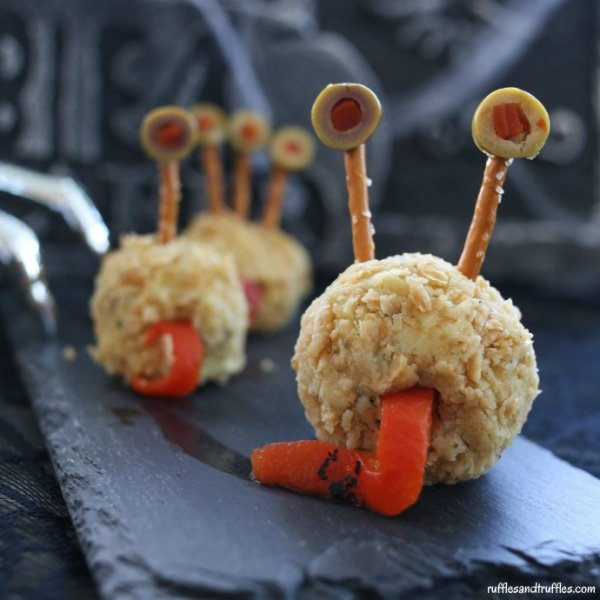 They spooky monsters will become best friends with those cheesy goblin heads. They are quick and easy to make.
Full recipe:
Ingredients
2 pounds Idaho® potatoes
2 tablespoons milk
1 tablespoon butter
3 tablespoons basil pesto
3 ounces goat cheese
French fried onions (1 cup or more), crushed
Roasted red pepper strips
Thin pretzel sticks
Whole green olives with pimento
Instructions
First, prepare the mashed potatoes. Wash the potatoes (and remove skins if desired), and slice into small, equal sized chunks. Boil until fork tender, then remove from heat, drain, and return to the warm pot you boiled them in. Mash the potatoes. As you mash, add the milk, butter, pesto, and goat cheese and continue until blended.
Place prepared mashed potatoes into the refrigerator to cool completely.
When the potatoes have cooled, they can be transformed into mashed potato monsters! Spoon a golf ball sized scoop into your hands, then roll gently into a ball.
Roll the mashed potato ball into a shallow dish filled with the crushed french fried onions. Cover on all sides.
Place coated mashed potato ball on a clean working surface. Use a toothpick to create a small hole towards the bottom of the ball; insert a strip of roasted red pepper for the tongue.
For the eyes, slice a green olive in half. Then, carefully cut an X in the bottom of the olive and insert a pretzel stick to finish the eye. Insert the eyeball into the top of the mashed potato ball, then repeat with as many eyes as you'd like to create!
Place on a platter to serve: enjoy!!!
6. Pretzel Broomstick Appetizers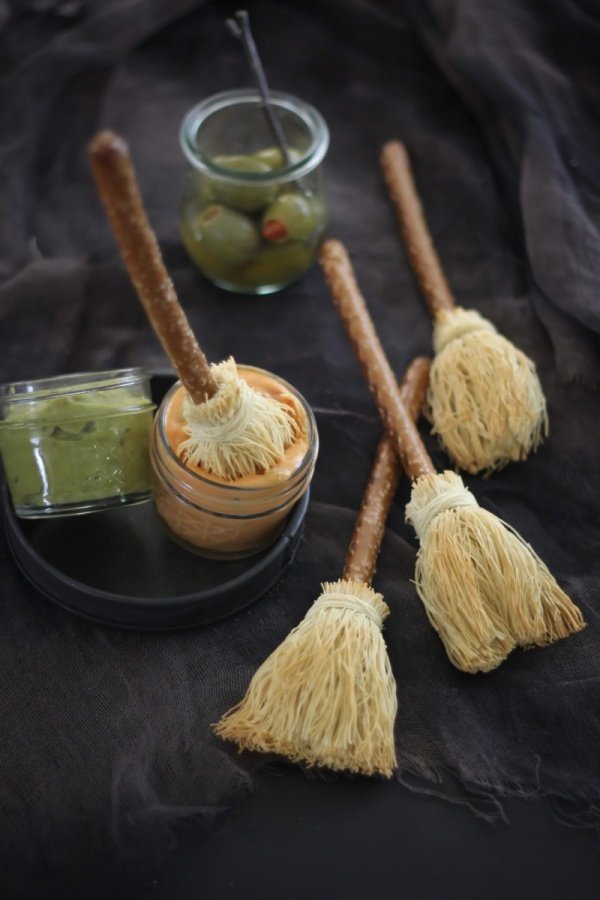 Serve these pretzel broomsticks on a tray next to your savory party dips or just serve them alone.
Full recipe:
Ingredients
Shredded phyllo dough (also known as Kaitafi)
Pretzel rods
Kitchen shears
Melted butter (optional)
Cinnamon-sugar (optional)
Directions:
Step 1: Prep materials
First, allow the Kaitafi to thaw at room temperature for 30 minutes, or according to the directions on the package. While you're waiting for the dough to thaw, cover two baking sheets with parchment paper and choose 12 pretzel rods that are free of cracks or nicks.
Pick up a section of the shredded phyllo and smooth it so that all of the strands are pointing in the same direction.
Cut a 4-inch piece of phyllo from the end of the dough with a pair of kitchen-dedicated scissors.
Note: It is okay if one end of the phyllo is messy, we'll give it a "haircut" later.
Step 2: Assemble broomsticks
Wrap the cut end of the phyllo around the end of a pretzel. Press the dough around the pretzel with your fingers about 1 inch down from the cut top, and hold for 10 to 15 seconds, or until the dough strands hold their shape when the pressure is released.
Cut a small, thin section of shredded phyllo and wrap it around the pressed part of the dough. Firmly press the wrapped section in place.
Trim the end of the broom to give it a uniform appearance.
Repeat with the remaining pretzel rods and phyllo, and place them on the parchment-lined baking sheets.
Step 3: Bake broomsticks
Bake the brooms at 400°F for 20 minutes, or until they become crisp and turn golden brown. Allow the brooms to cool on the baking sheet. Serve with your choice of party dips (we opted for nacho cheese and guacamole).
Note: These brooms can be made sweet by brushing the unbaked phyllo with melted butter and sprinkling on cinnamon-sugar. Bake and cool as directed.
7. Pumpkin Cheese Ball
No carving required. Cheese junkies will particularly love these Halloween-inspired balls.
Full recipe:
Directions
With a mixer, blend 16 ounces room-temperature cream cheese with 1 1/2 cups shredded cheddar, 3 tablespoons minced onion, 2 tablespoons salsa, 2 teaspoons ground cumin and 1 teaspoon minced jalapeno. Scoop onto plastic wrap and use the wrap to form the mixture into a 5-inch pumpkin-shaped ball; chill at least 2 hours. To serve, unwrap, roll in crushed nacho-flavored tortilla chips and press a bell pepper stem into the top.
8. Cheddar Witches' Fingers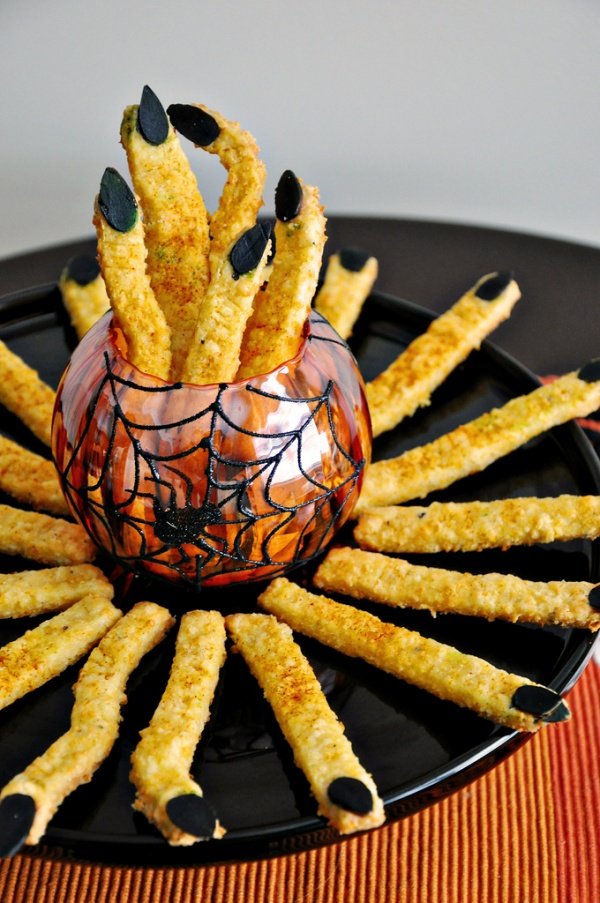 This Halloween, bring your sleepy taste buds to life with some cheddar witches' fingers. 30 fingers take around 15 minutes to make and you can store them in your fridge for up to three days.
Full recipe:
Ingredients
5 tablespoons unsalted butter
4 ounces (1 cup packed) shredded, extra sharp cheddar cheese
¾ cup all-purpose flour
2 tablespoons cornmeal
¼ teaspoon cayenne pepper, optional
1 large egg
Coarse salt
30 sliced almonds
Black food coloring gel, optional
DIRECTIONS
1. Combine butter, cheese, flour, cornmeal and cayenne (if using) in the bowl of a food processor. Pulse until mixture has the texture of wet sand. Transfer to a bowl. Using a fork, mix in egg until dough holds together. Turn out onto a sheet of parchment paper about 12 inches long. Top with another sheet of parchment and press dough into a ½-inch thick circle.
Freeze for 15 minutes or refrigerate up to 3 days. Remove dough from freezer and roll into a rectangle about 8 inches wide and 10 inches long. Return to freezer for an additional 15 minutes.
2. Meanwhile, if desired, paint almonds. Mix a tiny amount of food coloring with a tiny bit of water. Using a small paintbrush, paint color onto almonds and set aside. Remove dough from freezer and preheat oven to 350º. Peel off top sheet of parchment. Using a sharp knife or pizza cutter, cut the dough into two 8×5-inch sections. Then cut into about 30 ½-inch wide strips. Place strips on an ungreased cookie sheet. Sprinkle with coarse salt, to taste.
3. Use your fingers to shape each strip, rounding the ends and bending in various directions to create a knobby shape. Using a sharp knife, score "knuckles" onto each "finger." Lightly dab one edge of each finger with water, then gently press the almonds into the dough. Bake for about 15 minutes, until the fingers are golden and crisp. Transfer to a cooling rack to cool completely.
9. Deviled Eyeballs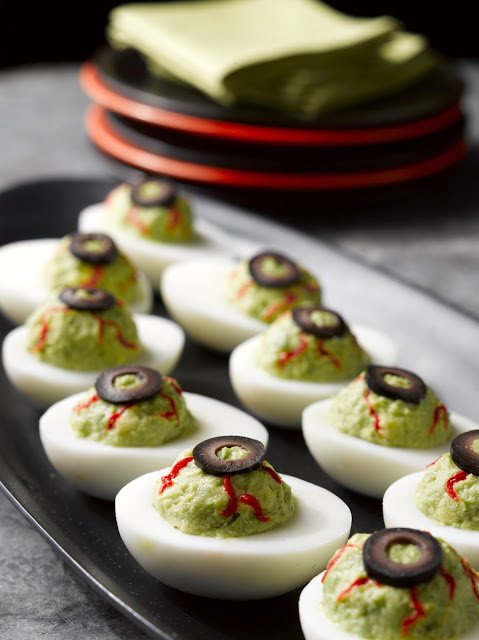 Top your ordinary deviled eggs with roasted red peppers and sliced olives to get spooklicious Halloween appetizers in minutes.
Full recipe:
Ingredients:
8 hard-boiled eggs
2 fully ripened Avocadoes from Mexico, pitted, peeled, and diced
1 tablespoon lime juice
1/2 teaspoon salt
1/4 teaspoon ground black pepper
1/8 teaspoon ground red pepper (cayenne)
1 tablespoon grated horseradish, drained (optional)
Directions:
Peel the hard-boiled eggs; cut in halves lengthwise. Remove yolks to medium bowl; arrange whites on serving platter. To bowl with yolks, add avocados and lemon juice; mash until smooth, mixing well. Season with salt and peppers. For extra flavor, stir in the tablespoon of grated horseradish, if desired. Fill each egg white half with heaping tablespoon of mixture, piling high; sprinkle with herbs, if desired.
To make devilish eyes: Thinly slice roasted red peppers to create veins on eyeballs, or drizzle tops with bottled red hot sauce. Top with sliced black olives. Enjoy!!!
10. Jack-o'-Lantern Stuffed Bell Peppers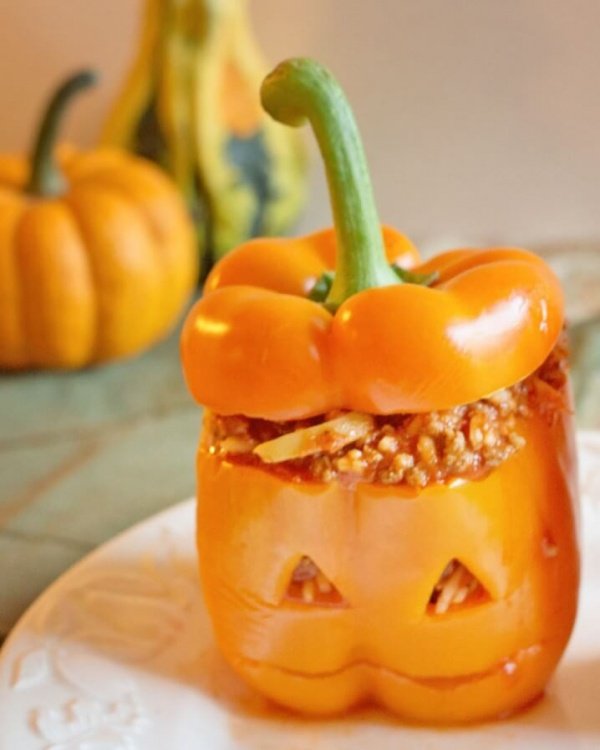 No matter what carving skills you have, I'm sure you will make these edible jack-o'-lanterns with little to no efforts. Not only they are a bit spooky, but they are also incredibly healthy.
Full recipe:
INGREDIENTS
4 Bell Peppers, orange
1 cup cooked rice (any variety. I used Jasmine)
1 Tablespoon cooking oil (I used olive oil), plus additional for coating sheet pan.
1 pound lean ground beef or turkey
1 medium yellow onion, diced small
8 ounces mushrooms, chopped
16 ounces (2 cups) roasted red pepper sauce
1 teaspoon dried Italian seasoning
1/4 teaspoon red pepper flakes
salt and pepper, to taste
DIRECTIONS
Get creative with this recipe! If you want to use traditional pasta sauce, go for it. Need a healthier dinner? Substitute ground turkey or chicken for the beef. Just use orange bell peppers to make the jack-o-lanterns for the Halloween stuffed peppers, then fill them with any casserole filling that your family likes. They're a fun, kid friendly twist on traditional stuffed peppers that'll be a delicious Halloween dinner for your family!
There you have it! The top ten amazingly spooklicious Halloween appetizers that are perfect for adults and kids alike. Get creative and make these treats even more spooktacular. Let me know if you have any Halloween appetizer ideas right now.
If you wish to get your post published in Women Fitness Magazine, You are most invited for Guest Post.
Related Videos :
4 Halloween Appetizers and a Cocktail! ~ Easy Halloween Snacks
3 Easy Halloween Appetizers | Party Tips
Halloween Open House & Appetizer Buffet
Halloween Treats – Scarily Scrumptious : How to Make Pizza Mummy Appetizers
Broomsticks Appetizers for Fall and Halloween
How To Make Halloween Pumpkin Cheese Balls
Easy Halloween Appetizer – Pumpkin Cheese Ball
Cheesy Spooky Dogs 3 recipes in 1. Halloween Video How to Appetizers
Mass Appeal Haunting Halloween Appetizers
10 Creative Halloween Appetizers
Source: http://food.amerikanki.com/spooklicious-halloween-appetizers/
10 Creative Halloween Appetizers
creative halloween recipes, creative halloween desserts, halloween party appetizers, spooky halloween appetizers, creative halloween drinks, creative party appetizers, creative easy appetizers,
spooky halloween food, spooky halloween entrees, halloween appetizers adults, easy halloween appetizers, halloween party food, spooky halloween recipes, spooky halloween drinks, spooky halloween snacks,
halloween appetizers adults, creative halloween appetizers, halloween appetizers pinterest, halloween appetizers ideas, halloween party appetizers, halloween appetizers for kids, spooky halloween appetizers, halloween appetizers recipes,