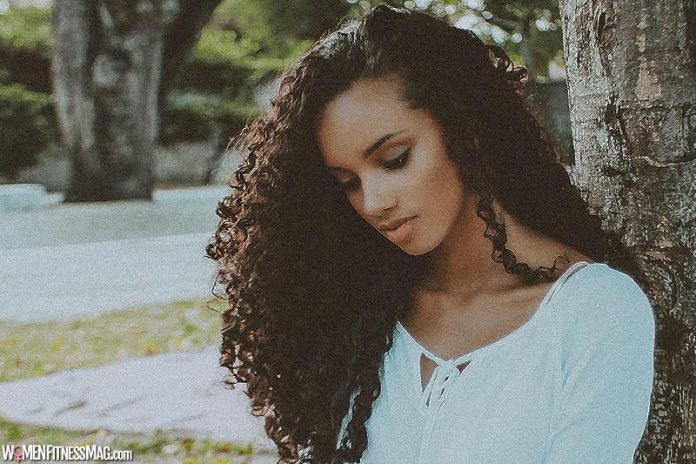 10 Effortless Summer Hairstyle worth trying with Passion Twist : Spring is the season for protective hairstyles. Normally, this would be my cue to book an appointment for box braids, but I have my sights set on a different look for spring. You may have seen my next hairstyle and yours all over your social media and carpets.
Passion Twist is the gorgeous bohemian plaits with an uncanny resemblance to goddess locs.
Not to forget, like most protective designs, you can personalize this look by changing the length, color, or overall style. Check out the passion twist styles in the gallery below to see how.
Passion twists with curls

Unlike other protective hairstyles, passion twists are extremely versatile in terms of styling. You can create twists in various lengths and styles and modify them to fit your preferences. This can be done in various ways, but allow the twists to unravel slightly to produce curled ends to soften your look.

Passion Twist styles are ideal for women who want to show off their naturally curly hair, but it is also possible to do with hair extensions. You can wear these beauties at any length, but if they fall around your face, they can be incredibly appealing, drawing attention to your features. This technique also gives a textured look, and the contrast between the braids and the ends draws attention.

Multi-colored twists

Passion twists are among the more new braided choices, having only been introduced in 2018, yet they have grown in popularity because of their sleek and snatched look. There are numerous methods to style twists and novel techniques to wear two-strand hair.

You can customize your appearance to fit different hair lengths, but you can also have fun with your finishing touches, like adding attractive accessories or vibrant colors to your hair. If you want to stand out from the crowd as a woman, adding brightly colored stands is a terrific way to do so. It allows you to experiment without committing to a specific color in the long run. Plus, multi-colored streaks are expressive and will reveal your joyful side to the world.

Beaded passion

Passion twists are a beautiful, protective style that will protect your natural hair by trapping moisture and lowering the danger of breakage and friction. It's also an appealing and feminine appearance that you can customize with different lengths, hues, and accessories.

Adding beads to your passion twist crochet is more than just a nice aesthetic; it is also symbolic. Beads have long been worn by several tribes and can reveal a lot about the wearer's social standing, achievement, and relationship status. There are various sizes and textures of beads to select from, and wearing them in your hair can be a way to respect your heritage.

Passion twist with a headscarf

You can wear your passion twists in an updo, but adding a charming hair accessory is a terrific way to add your personal touch to your style. A headscarf will decrease friction while also looking beautiful.

They come in various colors, prints, and patterns, allowing you to select the one that best suits you. It can also be a subtle way to add some color to your outfit; pick out strong prints or saturated hues for a striking look. The style draws attention to your face and emphasizes your eyes. You can keep all of your hair off your brows or leave a few strands for a more relaxed look.

Ombre passion

Passion twists are also quite fashionable and adaptable. You may make braids of varying lengths, from long to short, and play with color and decorations. The ombre coloring technique is one of the most popular ways to wear color. This method combines two brights and one dark tone to create a stunning, graduated effect.

The colors you select could be natural, like black with brown ends, or they could be a fun way to experiment with trendy metallic hair colors. Grey is a popular color since it is trendy and flattering for most women. The ombre haircut may make a big statement and draw attention to your hair.

Blonde passion

Passion twists can have a softer, more boho look than many other twist hairstyles. They look great in several styles and colors as well. Do blondes have a better time? You can select for yourself by going with blonde passion twists.

Blonde hair with 613 braiding Hair Extensions is an excellent technique to lighten and brighten your appearance. It's also great for bringing attention to your face and emphasizing the texture of your braids.

Passion shells

With the addition of embellishments like yarns and shells, your twists will look fantastic.

Adding yarns is a great way to play with color without going overboard, and you can use a variety of colors or keep it basic with just one.

Cowrie shells will draw attention to your braids while also emphasizing the texture. As beautiful as they are, they are also symbolic, and women wear them to commemorate womanhood and femininity.

Gray hair passion

Gray hair has become a popular choice for women of all ages because of its timeless look. The cool color is simple to wear yet flatters most women. It can also bring out the texture of your hair and brighten your overall appearance.

Gray passion twists will be eye-catching, and while passion twists normally last eight weeks, you don't have to commit to this hue in the long run.

The curly passion

With textured and wavy braids, passion twists exude a bohemian look. They can be created in various ways, but they look best with water wave hair extensions. The curl in your twists is what makes them unique.

You can choose braids of varied thicknesses and lengths when deciding how to wear your hair. Some women choose shorter braids for a lighter, easier-to-maintain style, whereas others prefer long hair for its versatility in styling and ability to make a statement. This protective design is suitable for ladies of all ages and will help you look younger.

Highlights twists

Passion twists are suitable for women of all ages, but they have a feminine and youthful appearance. Consider adding highlights to your dark hair to brighten it up.

Depending on how much contrast you want to achieve, your highlights could be caramel or lighter blondes. Highlights are also a great method for adding dimension and depth to your hair and bringing attention to the texture.
Fun fact: Passion twists were designed in 2018 by Miami hairstylist Kailyn Rogers, commonly known as The BohoBabe. She named them after her mother, who goes by the moniker Passion.
Conclusion
You've probably seen them all over social media because they're attractive, and there are numerous advantages to wearing them. They are a protective style that allows your hair to grow. This makes it ideal for summer because you can swim or wash your hair in it!
Shop at Indique Hair for hand-crafted water wave braiding hair made of 100% pure virgin Remy human hair today! All you need is the perfect water wave braiding hair, and you are all set!
Related Videos about Effortless Summer Hairstyle worth trying with Passion Twist :
10 Effortless Summer Hairstyle worth trying with Passion Twist
how to make passion twists look fuller, different types of passion twists, passion twist with curls, bohemian twist vs passion twist, realistic passion twists hair, pictures of passion twist, swimming with passion twists, how to protect passion twists at night,