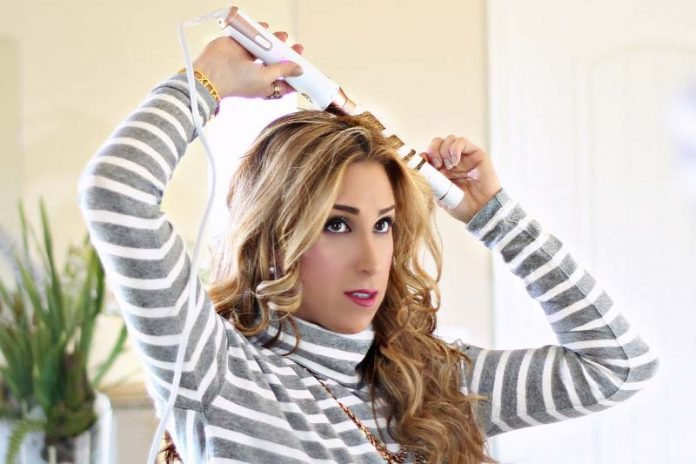 4 Top Curling Iron Mistakes and How to Avoid them : Even if there are countless video tutorials flooding on the net, still achieving those perfect, beach waves curls is a little bit hard using curling iron. Sometimes, the easiest way to do a thing is to learn what's not to do to achieve it. For a little help, listed below are five top mistakes we are doing with curling iron.
1. Picking the Wrong Size Iron
This is one of the common mistakes on how to curl long hair, medium or short. Girls think that the bigger the curling iron, the beachier the waves would be. However, according to Javan Stone, senior stylist at Spoke & Weal in Los Angeles disagreed. Choosing the right iron size depends on your hair length. If it is too big for your hair length, it is going to be a pain to use. For a short or medium hair, Stone advises using a curling iron that is one inch in diameter and 1.25 inch for long hair.
2. Using the Wrong Heat Setting for your Hair Type
For a thick or coarse hair, Stone advises using a higher setting. However, for a fine or processed hair, keep the heat a little lower. Though the higher the setting, the better it would set your hair, it also important to consider your hair type. Don't forget to use a heat protectant before subjecting your hair to heat to avoid damage, Stone added.
3. Not blow-drying before curling
Though blow drying takes time, it is necessary if you want to get salon result beach waves. It is not right to curl hair that is slightly damp. Prepare your hair before blow-drying by using a heat protectant and a hold product. Use hairspray before you start curling. Not only will it set the curl better but it will also keep hair from frying.
4. Holding the iron on your hair for too long
The maximum amount of time that you should hold an iron on your hair is only eight to ten seconds. If your hair is resistant to curls or if you want a tighter wave, you can hold it a bit longer. However, make sure to hold each for a consistent amount of time as it will mess with the outcome.
Conclusion
Now that you had achieved that perfect beach curl waves you're dreaming try adding some fashion statements like piercing for women. Celebrities like Kendall Jenner, Scarlett Johansson, Bella Hadid have some of them on their body. However, choose the right location and the right piercing for you and do this with caution.
Related Videos for Curling Iron Mistakes :
8 Ways You're Probably Using Your Curling Iron Wrong
How Do You Curl Your Hair With A Curling Iron?
How Do You Use A Curling Iron?
4 Top Curling Iron Mistakes and How to Avoid them
curling wand, why did my curling iron burn my hair off, how to use a curling iron on short hair, best curling iron, how to curl hair, how to curl your hair with a curling iron for beginners, best product to hold curls in straight hair, should you curl hair in same direction,