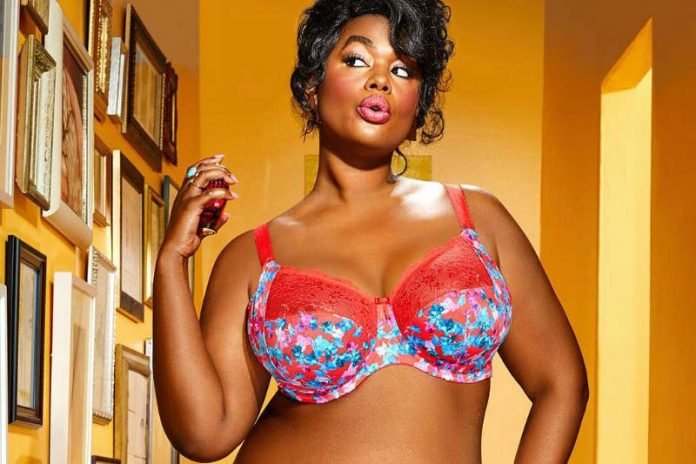 5 Tips for Finding the Best Minimizer Bra for Large Breasts : There's probably a lot of chatter about the best minimizer bras for large breasts. A minimizer bra makes your breasts look smaller. That's for sure. But how do you choose the best without wasting too much of your time and money?
Here are the 5 tips for finding the best minimizer bra for large breasts. If you don't think you have found the ideal fit yet, this informative guide will definitely help.
What to Look For
1. THE RIGHT BRA FITTING
What do you do to find the right bra size? When you have large breasts, sizing yourself is very important. Without it, it's more likely that you'll go through a number of fittings. Until you find (or even don't!) the best minimizer bra for you.
Women need to address all their concerns starting from comfort to fit. And since I've been at the listening end of lingerie choices. I know what you want. The "perfect fit" isn't that hard to find once you get this done.
Ask yourself the following questions before buying a minimizer bra.
Does the bra give me a good posture?
Is the bra too tight from the back?
Do I feel any pinching under my bust or at the sides?
Once you've got the answers to the questions, you know whether you've found "it." If it's on your favor, then great! But if it's not, it means you have the wrong size.
To help you find the best minimizer bra for large breasts, you need a sizing calculator and chart. This fitting guide should help you find the "perfect fit" in a matter of minutes. Remember: an accurate number gives the right fit!
2. DO YOU NEED AN UNDERWIRE?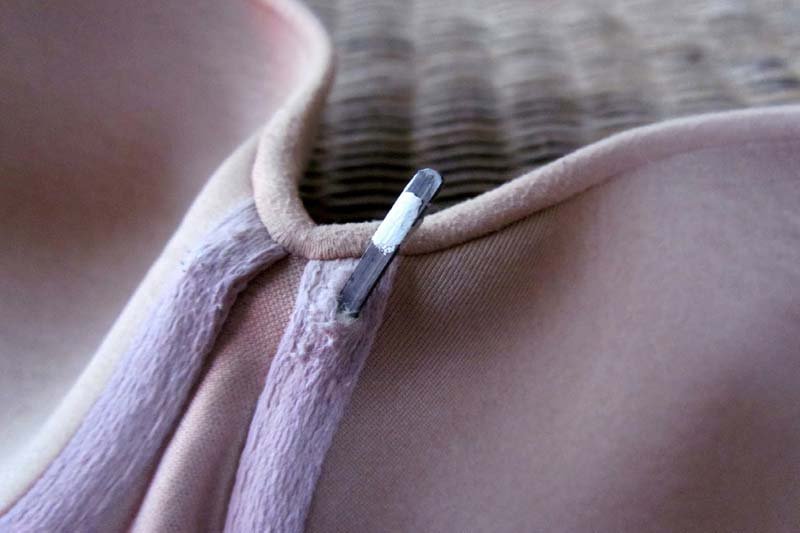 An underwired bra offers lift and support. On the flip side, a non-wired bra offers comfort and less skin irritation. Women with large breasts have often found the latter to be most ideal. Let me tell you that the battle between an underwired and non-wired bra is a personal one.
It depends on your comfort level and bust size. But if you ask me, a majority of women prefer non-wired bras for their comfort. Here's why:
It's a myth that women with large breasts need an underwire for bust support. This is not true so don't think you can't enjoy the comforts of no wire with bigger breasts. Whether you have small or large breasts, an underwire is a choice.
The underwire lines the underbust region which is under each cup. If worn for a long period of time, it can cause skin irritation and feel stuffy. Your breasts will feel restricted with an underwire. Even hot and sore after a point. It can get worse if you have the wrong size.
3. LOOKING FOR BREATHABILITY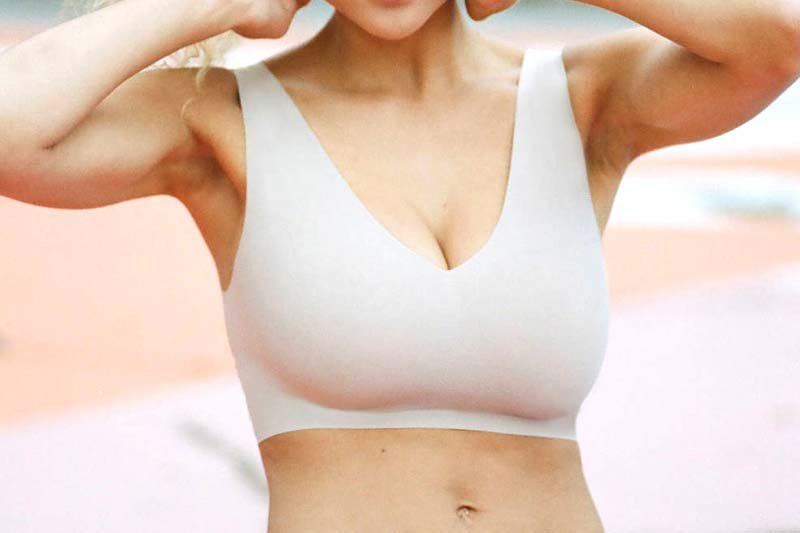 Did you know wearing a stuffy bra for more than a few hours can cause heat buildup? Because of which, your breasts get sweaty and sore. With a good minimizer bra, you won't see scratch or puncture marks under your bust. Or even close to the underarm region.
This decreases your chances of a skin infection due to constant sweating and warmth.
It's ideal to look for bras that feel soft and airy against the skin. If you can slide in two fingers under your bust and near the straps. It means you've found a breathable and comfortable minimizer bra.
4. STAY AWAY FROM PAIN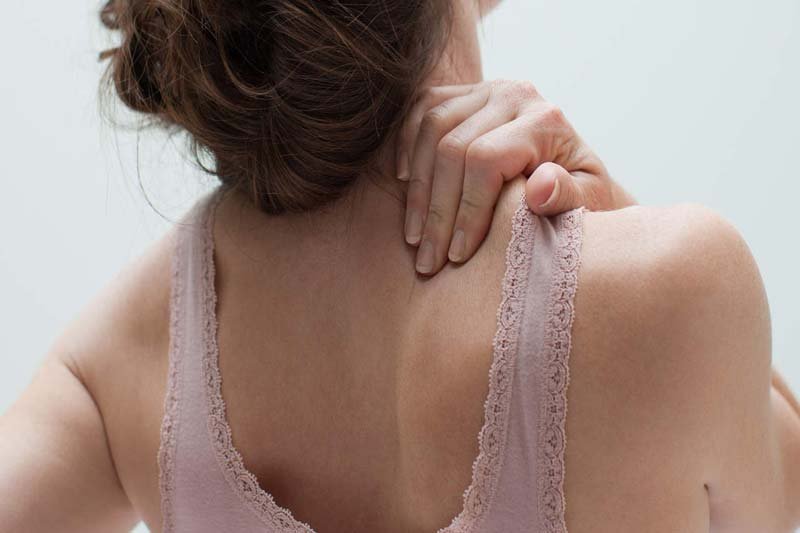 Women with large breasts often experience neck and back pain. It can also cause breast pain. An incorrect bra is one of the top reasons for it. The body needs to adjust to the tightness of the bra. This causes neck and back pain more often.
Such pain stays with you whether you're wearing the bra or not. Moving forward, bras worn with underwires can often make matters severe. So the best way to ditch the pain is to look for signs of pain beforehand.
When you're in for bra fitting, walk around in the bra for a few minutes. Move your body is every natural position possible. For example, bend from your hips to touch your toes. You can even move your shoulders from side to side. This should help you find the best flexible minimizer bra for large breasts.
5. CHOOSE DARK COLORS
Minimizer bras come in all shapes, colors, and sizes. But the best ones, so far, have been those in a darker shade. Dark colors make your breasts look for full, round, and sexy. Isn't that the whole point of buying a minimizer bra?
You can accentuate your breasts while making them look natural and curvy. For that, there's nothing better than wearing a black or a dark navy blue for a night out!
Conclusion
Are the 5 tips for finding the best minimizer bra for large breasts helpful? From push-up bras to sports bras, large breasts don't fit well with standard sizes. Women need to go that extra mile to find their ideal fit. This doesn't mean it has to be difficult, right?
With these 5 tips for finding the best minimizer bra for large breasts guide, you're on your way to complete satisfaction.
Author:
Jennifer Kessler is a blogger who doesn't hesitate to speak honestly. She believes in creating content that stems from personal experiences. And her mission is to spread the joy and combat the struggles of life as a woman. Kessler doesn't want you to believe that life is perfect. Instead, she tries to encourage the thought that there is tons of beauty in imperfection.
Related Videos to Best Minimizer Bra for Large Breasts :
The Benefits of a Minimizer Bra
What Are Bra Minimizers? : Bra Basics
Minimizer Bra Side Effects : Are You Wearing a Minimizer Bra
3 Ways to HIDE Big Boobs
The Strongest Minimizer Bra : Bra Tips
5 Tips for Finding the Best Minimizer Bra for Large Breasts
best minimizer sports bra, best minimizer bra for full figured, best minimizer bra without underwire, best minimizer bra 2017, bra minimizer before and after, soma 3 inch minimizer bra, 4 inch minimizer bra, minimizer bras,