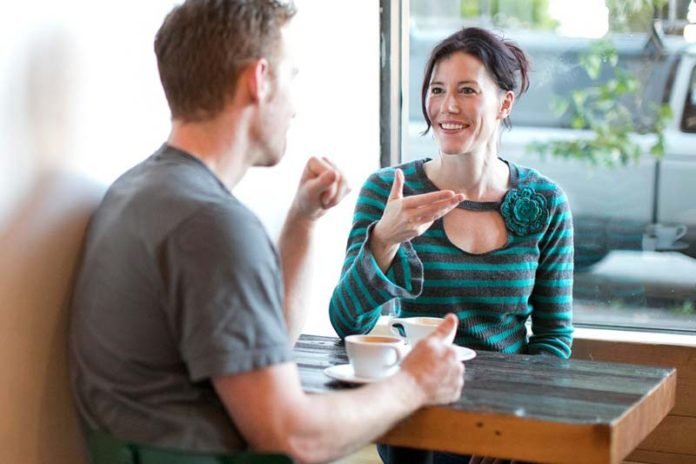 7 First Date Questions to Get the Dialog Thriving : Whenever you go out on a date with someone, you want some chit-chatty conversations, aside from cheap essay and short verbal replies. Whenever you go out on a date with someone, you want some chit-chatty conversations, aside from cheap essay and short verbal replies.
On a collection of dating statistics published by Thought Catalog, women will know if they're falling for the guy at date 14, as opposed to date 3 for men.
Before you can reach to that stage, you need to establish good impressions on the first encounter. What makes a memorable first date? It's two people working hand-in-hand to make good conversations.
Men typically ask the first few questions, while women back it up when he seems to be running out of ideas. Whatever sex or gender you're in, below are seven enticing and engaging first date questions:
1.  Where do you plan to travel next?
This is one classic. I never encountered a person who doesn't have the slightest travel fantasy. This question leads to other interesting questions like one's wildest dream, or favorite food/delicacy.
You'll also know some insights to a person's current state. If your date prefers quiet and solemn beaches, that could be a telltale sign he/she's burdened at the moment. If the person prefers exhilarating places like mountains or trekking places, you'll know that your date's an adventurous one!
2. What's your ultimate childhood dream, even if it's far-fetched?
Each one of us has respective childhood dreams that were quite unrealistic. Being the next U.S. President, being a director at NASA, or winning American Idol – these are some aspirations that we now find funny as full-pledged early or middle adults.
By having you and your date share the most random dream you had as a kid, you'll surely exchange a few smiles and laughs, enticing both of you to think of funnier and less serious questions.
3. What's the weirdest pickup line a suitor used on you?
Now this question should be asked my males, as females are often subjected to weird pickup lines in online dating sites like Tinder and Skout from the gents.
You'll surely get her chuckling as she tells the story, enabling you to have lighter conversations with her.
4. What's your take in this current administration?
You can argue with me that the current US President has been xenophobic, homophobic, and racist in his tirades directed to his perceived US minorities. With a handful of athletes not hesitating to retaliate in their symbolical protests, it's becoming more of a national matter now.
This question is indeed an intelligent one. You'll know your date's insights, slight cognitive and reasoning abilities through such.
Who knows if he/she's just as politically concerned and opinionated as you? This can lead to more intelligent and engaging conversations.
5. How many are you in the family?
Like a family tree, this question can make other relevant information about you (and your date) sprout.
There's a great chance your date will tell more about him/her. (e.g., sibling order, work of parents and siblings, ways he/she was raised, etc.).
With tons of family traditions, habits, and practices, that simple question can go long ways.
6. What kind of pet do you have/ wish to have?
Who hates talking about their pets? Our beloved home animals are the first things we look for after a grueling day's work. There's just a lot to love about them (e.g., silly habits, funny antics, etc.).
And even if your date doesn't have one yet, you can ask him the creature he/she has longed to have. There's just a lot to talk about in the animal kingdom.
7. Where's your ultimate sanctuary?
There's just that particular space where we're most comfortable – where the city life hassles and stresses are reset, and we can recharge back our inner resolve.
For your date, is it his/her bedroom? The orphanage he/she frequently visits? The small park downtown? Or simply when he/she's with the family?
Asking this lets you unravel your date's greatest peace of mind – one of the most vital information you can get. This informs the person that you're concerned about genuine feelings and state of mind. Again, this could lead to more meaningful conversations.
As a wrap-up, asking interesting and elaborative questions is important on the first few dates. It warrants explanation, and that's just what you want to get from your date – information, willingness to engage, and attention.
Ask well.
Author:
David Webster is an Australian essayist and writer currently residing at Illinois, Chicago. He has massive experience in both freelance writing and blogging, enabling him to be the writer of choice for most of his clients. He also currently serves as webmaster and contributor for essaycorner.com
Related Videos:
7 Questions You Should Ask On A First Date
3 BEST FIRST DATE CONVERSATIONS
10 Perfect Questions to Ask on a First Date
7 Questions You Should Ask on a First Date
Great First Date Conversation Questions
10 Questions To Ask Women On Dates That Will Get Conversation Going
The 5 BEST First Date Questions
Related Infographics:



7 First Date Questions to Get the Dialog Thriving
speed dating questions funny, speed dating questions for friends, creative speed dating questions, dating conversation questions, speed dating questions icebreaker, speed dating questions for students, awkward speed dating questions, online dating questions to ask her, funny first date questions, first date conversation starters, questions to ask on a second date, dating conversation questions, first date questions reddit, 100 first date questions, funny first date questions to ask men, what to talk about on a first date with a guy,