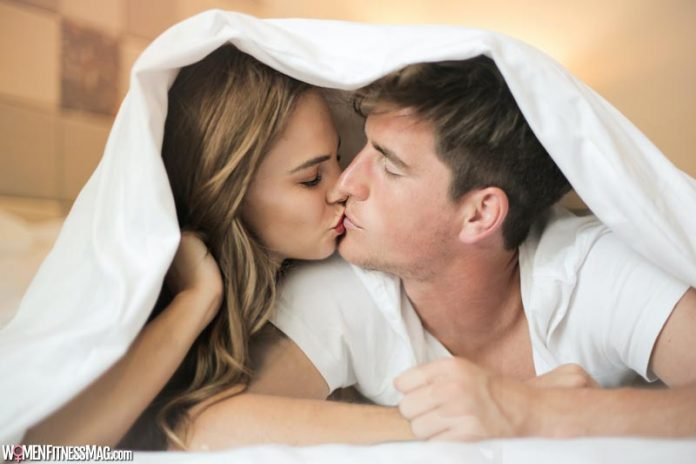 7 Ways to Reignite Sexual Passion in a Stale Marriage : Attraction, be it emotional or physical, is quite hard to maintain over time and it's hard to maintain it in a married couple's life too. That's why we have brought to you the top seven ways to reignite sexual passion in your life.
It isn't surprising for many couples to suffer from boredom and bitter feelings after several years of marriage. Moreover, it isn't practical to think that the intensity of marriage and not be jealous of each other. The sexual passion might grow more intense or end over time. However, it is essential to address the marital problems.
Top 7 Ways to End Common Marriage Problems:
Here we have gathered the top 7 ways to overcome major marriage challenges and marriage problems.
Schedule A Sex Date:

According to a sex therapist and relationship counselor, Desiree Spierings, there are several reasons to make regular appointments between partners just to have more sex. So, according to Health Magazine, you need to redefine your date night.

She adds, "Whether sex actually happens or not isn't a matter of concern. It's about being intimate in a physical way and making sure that happens." Although many of us prioritize a date, which includes a dinner or movie, very few of us take this approach when it comes to our sex lives. The truth is that, by the time we get home from a date, we are too tired and exhausted to have sex with our partner.

Ms. Spierings states that the main point of sex is to end the lack of communication because it takes more than one person to communicate. So, you should believe in the power of two.

Set the Mood:

One of the most common problems in marriage is that the couples are too busy. When things are too rushed and quick, it feels quite weird from doing your dishes to making out with your partner.

According to experts, it is quite easy to transition from daily time to couple time by making bridges and creating an opportunity for intimacy. This includes having a glass of wine or a cup of tea when the day ends, taking a walk after dinner, or giving each other a neck rub while watching television.

Clinical sexologist and sex coach, Tanya Koens, states, "You might not be thinking about sex, but now you are getting a neck rub and being told that you look awesome. This might lead to some sexy time with your partner."

Give Your Real-Life Routine A Rest:

When you have children, your relationship is first defined as co-parents, not lovers. This further sets the psychological cement and tells us that we are in a family home, not a love nest. Most couples get caught in ordinary stuff, for example, learning to deal with kids, teaching kids good behavior, getting and spending money and finances. It is hard to break these values and financial pressure. Moreover, job issues affect the whole family emotionally.

For starters, you need to break the routine by dressing to impress one another. Then you can schedule a meeting in a motel room or a cottage overnight. Even if the overnight change isn't possible, you need to change your look for one another.

You can get a new tattoo or try a different kind of hairstyle. Being 'different' doesn't mean that your partner doesn't love you. But part of him wants to believe that he just met you. You should also feel free to suggest changes in one another, like growing a beard, wearing a certain type of clothing to bed, or trying a different hairstyle.

Understand the Reason for Sex:

Everyone has different reasons to have sex and spontaneous sexual desire is just one of them. Experts state, "If you have no spontaneous desire, that isn't the reason to have sex with your partner. However, other reasons can act as a motivator to have sex."

These include wanting to become pregnant, feeling alive after the experience, feeling closer to your partner, or just enjoying the benefits of healthy sex life.

Other than understanding why you want to have sex, it is essential to review your previous thoughts and beliefs about sex, and what it means for you and your partner. Ms. Koens states, "For someone who thinks sex means enduring love and hiding personal bad habits of each other, it's important to discuss the level and rate at which you have sex."

She stated that by understanding each other's limitations and motivations, you can negotiate the level of sex that you and your partner are going to have and work towards that goal.

The six-second kiss:

According to experts, the key to triggering sexual passion is a six-second kiss whenever you are coming or going somewhere.

The practice of being more in the present when kissing someone for a longer period can boost the feeling of connectivity. Moreover, Ms. Koens states, "You can achieve many things in just six seconds. You can just go for a lingering, lip-biting kiss. It could be grabbing the bottom of the other person. It could be simple nibbling all the way to ear and back again."

Make Sex a Priority:

During the busy routine of daily life, the sex life of married couples can often take the backseat. You need to make it a priority to have sex. Just like other daily life chores, married couples should take time to keep passion intact in their lives. However, sex is the most common marriage problem and overstepping boundaries can break sexual trust.

Love Yourself:

According to experts, you will feel sexy if you look towards your general health and well-being. So, you must focus on what you look like and how you feel about yourself. In this way, you will feel more confident with your spouse. Moreover, spouses should stop trying to change.
End Problems in Marriage:
You can find tons of related articles online about relationship troubles. However, we have tried our best to bring a solution to make a marriage successful. You need to know that sex can be intimate or erotic, however, you don't need to put too much stress on yourself. You shouldn't think too much about divorce, conflict, or the collapse of relationships. Still, you need to address serious problems.
You can also try a suggestion box in which each partner lists the things he or she wants to try. If it gets the best interests of both sides, you should try it. There are many things you can do to reignite your passion and you can always try something new, like talking erotically or doing a striptease. However, you shouldn't have too many expectations.
The above-mentioned methods are just some techniques to attract your loved one. You can also attract your loved by the BJ Powerplay review. As the name indicates, the main purpose of the program is to facilitate you to get the blowjobs that you want. The program mentions different tricks, like Powerflux, framing, and inclusion to get the kind of blowjobs that you want. The program also comes with a 60-day money-back guarantee. So, you should definitely check it out to ignite sexual passion in your marriage.
Conclusion
Face Your Marriage Challenges
The last thing you need to know is that you should stop trying to look good at all times. You need to appreciate differences and have the skills to talk calmly. You did the search for your spouse yourself and only you reignite the sexual passion in Stale marriages and have a brighter and happier future.
Related Videos about Ways to Reignite Sexual Passion in a Stale Marriage :
7 Ways to Bring The Spark Back In A Relationship
How To Revive Sex & Intimacy In A Marriage (Get That Spark Back!)
5 Tips To Bring The Honeymoon Phase Back Into Your Relationship
Bringing Back INTIMACY with 10 Simple Habits
How Couples Sustain a Strong Sexual Connection for a Lifetime
7 Ways to Reignite Sexual Passion in a Stale Marriage
how to reignite sexless relationship, how to be more sexually intimate with your husband, marriage intimacy exercises, sexual intimacy in marriage, how to be more sexually intimate with your wife, how to rekindle love in a marriage, how to bring love back into a loveless marriage, how to get your relationship back to the way it was,