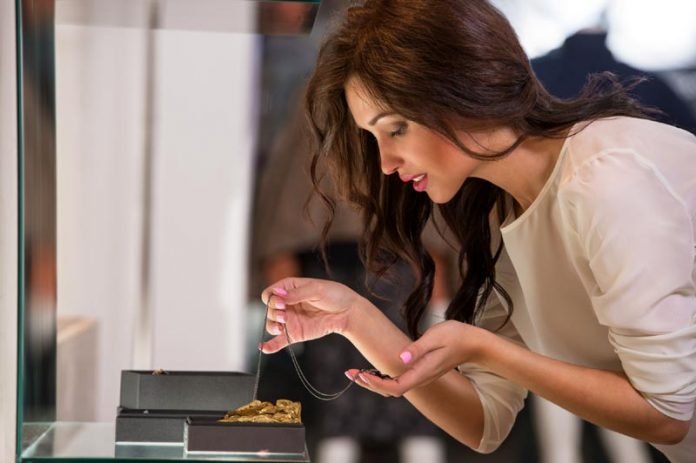 9 Best Ways to Store Jewelry : There's no worse feeling than styling an outfit around a cute pair of earrings or a statement necklace, only to realize you can't remember where you've put the jewelry you want to wear! This can make you change your whole look for the day, or at the very least, make you late for your day as you search up and down for the piece(s) you want to wear.
This is just one reason why smart jewelry storage is so important. Storing your jewelry not only helps you keep track of where everything is, but it also maintains the quality of the pieces you've invested in and prevents them from damage.
If jewelry organization has never really been your thing, here are some simple yet super effective ways to store jewelry you need to try!
Jewelry Dishes


Every woman needs a jewelry dish, and most women need more than one. Jewelry dishes are the ideal catch-all for small accessories like earrings and rings. They're great if you have a wide collection of these types of jewelry, and they're also suitable for storing bracelets.

Plus, you can have a lot of fun with jewelry dishes. These don't have to be all about function – they can make a great aesthetic addition to your bedroom, closet, or bathroom.

Designated Drawers


Instead of starting a collection of jewelry dishes that all look nice together, consider opting for a set of small drawers instead. You can purchase a standing drawer set to sit on top of your counter or dresser, or, look for thin tray-looking drawers that you can insert into the drawers of your furniture.

The standing set is ideal if you're always in a rush and you want one go-to place for all your accessories. The lay-flat organization style is better if you don't mind taking a bit of extra time to choose your jewelry in the morning and put it back at the end of the day.

Standing Jewelry Displays


Speaking of a standing jewelry option, have you thought of a standing display for your jewelry? This kind of jewelry organization is available for all accessories.

Necklace stands are typically tall jewelry holders in the shape of a "T". The horizontal rod at the top of the stand serves as a hook for necklaces of all lengths, layers, and weights.

Rings stands and bracelet rolls work in a similar fashion. They're crafted specifically for a certain kind of jewelry, whether it be a ring you wear every day, a statement ring, or a charm bracelet.

Wall Hooks


As great as standing jewelry displays can be, they can be hard to pick out jewelry from, especially if you tend to reach for something different every day. Having to re-stack rings or take all the necklaces on one side of a stand out just to get that last one can be inconvenient.

A good solution is to use many wall hooks to hold your jewelry instead of a few jewelry stands. Hooks give you the option to spread everything out a little more so that you're not having to grab an item out of a whole bunch of pieces every day.

For even better organization, use hooks to create categories for your necklaces, bracelets, and rings. And don't forget to have fun with this organization style – it can be a great addition to your home decor!

Corkboards


Up next on the list of smart jewelry organization is a corkboard. This may come as a surprise, but it's actually a genius, cost-effective tip. Just one corkboard can be the ultimate earring holder.

All you need for this kind of storage is a place to hang your board and a designated area to put all the earring backs. Then, as you're setting your earrings aside every day, simply stick them right onto the corkboard for easy, chic storage.

Shipping Tags


If you like the corkboard idea for earrings, but not so much the thought of having your earring backs in a different area, use shipping tags instead.

For this type of jewelry storage, you'll need a decorative rod of some sort and plenty of shipping tags. Then, place one pair of earrings on each shipping tag and tie the tags around the rod. As you wear your earrings every day, simply take them out from the tag instead of untying the tag all the time.

A Ceramic Egg Tray


This may be the most stylish and fun idea of all the organization options on this list. A ceramic egg tray is the best catch-all jewelry holder for everyday wear and nice pieces alike. Each dip in the tray is perfect for holding a pair of earrings, a ring, or for setting a necklace in.

If you'd like, you can organize the rows by type of jewelry or by style for even better organization. Either way, the filled tray will be a beautiful arrangement of all your accessories.

A Jewelry Box


For something a little more classic, don't overlook the option of a nice jewelry box! There's no sense in going through the trouble of re-inventing a form of jewelry organization if you've already been thinking about a jewelry box.

Just commit to this and watch how much easier getting ready for the day becomes. With one box, you can organize all of your pieces in a centralized location where everything has a place.

An Everyday Area


No matter what option you choose for storing all of your jewelry, make sure you designate a special area for the pieces you wear the most. This may be a small jewelry dish, a stand-alone hook on your wall or a tiny egg tray.

Whatever form of organization you choose, you need to have something to hold your go-to pieces apart from the rest. This will be super helpful on the days that you're reaching for these pieces over and over, and also a place that you can trust your go-to items are when you opt to wear something else.
Smart Ways to Store Jewelry While On the Go
Of all the ways to store jewelry, the best one is the form that works best for you.
Don't pay too much attention to how your sister keeps her things together or the way your roommate organizes her jewelry. While these may be good sources of inspiration, the only way to know what really works best for you is to choose an organization style that fits your lifestyle and your jewelry style.
It doesn't make sense to use an egg tray if most of your pieces are big, bulky accessories. Similarly, wall hooks won't be the best idea if you have way more earrings than necklaces.
But, there is an ideal organization method for you! All you have to do is think about the form, function, and maintenance you need from your jewelry storage, and the answer will be clear from there.
Related Videos about Best Ways to Store Jewelry :
12 Jewelry Organization Ideas!
10 CLEVER JEWELRY ORGANIZATION IDEAS EVERY WOMAN SHOULD KNOW
How to Successfully Organize Your Jewelry
JEWELRY ORGANIZATION & STORAGE BEFORE AND AFTER
Minimalist Organization: How to organize your jewelry!
How to organise jewellery easily I Jewellery organisation ideas
9 Best Ways to Store Jewelry
best way to store jewelry to prevent tarnish, how to store costume jewelry, how to store jewelry diy, creative ways to display jewelry for sale, jewelry storage containers, how to store fine jewelry, how to store earrings, how to store vintage jewelry,