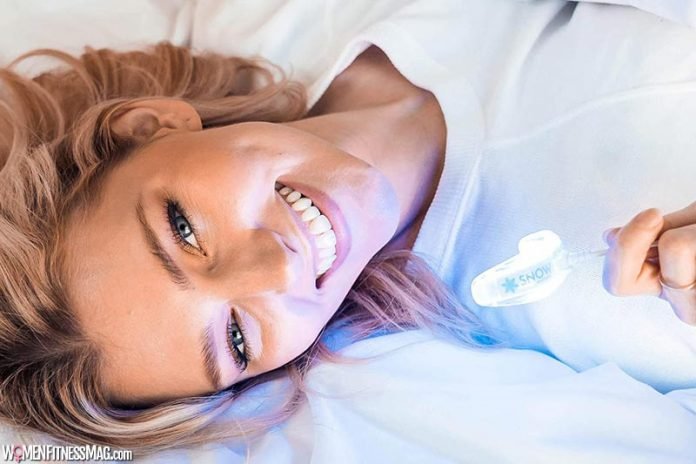 Snow is one of the biggest names in the teeth whitening industry. This whitening system is well known for its proprietary formula that has earned raves from all those who have tried it. It is especially popular for its ability to eliminate the toughest stains without causing teeth sensitivity.
Read just a few Snow Teeth Whitening reviews and you'll know that this is one of the best kits available in the market. To find out why, read on so you can learn what to expect when you use the system and what makes it so effective.
Introduction to Snow Teeth Whitening System
The Snow Teeth Whitening System, like most other kits in the market, claims to provide professional teeth whitening results at home. There is no need to visit your dentist's office or use uncomfortable strips. This kit does not require any messy application because it is designed to be easy to apply, even for those who are new to teeth whitening at home.
The system involves the use of an LED-activated teeth whitening device. This device is designed to target all kinds of stains, be it from coffee, tobacco use, wine, and so on. It does not require any prescription so you can buy it directly online or in your local pharmacy when you need to get started on your teeth whitening journey. Once you have purchased your kit, you can use it as instructed at home to see a brighter, whiter smile in just a few weeks.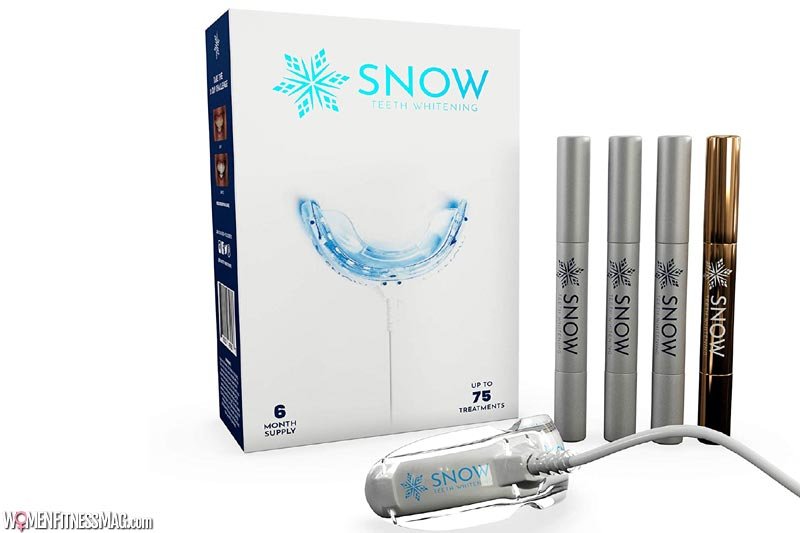 Different Kits Available
When you decide to buy the Snow Teeth Whitening System, you have two kits to choose from. The first one is the Snow At-Home Teeth Whitening All-In-One Kit. This is one of the company's best-known products that gained almost instant popularity once it became available. This kit contains the following items: wired LED mouthpiece, three whitening wands, one extra-strength whitening wand, and a shade guide.
You can wear the mouthpiece over your teeth and you can link it to the Snow app. From the app, you can adjust how intense you want the whitening action to be. The mouthpiece is wired so it is physically connected to a USB or your smartphone. If you want a faster and more effective whitening result, you can always switch to the extra-strength whitening wand. It has a higher concentration of the active ingredients that cause a whitening action on your teeth.
The second kit available from the manufacturer is the Snow Wireless Charging At-Home Teeth Whitening Kit. The main difference with this kit is, obviously, the wireless function. It contains the following: wireless LED mouthpiece, docking station, three whitening wands, one maximum strength whitening wand, lip treatment, one desensitizing serum, USB cable, and instruction manual.
Just like the all-in-one kit above, the wireless LED mouthpiece is also compatible with the Snow app. This will enable you to monitor your progress and see if you are any closer to your teeth whitening goal. The intensity of your teeth whitening action can be adjusted from the app so you can get your desired result.
Both of these kits are ready to use once you open the package. Depending on the extent of your teeth stains, you can see results in as little as seven days.
How to Use
First, the use of this teeth whitening kit is not recommended for children below the age of nine. This kit is safe for anyone with fillings, crowns, bridges, veneers, and even pregnant or breastfeeding moms. When you get the kit, there is a detailed instruction manual provided. Make sure you read that carefully so you know the proper usage.
The first step is to brush and floss your teeth. This is necessary before every treatment; plus, good oral hygiene will get rid of any impurities. This also removes bacteria or plaque that can cause tooth decay.
The next step is to apply the desensitizing serum (recommended for those with sensitive teeth). But if your teeth do not react to temperature changes or sweet or hard food items, you can skip this step. Then, you must apply the whitening serum (choose between the regular or extra-strength formula). Drag the applicator over every individual tooth. Make sure you apply it to your teeth only and wipe off any excess that comes into contact with your gums.
Then, attach the wireless (or wired) LED mouthpiece over your teeth. Shake it to switch it on and then do so one more time to turn on the light. The light is essential as it activates the whitening ingredients found in the serum. Keep the mouthpiece on for nine to 30 minutes daily. Use the device for 21 to 30 days in a row (depending on the extent of whitening desired). Ideally, this must be used before going to bed so it won't interfere with drinking or eating during the day.
Cost of Snow Teeth Whitening System
If you are interested to use this home teeth whitening system, the next step to consider is the cost. When compared to other teeth whitening systems for home use in the market, Snow is relatively affordable. It is also very budget-friendly when you compare it to professional whitening treatments that can cost anywhere from $500 to $1,000.
The all-in-one Snow Teeth Whitening System starts at $199 while the wireless charging kit can cost $299. You can purchase the serum refill wands and extra strength refills at varying price points (and depending on the quantity needed). You can buy the kit directly from Snow's website and from various online retailers like Amazon.
The manufacturer offers a 30-day money-back guarantee on all purchases of the teeth whitening kit. In addition, they offer a five-year warranty on electronic items.
To extend the life of the home teeth whitening system, and to get more use out of it, give it the proper care and maintenance. Store the whitening wands in the fridge after every use. This will ensure that they can maintain their strength over time. The kit can provide you with a few months' supply for home whitening use, so it is imperative that you know how to care for every product in the kit.
Related Videos about About the Snow Teeth Whitening System :
At Home Snow Teeth Whitening REVIEW! Unboxing & Sensitivity Test! DOES IT WORK?!
Snow Teeth Whitening Tutorial
SNOW | Teeth Whitening System | WHAT YOU NEED TO KNOW
All You Need to Know About the Snow Teeth Whitening System
teeth whitening kit, snow teeth whitening free trial, snow teeth whitening refills, how to use snow teeth whitening, snow teeth whitening wireless, snow teeth whitening reviews reddit, snow teeth whitening app, snow teeth whitening customer service,