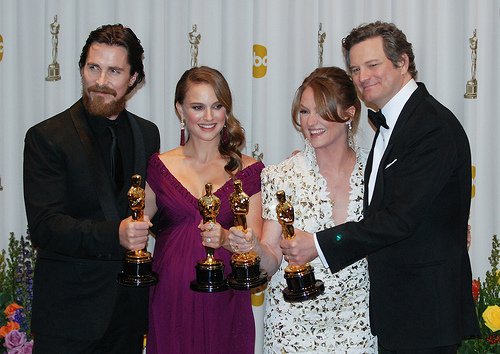 Most celebrities have at least one talent. But did you know that some of them are multi-talented? There are many stars who lead fascinating separate lives following the talents you might not know about. Check out the list of celebrities with extraordinary talents that are sure to surprise and impress. Maybe they will inspire you to explore and develop your own talents you didn't know you have.
1. Leonardo DiCaprio
Photo: Danny__H
Leonardo DiCaprio is an award-winning actor. His talents on-screen earned him two Golden Globes and numerous nominations, but he's also a talented producer. DiCaprio produced the film "The Wolf of Wall Street" and received an Academy Awards nomination for best producer. Outside of Hollywood, he's an in-demand philanthropist and environmentalist.
2. Sylvester Stallone
Photo: 2 TOP
Fans will always remember Sylvester Stallone for his tough-guy roles in the blockbusters, "Rambo" and "Rocky." However, Stallone's impressive CV could include his work as a successful screenwriter. He wrote the story for "Rocky" before casting selected him for a starring role.
3. Kevin Bacon
Photo: Chairman of the Joint Chiefs of Staff
Kevin Bacon earned his fame for his roles in "A Few Good Men," "Footloose," "X-Men," "Apollo 13," and many other blockbusters. However, Bacon has another surprising talent as the lead singer and musician in a band. He plays the harmonica, guitar, and percussion in The Bacon Brothers band.
4. Natalie Portman
Photo: DVIDSHUB
Natalie Portman's Oscar confirms her place as one of Hollywood's extraordinary actresses, but she's also a brainiac. Portman graduated from Harvard with an A.B Psychology degree in 2003 and wrote two published scientific papers titled, "A Simple Method to Demonstrate the Enzymatic Production of Hydrogen from Sugar," and "Frontal Lobe Activation during Object Permanence: Data from Near Infrared Spectroscopy." Natalie Portman also speaks Hebrew.
5. Heidi Klum
Photo: drcliffordchoi
After scaling back on her supermodel gigs, Heidi Klum became a household name as the host of Project Runway. She's involved in several ventures, but Klum really enjoys the time she spends painting. Several American art magazines have featured her artwork. Heidi Klum also knows how to yodel and sing.
6. Ashton Kutcher
Photo: david_shankbone
Ashton Kutcher is an actor best known for his comedic role in CBS' stalwart sitcom, "Two And A Half Men." Kutcher excels at comedy – a credit to his acting skills – but he's a brainy guy. He studied biochemical engineering at the University of Iowa and recently returned to his roots as a product engineer for Lenovo.
7. Sandra Bullock
Photo: WEBN-TV
Sandra Bullock's Oscar-winning role in "The Blind Side," validates her work as an actress. But America's Sweetheart has many hidden talents including the ability to speak German. Her mother was a German opera singer, and while living in Europe, the actress learned the language and performed in some of the mother's productions.
8. Jennifer Garner
Photo: US Department of Education
No one knew of Jennifer Garner's talent as a musician until she showed off her skills on the Donnie and Marie talk show in 2000. Before she rose to fame in "Daredevil," "Juno," and "Alias," Jennifer Garner paid the bills with her gigs as a professional saxophone player.
9. Justin Timberlake
Photo: Joe Shlabotnik
When it comes to talent, Justin Timberlake has more than his fair share. The soulful musician has had collaborations with some of music's biggest names including Beyoncé, Madonna, Ciara, Timbaland, and Michael Jackson. Timberlake's talents extend to numerous other platforms. His talents for writing, acting, and producing make him one of the best multi-talented celebs in the world.
10. Steve Martin
Photo: pamhule
A classic actor and comedian, Steve Martin earned his place in Hollywood. But Martin is another excellent actor with musical abilities. He began playing the banjo at age 17 and established the "Steve Martin Prize for Excellence in Banjo and Bluegrass" in 2010 to recognize bluegrass performers. In his early days, the multi-talented artist made a living playing the banjo and performing magic tricks.
There are many famous people who have a bunch of incredible talents. We just don't notice them. Did you know about these multi-talented celebrities? Do you think they have great talents? Share your thoughts with us.
If you wish to get your post published in Women Fitness Magazine, You are most invited for Guest Post.
Celebrities Who Are Multi-Talented