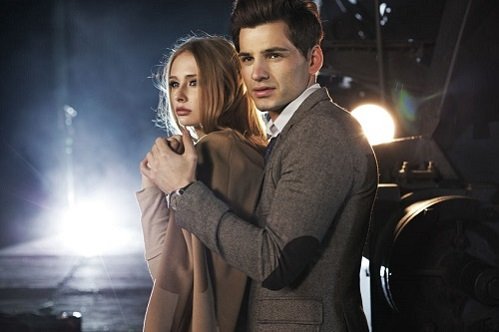 I'm a big fan of romantic movies and any movies that can teach me about love are real winners for me. I agree that love is not actually like this in real life, but we are girls and we can dream sometimes, right? Check out a few movies that teach us about love.

1. The Notebook

Photo: glee.wikia.com
This is one of the best movies I've ever seen! This movie is about an eternal love regardless of distance, time, and other relationships. The Notebook isn't one of those worst chick flicks that sometimes come out. This is a story about two young lovers, Noah Calhoun and Allie Hamilton that many people might relate to. The movie gives us a really fresh look at the meaning of true love.
2. Amour

Photo: tvfilmnews.com
Another movie that teaches us about love, Amour had been a firm feature during awards season last year. Directed by Michael Haneke, the movie focuses on an elderly couple and the situation they go through after the wife suffered a series of strokes, which left her unable to speak and paralyzed. We follow her husband, as he deals with what's happened. This is a terrifying, unflinching, and artistically beautiful look at the nature of ageing, love and death.
3. Revolutionary Road

Photo: moviefanatic.com
Revolutionary Road is probably one of the most depressing movies I've ever seen, but nevertheless I enjoy watching this movie because love is not all hearts and flowers, even if we believe in it, it doesn't always last. Relationships break down, marriages end and sometimes we fall out of love with the person we thought we would be with forever. This is the sad truth of life.
4. Bridget Jones's Diary

Photo: en.wikipedia.org
I'm sure most women like this movie. Bridget, in her slightly plump, hapless, and messy-haired, is still one of the most real and fabulously flawed female characters. This movie shows us that all people do stupid things, and all people mess up sometimes. Although Bridget gets her happy ending, it is still a human look at modern relationships.
5. The Way We Were

Photo: themoviescene.co.uk
Two people have a fabulous romance, but their convictions and political views drive them apart. The main reason why people watch The Way We Were, whether for the first time or for the tenth, is for the doomed romance. This movie shows that sometimes, no matter how much you love the person, life stuff gets in the way and love doesn't conquer all, it just conquers some stuff.
6. Eternal Sunshine of the Spotless Mind

Photo: m.ensonhaber.com
The movie begins with the couple undergoing a procedure to erase their painful memories of each other. But as they watch their memories they realize that they still love each other. In real life, we might not get a happy ending, but we must know the importance of remembering our mistakes, learning from them and moving on to something better.
7. (500) Days of Summer

Photo: nj.com
After its release, this awesome movie became a real indie hit. The unlikely romantic comedy avoids the typical formula of couple fall in love, break up and then make up and, of course, live happily ever after. Although there's not a happy ever after for the couple in this movie, (500) Days of Summer is one of the best movies that can teach us about love.
8. Before Sunrise

Photo: theguardian.com
A 1995 American romantic drama film, Before Sunrise is a perfect movie to watch with your partner. French student Celine and American tourist Jesse meet by accident on the train. They spend the night walking around the city of Vienna, and getting to know one another. Aside from walking and talking, nothing else happens. But it's incredibly romantic movie worth watching.
9. Before Sunset

Photo: spfw.net
If you've seen Before Sunrise and loved it, you should definitely watch Before Sunset. It's the sequel to Before Sunrise and it's a perfect movie for a girl's night in. Moreover, your partner might love it too. 9 years later in Before Sunset, the paths of Celine and Jesse intersect again. But now they spend the whole afternoon together walking around Paris. A beautiful love story that happens in the City of Love…what could be more romantic?
10. Lost in Translation

Photo: media-saver.com
The movie revolves around an aging actor Bob Harris and a recent college graduate Charlotte who develop a mutual understanding after a chance meeting in one of Tokyo's hotels. Bob meets Charlotte who is left behind in a hotel room by her husband, a visiting photographer. Tired and bored, they make perfect traveling companions. Both of them have a hard time understanding Japanese culture and language. Lost in Translation is a complicated love story that shows how living in a foreign country can confuse and clarify you at the same time.
What are your favorite love movies? Do you know some other movies that can teach us about love? Share your thoughts, please.
Movies That Teach Us about Love