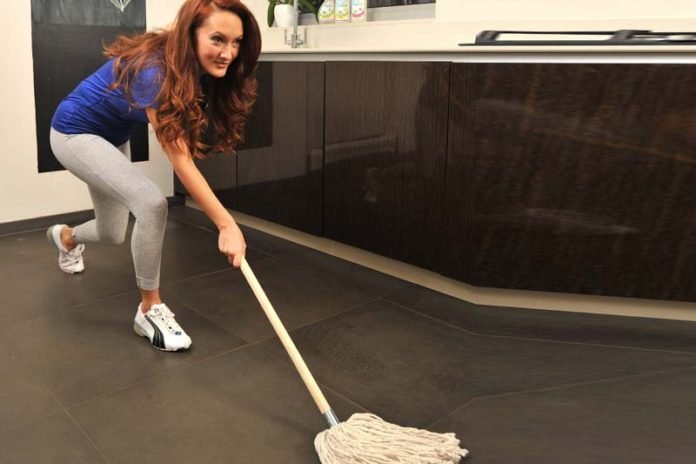 Cleaning Is Not the New Cardio : It Will Not Keep You Fit
Did you think housework was a fun way to burn calories? You may be falling victim to a popular misconception. Even though your cleaning routine may include good movements while you sweep, polish, mop or dust your entire house, it does not qualify to replace your gym time. That's why do not let your cleaning routine be an excuse for missing your cardio workout at the gym.
Some women believe the more effort they put in their cleaning rituals with floor buffers and cleaning machines,the more health benefits they will be able to achieve. Even though mopping, vacuuming and sweeping are good exercises for toning and shaping your arms and legs, they do little to help you burn calories.Stretching and bending for making the bed, washing windows and running after your baby does not allow you to focus on your breathing, which is important for boosting the value of your cardio workout.
Let's look at the various benefits of a cardio workout that a cleaning routine fails to guarantee.
Benefits of a Cardio Workout
Improved functioning of heart and lungs
Enhanced bone density
Reduced stress levels
Weight loss
Relief from anxiety and depression
Better self-confidence
Improved sleep
According to research, individuals especially women, who consider cleaningwith floor buffers and cleaning machines as a cardio workout, are only deluding themselves. Research on whether cleaning is the new cardio reveals that people who settle for this 'moderate' form of exercise tend to get fatter. Since they do not feel the need to perform an intense workout, gardening, cleaning the cupboards and taking care of their babies does little to help them burn calories and tone their muscles.
In fact, cleaning may quickly become a false sense of how active they feel. Until now, people believed that doing housework can help them meet the recommended 150-minute moderate activity goal set by the NHS.However, people who think cleaning is the new cardio avoid doing anything that requires more rigorous activity and pile up calories.
People who believe that cleaning the floor using floor buffers and cleaning machines provides sufficient exercise generally skip working out. When considering their weight and height, they are, on average, heavier, as compared to people who perform conventional cardio workouts.
Even though researchers noted that housework is physical activity and like any other physical activity, houseworkshould enable people to burn more calories. However, this has clearly not been the case. In fact, the research concludes that housework relates inversely to leanness. People who consider housework exercise overestimate the activity and effort they are putting in and as a result end up eating more.
When encouraging people to stop considering floor buffers and cleaning machines as equipment for exercises, it is important that they must also stick to an intense or moderate cardio workout to stay healthy and in shape.
Start Doing Cardio Today!
If you thinkcleaning and sweeping can be your daily workout, enroll in an introductory cardio session to feel a visible difference. Step away from the floor buffers and cleaning machines for a while and march past the cluttered desk to go to your next cardio workout. The mess can wait until you get home.
About the Author:
Elena Tahora is a lover-of books, mom, and a resident content writer at HYGO. When she's not hiking and traveling, she works as an educator, where she gets to share her love for great books and writing with her students and fellow teachers.
Related Videos:
The Housework Workout
Burn Fat with the Housework Workout
Housework Workout
At Home Workout: Housework
Kerri-Anne Kennerly Housework Fitness!!
Cleaning Is Not the New Cardio
house cleaning workout, is housework good exercise, calories burned cleaning house per hour, how to get exercise from housework, sweeping floor good exercise, exercise while cleaning house, does housework burn calories, mopping floor calories burned,
Cleaning Is Not the New Cardio