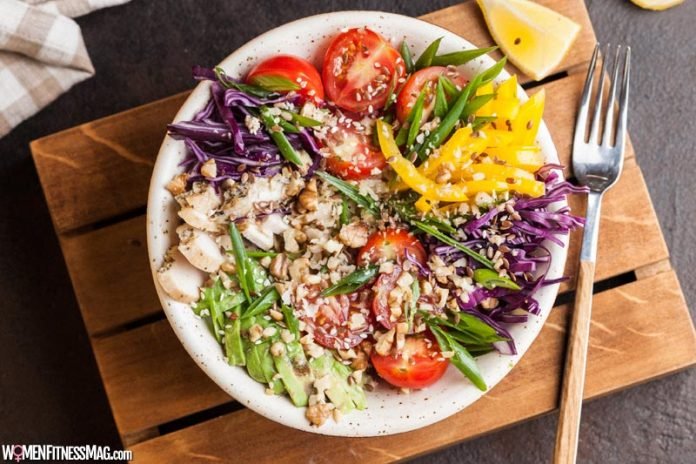 Easy, Healthy and Quick – How To Prepare Delicious Salads : Arguably, the best part of salads is how endlessly customizable they are. There are constantly new flavor combinations you can think of to always keep it fresh. Running low on ideas recently? We've put together some of our favorite quick and easy yet still healthy and nutritious salads that you need to try out soon.
Tutti Frutti
Incorporating fruit into savory salads is certainly one you need to try out if you haven't already. Not only does it dot your otherwise green salad with color, but it adds a subtle sweetness. Here are a few sweet and savory combo salads to try out next:
Watermelon, feta, mint, red onion salad — either use an ice-cream scoop or roughly cut up watermelon and crush feta cheese over it. Slice red onion into thin, semi-circle slices and either add whole, fresh mint leaves over it or finely slice it if you prefer it this way.
Cantaloupe, prosciutto, and mozzarella salad — again, using an ice-cream scoop, make uniform balls out of your cantaloupe to match with the small pearls of mozzarella. Toss in thin slices of prosciutto and season to taste.
Lunch-Dinner Hybrid Salad
The best part about pasta salads is that it's ideal for days when you're too tired to make an assortment of food for dinner or lunch. You essentially get the best of both worlds by combining the freshness of a salad with the fillingness of a pasta dish. Also, it doesn't take many kitchen accessories to make as opposed to salad and pasta separately. Try these out:
Bacon & avocado — boil fusilli or penne pasta (you can switch this out for another pasta of your choice). Fry bacon until crispy and chop but chunks of avocado. Stir together with a lemon and olive oil sauce.
Grilled veggies galore — summer is a great time to grill your own veggies and put a spin on it by incorporating pasta. Grill bell peppers, asparagus, and zucchini, toss it with boiled fusilli pasta and top it off with a creamy, lemony sauce.
Anything But Green
Lettuce, spinach, kale, cabbage…we get it! Leafy greens are the base for a lot of salads, but it doesn't mean that you can't have a delightful yet healthy salad without them. If you don't feel like opting for just another green salad today, then try one of these out:
Poke bowl — they can be served as an appetizer or main dish and customized with beautiful chunks of fish, fresh veggies, and topped with sesame seeds or a light sauce. Marinate sushi-grade tuna with soy sauce and sesame seeds. Pair it with white rice, cucumber, cabbage, avocado, and sriracha mayo.
Summer freshener — grill corn and then chop into kernels, toss in colorful, cherry tomatoes, parsley, lemon juice, and finely chopped red onion. It's the perfect refreshing and zingy salad without any leafy greens.
Thin Slice Salad
Sometimes the best salads are quite simple: only require a handful of ingredients and even slices with a handy mandoline or sharp kitchen knife. We love these salads because they are easy to make and don't fall behind in flavor nonetheless.
Caprese — This traditional, yet simple salad only requires a handful of ingredients and a sharp knife. Slice tomato and mozzarella cheese into uniformly thick slices and stack them together in variation. Top with balsamic vinegar or balsamic glaze and enjoy.
Root vegetable salad — All you need is a mandoline to go slicing away at this salad that's not only yummy but aesthetically appealing. Slice beetroot, carrot, cucumber, and radish with a mandoline. Let rest in an ice bath and then drain. Garnish with parsley and season to taste with salt, pepper, and olive oil.
Nutty and Cozy
Warm, toasted nuts don't get enough credit in salads. In fact, they are a great way to add a little crunch and texture to any salad. The secret is to toast them as often as possible instead of opting for them raw. This will add a certain nuttiness to your salad that is difficult to get from anything else. Try out these:
Thai peanut salad — Combine thinly sliced red cabbage, carrot, bell pepper, red onion, mango, and cilantro. Now, toast some peanuts and add them in or double the peanut flavor by incorporating your favorite peanut sauce.
Harvest salad — Crisp up some bacon and slice it finely. Combine with sliced boiled eggs, pecans, dried cranberries, goat cheese, romaine lettuce, and pear. Season to taste.
Easy, Healthy and Quick – How To Prepare Delicious Salads
7 Healthy & Easy Salad Recipes For Weight Loss | 1 week Veg Lunch & Dinner Ideas to Lose Weight
4 Healthy Salad Recipes For Weight Loss | Easy Salad Recipes
The Best Salads You Will Ever Eat!
How to Make a Tasty Salad + Salad Dressing Every Time
How to Make Homemade Classic Creamy Italian Salad Dressing
7 EASY + HEALTHY SALADS FOR EVERY DAY OF THE WEEK
Easy, Healthy and Quick – How To Prepare Delicious Salads
easy green salad recipes, salad ingredients, salad recipes indian, types of salads, best salad recipes for dinner, salad recipes vegetarian, top 10 salad names, lettuce salad recipes,