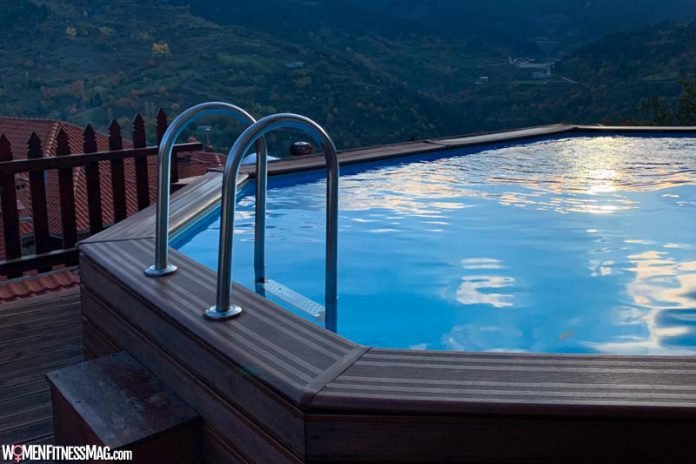 Essential Supplies For Above Ground Swimming Pool : Above ground swimming pools are moveable pools that can be installed anywhere in your yard. They are usually made of an aluminium or steel wall with resin posts and ledge around the top for additional support. The interior is lined with vinly and it comes with a pumping machine and filter.
These contraptions come in various shapes and sizes and are suitable for use by the whole family. The most popular shape that they come in is round and oval. With dimensions that range from 12 to 33 inches wide and 48 to 54 inches deep, you have a wide variety to choose from.
Before you decide to install one of these in your yard, bear in mind that above ground swimming pool supplies would be a recurring expenditure. We know that choosing these supplies may be a bit confusing due to the fact that so many of such supplies are advertised offline and online. That is why this article is aimed at pointing you to the essentials with tips of how to get the best for your pool.
Essential Supplies That You Must Have
Now that we have established that there are myriads of products that can lead to confusion when you go shopping, find below what we consider the 'must haves':-
Pool Chemicals
These are products that are designed to help keep your pool clean, fresh and toxin free. There are also myriads of products in this category but you can't go wrong with the following:-
Algae control- This would ensure that there is no growth of algae or mold.
Chemicals for balancing the pH level of the pool.
Pool stain, metal and scale control- Any vessel that contains water for long periods is bound to have mineral build-up and this would definitely cause some stains. This product ensures that you can easily clean these stains and also prevent/control scale build-up on the metal.
Chlorine and dispensers- These help to clean out toxins, germs and bacteria from the water.
Starter kit with chemicals that clean the pool and ensure that it remains fresh.
Kits For Testing The Water
You would need different products in this category to test the water to ensure that it is healthy. There are kits for testing the alkalinity, pH level, chlorine and everything that makes for a healthy and safe pool.
Safety Products
These are products that ensure the safety of the pool for users of all ages. The most common safety products are thermometers and life rings/ jackets or swim trainers. Apart from safety products, there are other measures that you should put in place to ensure that your pool is not a death trap. Check out this article for more information on how to keep your pool safe.
Tips For Getting The Best Supplies For Your Above Ground Swimming Pool
Before we sign off on this article, let's give you some tips on how to get the best supplies for your pool.
Look Out For Top Quality From Reputable Brands
When shopping for such supplies, ensure that you look out for premium quality products from reputable brands. Do not just patronise any fly-by-night brand.
There are many brands both online and offline that take pride in stocking only premium quality products. Bear in mind that when you buy top quality products, you can rest assured that they would last long.
Do Not Place Price Over Quality
Following from the previous point, you should note that good quality comes at a price. Therefore, you have to be prepared to pay good money for good quality. Be wary of brands that constantly put out cheap products that are too good to be true; truth is they usually are! That being said, price alone does not determine quality. Do your due diligence to ensure that the price is commensurate to the value you are getting.
Avoid Products with Toxic Ingredients
Make sure you check the ingredient/material listing of any product that you want to buy. This is to ensure that it is toxin free. Plastic, metal or aluminium parts must be made with materials that are approved by appropriate authorities; same also goes for chemicals.
Avoid any product without full disclosure of ingredients or materials used in production. Only buy products that have ingredients/materials that you can verify. You can learn about ingredients to avoid here: https://www.poison.org/articles/pool-chemical-safety-192.
Conclusion
Swimming pools are a great place to relax and have fun time with family and friends or alone time. There are different types of pools and they all need supplies for maintenance. We have discussed some of the essential supplies that are needed for above ground swimming pools and we hope this information is helpful.
Related Videos about Essential Supplies For Above Ground Swimming Pool :
Top 5 Things you need for your above ground swimming pool-Must have items to get the most value
Above Ground Pool Care Basics
Resin or Steel Pools: Essential Above Ground Pool Buyers Guide
Essential Supplies For Above Ground Swimming Pool
must have swimming pool accessories, swimming pool equipment list, equipment needed for above ground pool, must haves for above ground pools, above ground pool accessories, what do you need for an above ground pool, best above ground pool accessories, swimming pool deck accessories,