Everything You Need to Know about the Athleisure Trend : It seems like just a few years ago that the internet was debating whether leggings were appropriate to wear as pants. Now, they're a venerable wardrobe staple as athleisure has become one of the decade's most enduring trends. If you're ready to get on board with this casual, laid-back style, read on for a complete guide to making the look work for you.
Defining Athleisure
One of the most exciting aspects of the athleisure trend is its versatility. Most often, the term is associated with casual, comfortable, functional sportswear paired with streetwear favorites like retro sneakers, edgy leather jackets, and spike-heeled shoes. No matter what your current aesthetic, it's easy to incorporate athleisure into your daily style by choosing high-quality pieces of gym wear in neutrals and pairing them with more traditional clothing items from your closet. Start with leggings, tees, and hoodies and mix and match with jeans, sweaters, and even dresses.
If you want to get a panoramic view of the hottest athleisure trends, look no further than the community of Instagram influencers and A-listers. Most recently, actress Nina Dobrev partnered with Reebok for an upscale athleisure line called Les Mills. Rihanna paired with Puma, model Kendall Jenner with Adidas, and actress Bella Hadid with Nike. Look to these lines for instant inspiration.
Behind the Misconceptions
Were you initially turned off to athleisure because of the association with the sweaty gym rags at the bottom of your duffel? Contrary to popular belief, athletic wear as fashion goes beyond wearing yoga pants and a tank at the grocery store. This style is refined and elevated so it's appropriate for women of all ages, sizes, and aesthetic preferences. Choose high-quality, structured pieces made from performance fabrics that seamlessly blend with your closet favorites.
The Role of Accessories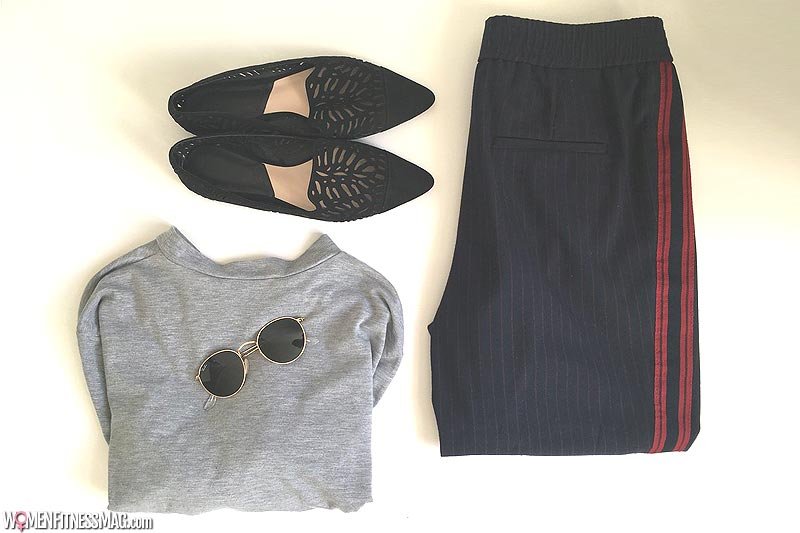 Does your athleisure outfit feel incomplete? Adding the right accessories can make or break this style. For best results, choose pieces that go with the sleek, minimal silhouette of athleisure. Think simple metallic hoop earrings, retro-inspired sunglasses, and even a baseball cap for weekend errands and trips to the farmers market. Shoes are also a primary consideration when it comes to athleisure wear. Pristine sneakers are the iconic choice, but you can also dress up sweats and leggings with stylish booties.
Athleisure Best Practices
The biggest don't when it comes to athleisure? Misjudging when casual wear is too casual for the setting. Avoid this look when you're attending an important business meeting or any event that calls for a higher level of formality.
You can also get this look without incorporating these pieces from head to toe. Reinterpret the trend to fit your lifestyle and comfort level. For example, you might see starlets wearing a crop top with leggings, while you feel best with more coverage. Try pairing your leggings with a long, classic trench or a fuzzy tunic sweater.
As with any style, balance is the key to successfully pulling off athleisure. For best results, mix and match textures and silhouettes to create a complex, sophisticated result.
Related Videos about Everything You Need to Know about the Athleisure Trend :
Beginners Guide to Styling the Athleisure Trend
HOW TO: Rock the Athleisure Trend!
The Athleisure Trend Is Here To Stay
HOW TO ROCK THE ATHLEISURE TREND (ON A BUDGET)
Everything You Need to Know about the Athleisure Trend
athleisure women, athleisure guide, athleisure trends 2019, fashionbeans athleisure, athleisure wear women's, men's leisure wear, how to wear a tracksuit men's, athleisure 2019,