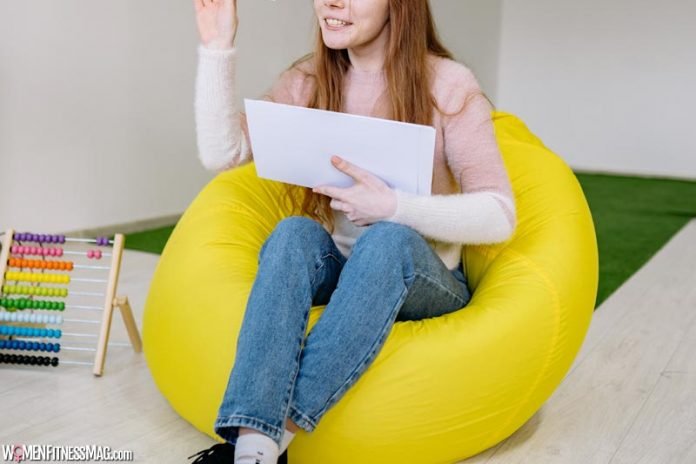 Factors to Consider While Buying Big Bean Bag Chairs : Bean bag chairs have increased in popularity due to their variety in shapes, sizes, and fabrics. The evolution and progression of the bean bag chairs have been seen in terms of aesthetic and comfort providing some serenity for both adults and kids. They also add some beauty to the room décor and also become a lifesaver later on for furniture-deprived rooms.
The bean bag chairs have different styles and features that may make it hard to choose the best bean chair for your kids or the entire family. The following article will take you through the fundamental factors that you should be keen on and consider when buying a big bean bag chair.
Basic factors to be keen on when buying a bean bag.
Cover material


Depending on the taste or preference of your choice, always consider the cover material which is best suitable for your bean bag chair. The cover material will always impact the decision you will make of the bean bag chair you wish to buy especially by considering the room aesthetic. The cover material comes in various ranges such as durable cotton and soft shag cover, high-end leather, and suede. The covers can be removable which means they can be washed and changed. If you have small kids or pets, it's always good to consider washable cover materials. Secondly, consider the best cover materials that are durable and attractive for your big bean bag chairs.

Filling material


The comfort and support of your bean bag chair will be determined by the filling materials. Therefore, it's good to check on the filling material before investing in the bean bag chairs. The key filling materials used in bean bag chairs are shredded polyurethane foam, microbeads and polystyrene beads. These materials differ in terms of price, support, and comfort. Therefore, it's always good to consider the best materials that fit your taste and preference. In addition, choose environmentally friendly materials as some such as microbeads may be harmful to the environment.

Cleaning and maintenance


The bean bag chairs may require some regular cleaning and maintenance to keep them in good condition. Therefore, it's good to consider a bean bag that you can easily wash and repair in case need be. Some features such as the cover materials are removable and can be washed or replaced. However, some may require you to spot clean with mild soap and water. In addition, it's always good to replace the filling of the chair regularly as sometimes they may break or compress.

Size


Depending on whom you are buying the bean bag chair, always consider the right choice for the best service. Big bean bags can provide more comfort to young adults and adults.
To wrap up, bean bag chairs are designed to provide the greatest comfort. They are good for both kids and adults during movie nights and sleepovers. For young couples who may wish to spend much time together, the bean bag chairs are good while refreshing up and catching up with romantic talks.
Related Videos about Factors to Consider While Buying Big Bean Bag Chairs :
Buying a Bean Bag Chair: A Shopping Guide
Factors to Consider While Buying Big Bean Bag Chairs
bean bag size for adults india, things to consider before buying a bean bag, how to choose bean bag size, large bean bags, bean bag chair buying guide, where to buy bean bags, high quality bean bags, square bean bag,