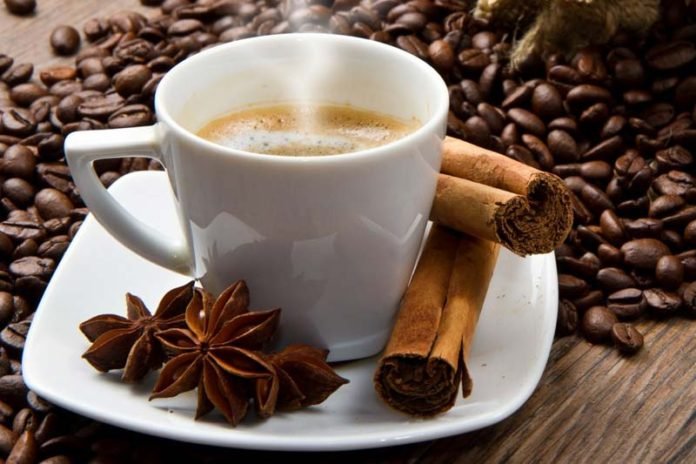 Great Winter Coffee Ideas: As the weather becomes dreary and snow begins to fall, you might find yourself craving a cup of something hot and festive. Rather than wasting your money on overpriced, played-out specialty coffees from the local cafe or grocery store, consider making your own tasty coffee at home by coffee maker. It's faster, cheaper and more satisfying. Plus, they make excellent refreshments for your holiday guests.

1. Coffee Grog
Although its name sounds funny, coffee grog has a serious flavor. Just mix brown sugar, butter, cloves, nutmeg and cinnamon in a small bowl and add it to a cup of plain coffee. Top it off with a dollop of heavy cream. This sumptuous beverage is best enjoyed as a dessert following dinner with friends and family.
2. White Chocolate Coffee
The next time you're in the mood to curl up with a good book and a steamy winter treat, consider making it a white chocolate coffee. All you need is one and a half ounces of white chocolate, a quarter cup of half and half and some whipped cream. In a small saucepan, gently heat the half and half and white chocolate together until the chocolate is melted. Pour this mixture into a cup of coffee and garnish it with whipped cream. If you want to get really indulgent, you can shave some solid chocolate on top of the whipped cream!
3. Maple Brown Sugar Coffee
Why settle for a cup of bland, typical coffee on a bright winter morn? Don't you want something that accentuates the festive day? If your answer is yes, then try maple brown sugar coffee. Rather than using plain sugar, add a little bit of brown sugar and real maple syrup to your mug. Stir in some milk or cream as desired and follow it up with a heaping spoonful of whipped cream. A coffee drink this simple is perfect when you've got things to do. Whether you'll be going to work or shopping for Christmas presents, you'll have plenty of time to make this delicious cup of coffee.
4. Pumpkin Pie Coffee
Can't wait until Christmas dinner to taste that wonderful pumpkin pie? Then spice up your day with pumpkin pie coffee. Simply add a few dashes of pumpkin pie spice to your cup and stir in some heavy cream and sugar. This drink is perfect when paired with oven-fresh pumpkin cookies or coffee cake.
5. Hot Cocoa Coffee
This is the perfect winter drink for people who love both coffee and hot cocoa but can't decide on which to have. In your regular cup of coffee, stir in a teaspoon of cocoa powder or hot cocoa mix. For added scrumptiousness, add some whipped cream and drizzle it with hot fudge.
When the weather gets cold and you want to warm up with something satisfying, don't pass up the coffee. With a little bit of ingenuity and the right ingredients, you can make superb coffee drinks that your friends, family and neighbors will love!
.
.
.
If you wish to get your post published in Women Fitness Magazine, You are most invited for Guest Post.
.
.
.
Related Videos:
DIY : 2 Delicious Winter Drinks | Hot Chocolate & Coffee
2 DIY Winter Coffee Recipes! Peppermint Mocha & Eggnog Latte
Winter White Hot Chocolate
HOT COFFEE # Indian Style Recipe # Perfect Coffee
HOT COFFEE
Great Winter Coffee Ideas
christmas coffee recipes, winter and coffee quotes, festive coffee recipes, fall coffee drink recipes, special coffee recipes, christmas coffee flavors, hot winter drinks, winter drinks non alcoholic, christmas coffee recipes, winter and coffee quotes, christmas coffee drinks, hot winter drinks, special coffee recipes, festive coffee recipes, barista specialty drinks, fall coffee drink recipes,
Great Winter Coffee Ideas