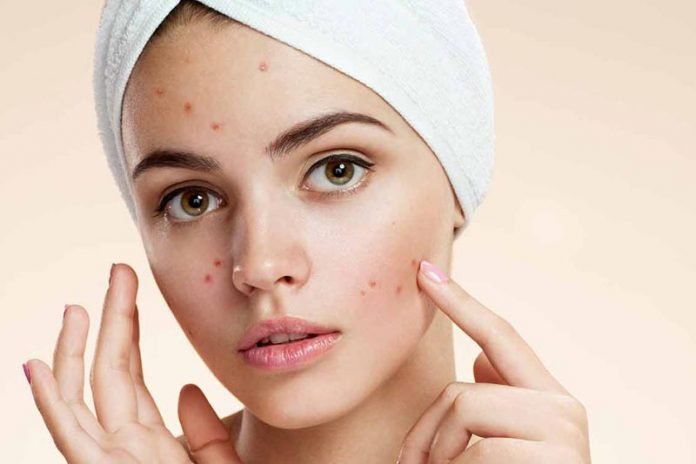 Hormones and Skin Condition : Many hormonal changes are accompanied by acne. Women may notice that skin flare-ups are closely linked to their monthly cycles. Anyone may experience a skin condition that dermatologists refer to as hormonal acne.
Find out more about why hormones can cause breakouts as well as the best natural remedies, such as organic face wash and organic essential PMS oil, to support and sustain the health and resilience of your skin and body.
Hormones and Skin Condition
As your hormone levels fluctuate; your pores may produce more sebum (oil). This can lead to blockages, inflammation and breakouts. Depending on the area of your face, you may experience blackheads, whiteheads, small raised bumps or cystic acne. The intensity of these skin issues may increase or decrease at certain times of the month.
Some experts suggest that adult acne has less to do with hormones than comparable conditions in adolescents and young adults. The general consensus is that any re-adjustment or imbalance in hormone levels can cause acne. Changes that take place over the course of a year may have more to do with slow skin cell turnover during the fall and winter months or a combination of pore-clogging products and sweat during the summer. If you start or stop taking any medication that affects hormone levels, you may also notice an acne flare-up.
Reducing Regular Breakouts
Teens and young adults may see signs of blocked pores and inflammation in the T-zone, which consists of the forehead; chin and nose. Adult acne sufferers tend to experience breakouts lower on the face, such as the cheek area and jawline. Natural skincare and the best blemish oil can go a long way toward mitigating symptoms of hormonal fluctuation, such as oil levels and inflammation.
Many forms of acne result in the similar symptoms, regardless of whether hormonal or environmental factors are the culprit. Keep skin clean and try to regulate oil and moisture levels through cleansing, moisturizing and other skin treatments. You should be aware that skin may go through a period of adjustment after changing to new products.  It may be possible to address the underlying causes of hormonal acne through prescription skincare treatments or other doctor-prescribed medication that directly affects hormone levels.
How Common is Hormonal Acne?
Up to half of women in their twenties have hormonal acne and this condition continues to affect approximately a quarter of women up to age 50. Menopause can also cause acne to return for women in their 40s and 50s due to lowered estrogen levels. If you experience hormone-related breakouts at any age, you should be aware of what you can do to care for and nourish your skin rather than just addressing visible problems.
Switching to organic face wash may improve the condition of your skin and reduce the recurrence of hormonal acne. A gentle, balancing cleanser can give skin a chance to detox and recover. If gentle cleansing and non-comedogenic (not pore-clogging) moisturizer is not enough to keep hormone-related breakouts at bay, you may want to try blemish oil or other targeted acne treatments.
Related Videos about Hormones and Skin Condition :
Skin Care Tips- Treating HORMONAL ACNE
How to Cure Hormonal Acne : Lifestyle & Skincare Tips!
MY ACNE STORY | HORMONAL | CLEARING MY SKIN NATURALLY
How do Hormones give us Beautiful Skin?
Hormones for the Face
Hormones and vibrant skin
Related Infographics about Hormones and Skin Condition :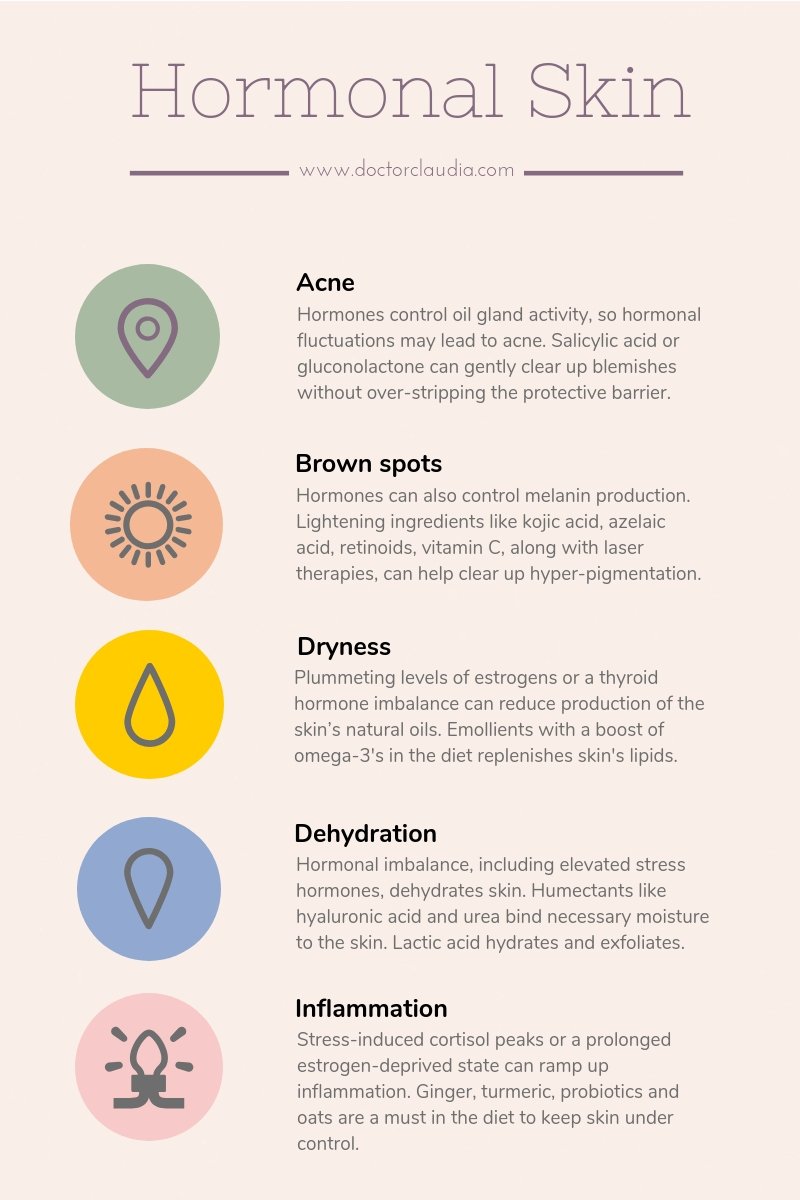 Hormones and Skin Condition
hormone imbalance skin problems, hormone imbalance dry skin, estrogen, hormonal acne, hormonal imbalance, how to balance hormones, estrogen and acne, hormonal imbalance treatment,