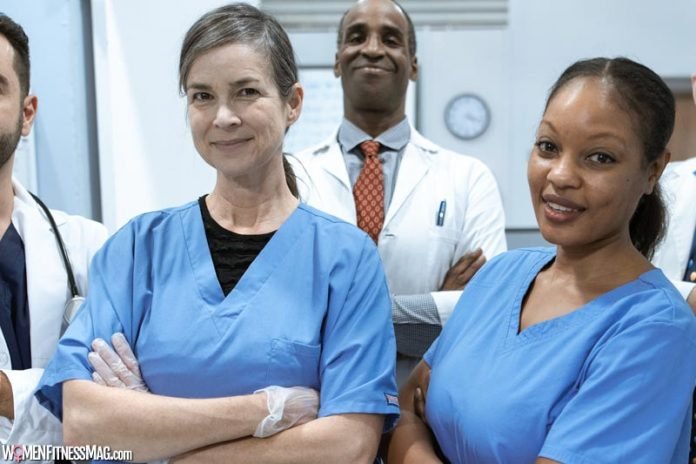 How Do Nurses Aspire To The Healthcare Community? Nurses are the bedrock of the healthcare sector, driving facilities towards superior patient care quality and digital innovation standards. Gone are the days when nursing careers were stagnant and limited to menial secretarial tasks and repetitive administrative chores. Today, nurses lead healthcare teams with advanced clinical exposure, healthcare specializations, and leadership skills.
Healthcare sectors worldwide are combatting an acute shortage of skilled physicians, specialized nurses, and other care providers. The rising population of retiring physicians and minimal new entrants have opened exciting primary care opportunities for specialized nurses. However, these opportunities come to those who invest in higher education, clinical specializations, and advanced training.
Nurses can aspire to healthcare leadership, clinical authority, and peer respect by developing highly specialized skills. Well-qualified and trained nurse practitioners are taking over the primary care duties of physicians to address staffing shortages. It's a great time for nurses to take the initiative and advance their careers by developing highly marketable clinical skills.
Keep reading to explore how nurses can aspire to become influential, impactful, and inspiring healthcare community members.
Actively Pursuing Leadership Roles
Healthcare leaders are embracing the potential nurse managers hold in designing and implementing patient-focused to boost preparedness, profitability, and productivity. Nurses are emerging as promising healthcare leaders who promote patient-centric treatment designs and cultural sensitivity to enhance diversity. Their compassion and empathy allow them to identify underlying challenges that adversely impact patient care quality.
The leadership qualities of a great nurse manager lie at the heart of healthcare models that boost patient satisfaction and deliver quality care. Nurse managers are capable administrative leaders driving healthcare facilities towards innovation with efficient financial and human resource management. They lead from the heart and make monumental contributions to increase staff satisfaction and ensure patient safety.
Nurse managers regulate and improve care standards to promote positive patient outcomes and reduce the overall burden on healthcare systems. These dynamic and dedicated leaders are responsible for devising efficient schedules and boosting the morale of healthcare staff. They take on the roles of inspiring mentors to align the professional goals of healthcare providers with the hospital's strategic vision.
Advancing Clinical Authority & Expertise
Do you aspire to directly influence diagnosis, patient care, treatment design, and care outcomes? A nurse's qualifications, skills, and experience combine to form expertise, determining the professional's clinical authority and professional growth.
Modern-day nurses can pursue a broad array of degree programs and clinical specializations to build a lucrative and rewarding career. In that case, you must advance your clinical authority by pursuing academic advancement and clinical specializations. The educational journey truly begins with a BSN program, and ambitious nurses go on to pursue MSN and doctoral programs.
Suppose your interest lies in caring for seniors struggling with chronic health conditions and decreasing life quality. In that case, it's wise to specialize in gerontology to work as a home-care specialist or lead senior care in nursing home facilities. An MSN degree will help you carve out a clinical specialization, carving out a new direction for your career progression.
Family nursing is one of the most lucrative specializations that allow nurses to enact the responsibilities of primary care physicians. Family nurses work closely with families to provide well-rounded primary care, promote healthy life quality and help communities escape deadly illnesses. Each specialization, be it family nursing, gerontology, or pediatric care, opens up a unique career trajectory to emerge as an impactful healthcare leader.
Promoting Patient Safety Standards
Nurses are more likely to promote patient-centric healthcare models given their heightened concern for patient safety and satisfaction. Nurses enjoy direct engagement with their patients and take the initiative to build personal and meaningful connections. These connections allow nurses to understand the diverse challenges patients face in healthcare settings. And therefore, nurses are ideally suited to address these challenges and promote superior patient safety standards.
Minority nurses have a powerful role in voicing the concerns and challenges faced by patients from underserved communities. Nurses can make far-reaching contributions to the healthcare community by promoting innovative patient safety standards. They devise patient-centric models to prioritize patient safety through all stages of clinical care and post-hospitalization follow-ups.
Nursing leaders take the initiative to go beyond their clinical duties and spread awareness to empower patients with life-changing tools. These tools include impactful educational resources and awareness so that patients can take responsibility for their well-being. These initiatives enhance patient safety and health outcomes and reduce the mounting burdens on healthcare systems.
Driving Innovation with Research Initiatives
A doctoral program paves the load for nursing leadership, allowing professionals to make meaningful and far-reaching clinical contributions. Doctoral nurses who drive their career trajectory towards empirical research and evidence-based investigations give back to the healthcare community by spearheading innovation.
Nursing research endeavors are monumental in designing and implementing patient-centric healthcare settings to enhance outcomes and ensure satisfaction. They create nursing training modules to equip new entrants and young professionals with advanced skills and leadership acumen. Doctoral nurses prepare future nurses with innovative and enriched training modules, expanding leadership opportunities for their peers.
Nurses launch empirical investigations into the health risks and illnesses plaguing populations to devise treatments and preventive care regimes. They develop processes and solutions to alleviate pain and help chronic patients enjoy superior life quality. They investigate disease progression in vulnerable communities to address and eliminate health inequities and promote healthcare inclusivity.
Nursing leaders and researchers have a monumental role in leading the healthcare sector towards innovation and advancement with evidence-based practices. They continually innovate nursing practices and carve out more clinical autonomy for nurse practitioners to enhance patient safety and care standards.
Conclusion
Serving as a full-time nurse and aspiring for healthcare leadership are two intensely demanding and exhausting endeavors. It's easy for an overworked and underappreciated nurse to lose sight of her ambitions and get consumed by overwhelming bouts of occupational stress. But nurses who aspire for professional greatness and clinical authority must prioritize pursuing higher education.
The most straightforward strategy to aspire for and achieve healthcare leadership lies in pursuing higher education and advanced clinical training. Nurses cannot restrict their careers within entry-level positions that don't directly impact patient safety and healthcare standards. Instead, they must lead healthcare facilities with compassion and patient-driven models.
Related Videos about How Do Nurses Aspire To The Healthcare Community? :
How Do Nurses Aspire To The Healthcare Community?
how nurses make a difference in the community?, why is it important for nurses to work in the community, importance of community health nursing ppt, role of community health nurse pdf, importance of nurses in healthcare, how do nurses impact the community, what is community health nursing, why are nurses important,