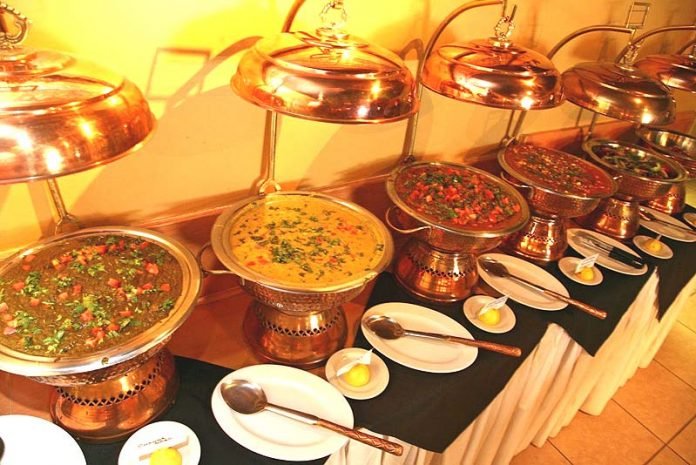 How to Create the Perfect Indian Wedding Menu (That Pleases Everyone) : India is a country of diversity in food as well. Now along with regional taste enjoy global food. Wedding crowd is not a homogeneous one. To satisfy the taste buds of the invitees which include children elders as well is a very difficult proposition. The challenge lies in the fact to foresee the food needs of the crowd and appease it.  If you plan this task can be very easy undertaken.
There are different types of cuisine like Indian region wise North, south, east and west, Italian, Chinese, Korean, Peruvian, Nordic etc.  Then there is vegetarian food and non-vegetarian food. Fix the menu which is convenient with function, season, healthy and good food in quality.  Food evaluation by the guest decides the success of the function.
Number of invitees and the variety in food is based on budget.  The quality caterers come at a higher cost.  Another deciding factor is the season. Menu will use seasonal crops. In summers fruit salads and mock-tails are relished. If it happens to be winter or rainy season warm fluids in the form of soups, hot milk as well as hot desserts are served. Milk products are spoilt in hot season and thus not served.  Prior to placing order for food taste the products. This will give you a fair idea if the invitees will enjoy the food.
The starters are the first food served. Take extra care to make it presentable. First impression is the last impression. Your experience will help to anticipate the taste of the guests. Make sure that starters are enjoyed by all. They are not messy spoiling fingers and dripping. Light starters are good for stomach at the same time do not spoil the dinner appetite. People are health conscious and enjoy salads. Serve variety of salads for all age group. Italian food such as pasta and macaroni can be added in salads. Variety in the types of dishes will be savoured well. Important dishes of your region well presented will also be appreciated. Rotis, parathas, naans should be suited to the gravy dishes and main course dishes. These will then be acknowledged with delight.
Keep in know of the trends. For instance, cakes are now popular as desserts. Add this in your list with ice-cream, and Indian traditional sweets. During Mehandi and Sangeet hands are occupied serve food that is easy to eat in between break.  Dips is one item that is enjoyed.
Wedding venues in Delhi are many and scattered all over Delhi and NCR. The lowest starting rate per plate is Rs 350/-. Book the venue at least six months in advance or else when you begin planning. The venues like banquet halls, farm house, hotels etc all have indoor and outdoor facility for functions and wedding. Plan your theme and then make the venue. The space should be able to accommodate the invitees. See the ratio of the floating guests and those seated. The place should not get congested. How well you can organize small functions here. Once all these are given final touch select the catering service and update them.
Related Videos about How to Create the Perfect Indian Wedding Menu (That Pleases Everyone) :
FOOD SERVED IN NORTH INDIAN WEDDING
Indian Wedding Vegetarian Food Ideas|Indian Wedding Tour|Wedding Food menu Ideas
Indian Wedding Reception Food and Menu
INDIAN PARTY FOOD IDEAS – INDIAN PARTY MENU – APPETIZERS, DESSERTS, CURRIES, MAIN COURSE
Food Served at Indian Wedding
How to Create the Perfect Indian Wedding Menu (That Pleases Everyone)
indian wedding starters menu, popular indian wedding menu items, north indian wedding food menu list, south indian wedding food menu list, south indian wedding dinner menu vegetarian, indian wedding breakfast menu ideas, tamilnadu marriage food menu list pdf, south indian marriage food items, Perfect Indian Wedding Menu