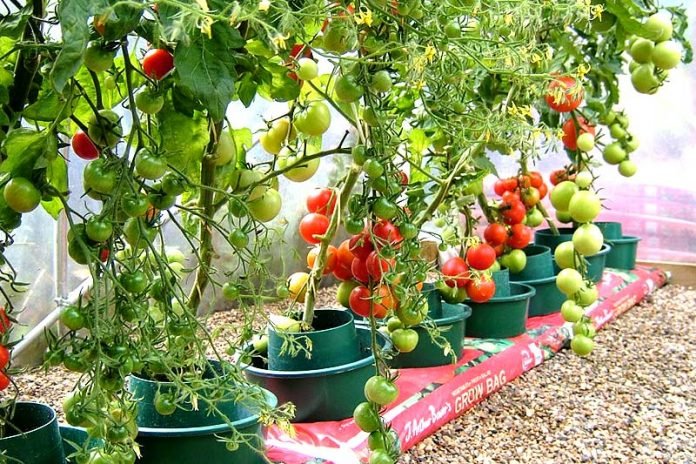 How to Grow Tomatoes in Pots : When you have a big garden, you can grow tomatoes to your heart's content. There is nothing like seeing red, ripe tomatoes in your home garden. It makes your garden look beautiful. Moreover, you have enough space to grow. Then, not everyone is so fortunate. People living in apartments do not have that much space, and therefore, grow tomatoes in pots. You can place these pots in your apartment balcony or any other place.
According to an article published on https://www.huffpost.com, if you are growing tomatoes in pots, choose 20-gallon containers. Even a half barrel is a smart choice. You can grow cherry tomatoes in small pots, but pick a relatively large container, if possible. Here are a few tips to grow and water tomatoes in pots:
Pick a Perfect Location and Pot
It is true that you can place tomato pots in any place in your home, but select an ideal spot where the plant receives at least six hours of sunshine. Avoid placing the containers too close to each other to help the circulation of air. It also prevents fungal diseases of the plant.
Buy pots in which the tomato will fit properly. If you want to grow vine-like or bush-type plants such as cherry tomatoes, pick a three-gallon pot. For growing large tomatoes, opt for bigger pots.
You can use customised greenhouses for growing tomatoes. Tomatoes are some of the most popular plants to grow in a greenhouse, and they grow relatively quickly before bearing their fruit and are low maintenance when it comes to pruning and cultivating.
Water the Plant Properly
Make sure that you water the plant regularly to keep the soil moisturized. When you are watering tomatoes in pots, use your finger to learn about the condition of the soil. If you are new to gardening, ask a neighbor who has been growing tomatoes for some time. Do not water the plant from above because the moistened leaves are vulnerable to fungal diseases. Use a hose, a small mug or a sprinkler to water the tomato plants slowly.
Use Organic Fertilizer
The right combination of organic fertilizer and water will help in adding the essential nutrients to your tomatoes growing in pots. The soil becomes chemical-free. Soy meal, blood meal, and bone meal are a few of the natural fertilizers that you can use. It will improve the nutrition balance in the soil, including nitrogen, phosphorus, and potassium.
Plant Deeply
You must plant tomatoes deeply in the pot, because it helps in the growth of strong and healthy roots. Make sure that you cover two-thirds portion of the baby plant with potting soil. If you want to plant 10 inches high, ensure that you leave not more than three inches of the plant height from the top.
Support the Plant and Prune 
Support the tomatoes with a plant cage or simply staking the plant. It's done to release the fruit's weight from the supple veins. You should prune the tangled branches that block sunlight and air circulation. Get rid of the emerging stems as well, up to six to eight inches below every plant to boost productivity.
Examine the Plants Weekly
Inspect the tomato bushes weekly to check for pests. Play safe and get rid of pests like aphids because they can damage the tomatoes largely. Check for plant diseases as well.
Conclusion
When the red and round tomatoes fully grow, it's time to harvest. Wash the tomatoes thoroughly before consumption.
Author: 
Trudy is a Business Tech Analyst. He is very responsible towards his job. He loves to share his knowledge and experience with his friends and colleagues.
Related Videos about How to Grow Tomatoes in Pots:
How to Grow Tomatoes In Containers – Complete Growing Guide
[ Watch This ] 5 Tips for Growing Tomatoes in Containers – Garden Tips
How to Grow Tomato at Home (Easiest Method Ever With Updates)
How to grow Tomato at home
My Secret For Great Container Tomatoes
How to Grow Tomatoes in a Pot | Caring Tips | Kitchen Gardening
How to Grow Tomatoes In Containers at home
Principles for Growing Container Tomatoes: Soil, Planting, Fertilizer, Watering, Side-Dressing
How To Grow Tomatoes In Containers | IN BETH'S GARDEN
How to Grow Tomatoes in Pots
how to grow tomatoes in pots from seeds, how to grow tomatoes in pots indoors, growing cherry tomatoes in pots, growing tomatoes in pots pruning, how often should i water my tomato plants in pots, tomato container size, growing tomatoes in buckets, container tomato varieties,