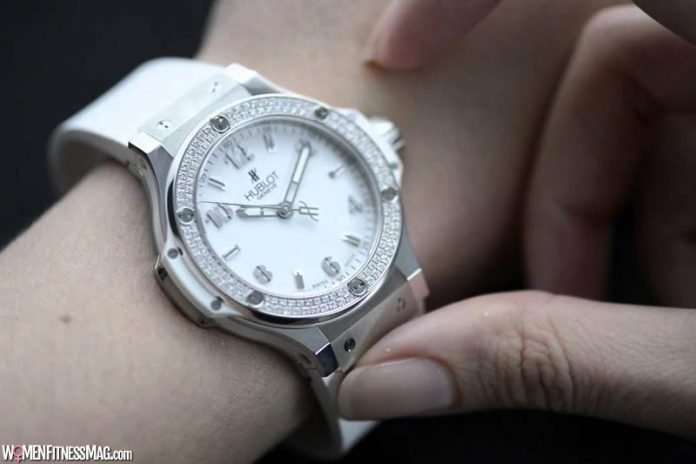 Hublot's Art of Fusion and Innovation : You are probably wondering why Hublot is the Art of Fusion or is there really an art incorporated in their watches? Hublot is the first-ever watchmaking company to combine rubber and gold in one same watch. Fusion of past and present, traditional and modern design, unique watchmaking strategies and conventional techniques and most of all, the fusion of different watchmakers with different arts and skills to create watches that are bound to be known in different parts of the world.
In this article, you will be presented with their three major collections where you can see the beauty of each of their collections.
Gold and Rubber Sensation
Every watchmaking company has their firsts and as for Hublot, it is the first-ever watchmaking company to create a gold watch with a natural black rubber bracelet. A fusion of rubber and gold is not an ordinary combination because not all watchmaking companies were able to do so. That is why when Hublot launched their gold watch with a rubber strap, it caused a sensation worldwide and that is one of the remarkable moments in watchmaking history.
The name, Hublot
When Carlo Crocco left his company that is known for making Breil watches, he stood up on his own and created a stronger watchmaking company. When he moved to Switzerland, that's when he named his company "Hublot", which means porthole in French. Creating the first watch to be launched wasn't so easy, because it took Carlo Crocco three years of hard work and research to create the strap but his determination didn't fail him. He was the very first ever to launch the first natural rubber strap in the world of watchmaking.
Hublot's Big Bang Collection

There was a time when Hublot stuck up for a little while. It was in 2004 when Jean – Claude Biver came into the picture. He wanted to do something big for Hublot, so that is when he created a new flagship collection which was launched in April 2005 in Basel. The Hublot Big Bang which became a sensation because it received multiple international awards like Watch of the Year in Bahrain, Geneva Watchmaking Grand Prix, 2005 Design Prize and many more. The art of fusion was still incorporated in this collection, because of the fusion of ceramic alloy and gold such as the Magic Gold and fusion of platinum alloy and red gold referring to the King Gold.

Hublot Big Bang Unico Ceramic Magic Gold
Model: 411.CM.1138.RX

Hublot Big Bang Unico Ceramic Magic Gold

If you will be given the chance to see this timepiece in person, you will be in awe because of how detailed this is crafted. The movement created inside this watch is 100% Hublot's House movement that is designed for an automatic chronograph. Created with a 72-hour power reserve and with its very own first scratch-proof 18k gold that never existed before. It was only Hublot who invented scratch-proof gold that went through massive research to make sure that it can withstand major scratches. To top it all off, the watch is also water-resistant.

Hublot's Classic Fusion Collection

In this collection, you will find a touch of the 1980's first Hublot models combining it with a modern design where classic fusion comes in. Since this collection came from the inspiration of the 1980's Hublot, you can still notice the unique design of a porthole where Hublot's name was derived from. You will find in this collection, a fusion of classic and sporty looks so you can use it for both different events.

Hublot Classic Fusion Ceramic Blue
Model: 520.CM.7170.CM

Hublot Classic Fusion Ceramic Blue

This is perfect for those who want a mixture of classic and modern design. It has a power reserve of up to 42 hours and a satin-finished ceramic strap which adds a classical look to this watch. Hublot chose a high-grade ceramic that is extra tough and can protect it from scratch. So, it can assure you that once you have this on your wrist, it can stand the test of time because it has undergone tests that allow it to withstand high temperature and scratch too. Also, this automatic watch is made perfect with Hublot Calibre HUB1143.

Hublot's Spirit of Big Bang Collection

This collection is a descendant of Hublot's Big Bang collection and one thing that is noticeable in this collection is its barrel-shaped feature. And one of the most prominent features of this collection is the H-shaped screws. You will get a head to turn if you have this on your wrist because no one can ignore this beautiful masterpiece.

Hublot Spirit of Big Bang Blue Diamonds Titanium
Model: 665.NX.7170.LR.1204


Hublot Spirit of Big Bang Blue Diamonds TitaniumThis elegant timepiece can definitely get a 'Wow!' from Hublot's patrons because it perfectly depicts perfection and elegance. It has a sapphire crystal that protects the watch from scratch and anti-reflective treatment, too. It can assure you that it will not leave you hanging because it has a power reserve of up to 50 hours and is water-resistant of up to 100m. This masterpiece has an alligator leather, blue rubber strap and is powered by an automatic movement and is consistently resistant to water of up to 100m.
Conclusion
If there is one thing that you have to consider when buying a watch, it is the quality of the materials used in creating the timepieces. This is where you will identify the hard work and passion the watchmakers put into making their products. Hublot desires to not only stand out from their competition but also accommodate their market to the best that they can. A vast collection of timepieces are there for you to select a watch that is valuable and unique. Aside from the three watches mentioned above, they still have a lot that you do not want to miss out on. Each watch suits different occasions and personal styles for women.
Related Videos about Hublot's Art of Fusion and Innovation :
HUBLOT – THE ART OF FUSION
Surface Celebrates The Art of Fusion with Hublot
Hublot's Art of Fusion and Innovation