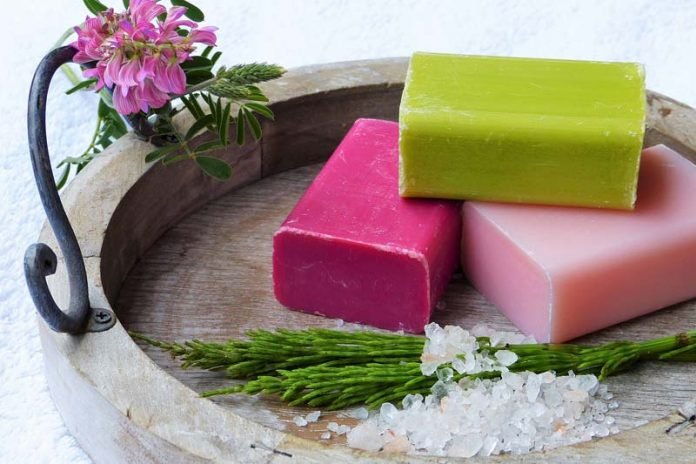 Is Handmade Soap Safe for Your Skin? In this era of going green, consumers are growing more cautious on what ingredients are used in the beauty and skin care products they use. This has left many consumers opting for organic skincare products such as homemade soap. However, is handmade soap safe for your skin? Well, let's find out.
What Soap Manufacturers Don't Tell You
With the rising demand in the beauty and skincare market, soap manufacturers are working overtime to ensure they have enough supply for their customers. The need for mass production causes many soap producers to cut cost by using cheaper artificial products in their products.
Some of these ingredients have been found to do more harm than good. For instance, Sodium Lauryl Sulfate, which is used to make soap foamy, is also a major hormone disruptor. Some chemicals used for producing a rich fragrance in soap are also known to be carcinogenic. That's not all; most store-bought soaps also contain parabens, used as preservatives and hardeners, which cause tumors as well.
There are manufacturers who tone down on the harmful ingredients but also omit vital ingredients in their products. For instance, glycerin is often omitted in bathing soap and included in the lotions made by the same brand. This forces the consumer to buy both products in order for their skin to feel moist and revitalized after grooming.
However, the truth is, your normal bathing soap should act as both a cleanser and skin moisturizer. But you have to buy two products (soap and lotion) to do the job of one. Soap brands are secretly making money off you!
Handmade Soap and Its Safety
So now more consumers are shifting their focus on handmade soap. To better understand the safety of handmade products, one has to look at the ingredients used as well.
Handmade soaps use raw ingredients which are safe for the skin. There are plenty of organic ingredients out there, but the common ones are olive oil, palm oil, coconut oil, lavender oil and essential oils. Olive oil nourishes and moisturizes the skin with frequent application. Palm oil produces a rich lather and is safer compared to Sodium Lauryl Sulfate. Coconut oil is an excellent cleanser that gets rid of dirt without removing the natural oils produced by the skin. Lavender oil promotes relaxation and is believed to treat fungal infections, allergies, eczema. The more efficient way to prevent skin infection is using lavender goat milk soap which contains organic ingredients.
Essential oils carry healing properties that repair the skin. Additionally, these oils have natural sweet scents that are often used in Spas and massage parlors for their calming effects. Homemade soaps also contain glycerin, which moisturizes and makes the skin smooth.
There are no harsh, synthetic, or dangerous ingredients to worry about in handmade soap. Therefore, organic homemade soap is safe on the skin and is equally long-lasting if you mix the oil ingredients in the right proportions.
Handmade Soap Market
Handmade soap is doing tremendously well in the global consumer market. As of 2017, the total revenue generated from the homemade soap market was $150 million. These figures are set to rise to $220 million by 2024. It clearly shows that consumers are becoming more aware and trusting handmade soaps, which are not only gentle on skin but also safe on the environment.
Bottom-line
Handmade soap is totally safe for the skin because it uses natural oils and contains no harmful synthetic ingredients. What's more, the global homemade soap market is rising, which means consumers are more confident of handmade beauty and skin care products.
Related Videos about Is Handmade Soap Safe :
How to test the pH Level of your Soap (Soap Mastery Tutorial)
Is Lye Safe? Can I make soap with out lye? Truth about Lye Free Soap
Lye Safety When Making Soap
Is Handmade Soap Better for Your Skin?
Is Handmade Soap Safe for Your Skin?
health benefits handmade soap, vegetable soap benefits, disadvantages of organic soap, why handmade soap is expensive, real soap, best natural soap for face, homemade artisan soap, purpose of homemade soap,