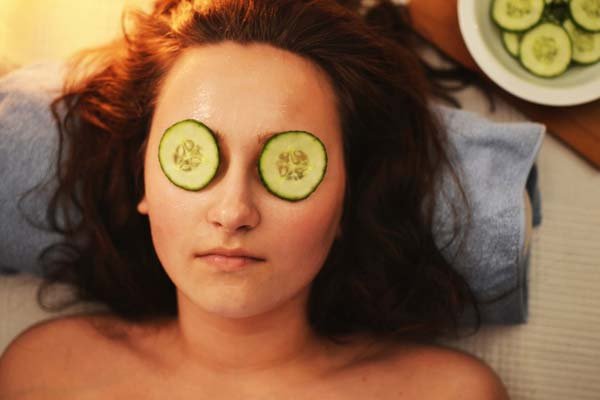 Keep Your Skin Looking Beautiful for Fall : In an idealistic world, every woman and even man I'm sure would have utterly radiant, supple and spot-free looking skin regardless of whether it Summer, Winter, Autumn or Spring. Unfortunately, enough, though, this world is nowhere near being idealistic and neither is our skin. Millions of dollars are spent worldwide on over-the-counter creams which one way or another work to enhance the beauty of our skin.
Seasonal transits are those times when our skin goes from being tamable to ultimately untamable followed by breakouts, zits, whiteheads, blackheads and what not. Fall, when the leaves start shedding and the sweaters come out, in particular marks the beginning of a dry, dehydrated and rough patch of our skin which continues until the beginning of summer.
Proper care and maintenance are needed to keep our skin looking great especially during Fall and winter. So here are just a few ways by which you can at least try to keep your beautiful looking skin, even during Autumn and winter.
5 Ways to Keep Your Skin Looking Beautiful for Fall 2016
1. Hydrate yourself, Pronto
They say beauty is inside-out, well it is. Protecting and Moisturizing your skin to help avoid it from dehydrating is just as important as maintaining a hydrated diet. Avoiding the consumption of substances such as alcohol, starches, and even caffeine can lead to a loss of bodily fluids. While foods that contain healthy fats such as in dried fruits and nuts, along with water-rich fruits and leafy greens help in hydrating as well as nourishing our tissues.
Another main ingredient which is ever so readily available is water, more and more water intake should be carried out to ensure hydration.
2. Stock up on the Oils
Oiling up your skin is another essential step for keeping your skin hydrated in the winter breezes of Autumn. It helped with epidermal water loss as well as keeping the skin elastic enough rather than dry and cracked up. At the same time, however, it is also important to use oils that are solely vegetable-based such as Coconut oil, Jojoba or Olive oil.
In cases where Mineral oils might be used, it will only further aggravate the clogging of our facial pores.
3. Increased Facial blood-flow
The dropping temperatures of Autumn eventually constrain the blood-flow of our blood vessels. Such can result in a bad blood circulation, making out skin look dull and unhealthy from the lack of transportation of oxygen.
To enhance the blood flow circulation, Lemon Oil, Ginger, Ginseng and Vitamin C play the role of being natural additives. They can be found in many Anti-ageing products in today's date; regular use can result not only in an increased blood flow to the facial tissues but also a rise in Collagen production.
4. Exfoliate
Exfoliation is a part of our routine and highly recommended 24/7 by all skin specialists. Exfoliating not only the face but also the body during the onset of fall as well as the wintery season helps in removing all excessive dead skin. No oils or even moisturizing creams can penetrate our skin unless the layer of dead skin is scrubbed off on a regular basis during the winters.
Daily exfoliation also aids in promoting an increased blood flow circulation, leaving our skin youthful and vibrant looking. So better start looking for the exfoliation scrub that best suits your skin.
5. Humidify your surroundings
The sudden drop in humidity levels of the air once the beginning of fall starts is what results in dry, cracking skin. This lack of water droplets within the surrounding air also gives leverage to the aggravation of skin conditions such as Eczema and even Rosacea.
Hence to minimize the decrease in humidity levels, Humidifiers can be purchased and kept within homes and even offices to maintain a balanced degree of water droplets to ensure that your skin does not dry up.
The onset of fall always brings a sense of new beginnings, and could also alter the complexions as well as the beauty of our skin due to which taking the appropriate steps right from the beginning is so important.
If you wish to get your post published in Women Fitness Magazine, You are most invited for Guest Post.
Related Videos :
13 Ways To Wake Up Extra Beautiful
How To: LOOK BEAUTIFUL WITH NO MAKEUP
Banana Face Pack For Dry Skin || Home Remedy For Dry Skin || Skincare
The Easiest Skin Care Routine For Dry Skin
Turmeric Face Pack For Dry Skin
Fall Skin Care Routine | LookMazing
Affordable Skin Care For Fall & GIVEAWAY
Fall Skin Care Routine – GlamourWonderland
Fall Make up Transformation Dark Skin Friendly
Keep Your Skin Looking Beautiful for Fall
About Author: This post was written by Beth Martel. She is a mother of two, a medical professional and a humanitarian. She blogs at HealthyRecharge.com.
Keep Your Skin Looking Beautiful for Fall
fall makeup tutorial, fall makeup colors, fall makeup looks, fall makeup pinterest, fall makeup tips, fall eye makeup, fall makeup ideas, fall makeup 2016, how to keep skin younger and glowing, how to keep skin younger and wrinkle free, younger looking face, how to get younger looking skin in 10 days, younger looking skin secrets, Keep Your Skin Looking Beautiful for Fall
how to keep skin healthy and glowing naturally at home, how to look younger naturally at home, how to keep your skin clear, how to look younger naturally at home, how to get younger looking skin in 10 days, how to glow skin in one day, how to get glowing skin naturally at home, glowing skin tips, glowing skin secrets, how to get glowing skin in 2 weeks,
how to get glowing skin overnight, fall skin care, spring skin care, winter skin care, summer skin care, fall skin care tips, fall skin care routine, fall skin care products, best fall skincare, beauty tips for fall,