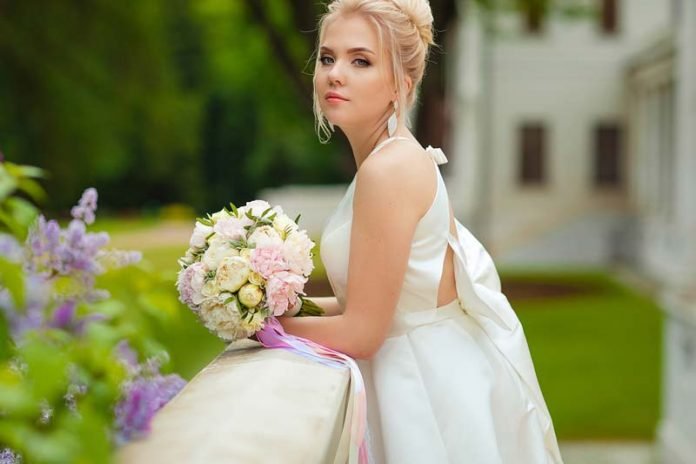 Latest Wedding Dresses Designs: Romantic Styles for Every Bride : Weddings are such an exclusive and very special occasion, especially for the brides. And therefore, it is quite obvious that most brides will go to any lengths in order to achieve their dream wedding.
The bride's wedding dress is one of the most pivotal elements for the big day. Since wedding days are the most romantic of all events, it is quite understandable that a bride wants to wear the most romantic and beautiful wedding dress of all.
If you want to show off a sense of style on your wedding, then you can choose wedding dresses for sale in Cape Town, and personalized it more with a few romantic styles to add more flair on your big day or choose a wedding dress that follows the latest trends.
Cascading Shoulder Bows


Bows on wedding dresses are nothing sort of new, however, the modern placing of bows can be seen streaming down shoulders with some that dangle just to the elbow and other grazing the floor for a dramatic flair.
Arm Warmers


We are not sure what else to call them, but these bridal gown designs are stand-alone sleeves which fill the Bridal Fashion Week. In some wedding dress, these arm warmers were attached to the wedding dress, however, most are independent of the gown. From Long to short sleeve arm warmers, this unique idea adds a perfect amount of playfulness to an understated wedding dress.
Next-Generation Butt Bows


Another bow design, but this time they came from the 80s and re-imagined for modern brides. Now, these massive bows are positioned somewhere on your butt, and no longer had a stiff shape. These waist-accentuating bows are freshly re-designed—either ornamental or undone.
High-Low Hemlines


"November Rain" and Stephanie Seymour get the credits for inventing the high-low bridal hemlines in the year 1992.  And this bridal wear trend certainly had a moment this year! If you want to show off your crystal shoes and legs, but are not that ready to go to the mini-dress route, then you can have the best of both worlds by choosing this wedding dress trend.

It is longer in the back and shorter in the front which gives this playful style the classic elements that you want but with an added texture and depth which provide the dress a modern and fresh look.
Watteau Backs


The 18th-century Watteau-back wedding gowns offered the illusion of a cape, with fabric that; is draped from the bride's shoulders to the floor. For this modern day, Watteau backs are less daunting and give those who do not wish for a cathedral-length veil trailing behind them as they walk down the aisle.

Also, in most cases, the Watteau back gives the option to be removed, so you can have the dramatic flair for your wedding ceremony but will not be weighed down on your first dance as a married couple.
Interesting Embroidery


Traditional silhouettes are given a new lease on life with intricate and unique embroidery. Nowadays, you can see elaborate geometric patterns plus gold detailing which go far beyond the customary floral sequins and laces.
A Sliver Of Silver


While most designers sprinkled their wedding gown with sequins or glitter, some designers decided to be in favor of a frosty silver finishing. From mirror-embellished and silver-threaded wedding gowns to gunmetal wedding gowns with fine lines of silvery glitters in a brocade pattern, shiny silver accents provide a shiny alternative to plain white dresses, without using any bright colors to stand out.
Sheer Lattice


For a timeless, romantic look, yet unexpected, choose a wedding dress with sheer panels in a basket-weave style or netting style effect. From more subtle delicate sleeves on a classic silhouette to ultra-modern convertibles with sheer skirts and illusion necklines, a little lattice provides a unique touch to your bridal gown.
Fashionable Fringe


You might think of motorcycle gangs or flappers when the word "fringe" is mentioned, however, know that this fashion designer is now on trend on bridal wears. In order to keep the look still appropriate for the wedding, choose a classic silhouette with delicate details such as pearls and crystals, high quality, expertly draped materials like silk fringe.
Related Videos about Latest Wedding Dresses Designs: Romantic Styles for Every Bride :
Bridal 2019 | Barcelona Bridal Fashion Week 2018
2018 Wedding Dress Trends & Ideas for Your Big Day
Stunning Wedding dresses different body types
The Most Beautiful Wedding Dresses in The World
WEDDING GOWN 2018 Trends and Ideas
Latest Wedding Dresses Designs: Romantic Styles for Every Bride
latest wedding dresses indian, top 10 wedding dress designers, wedding dresses 2018 summer, wedding dresses pictures, best wedding dress designers in the world, new wedding dress indian, affordable wedding dress designers list, 2018 spring wedding dresses,