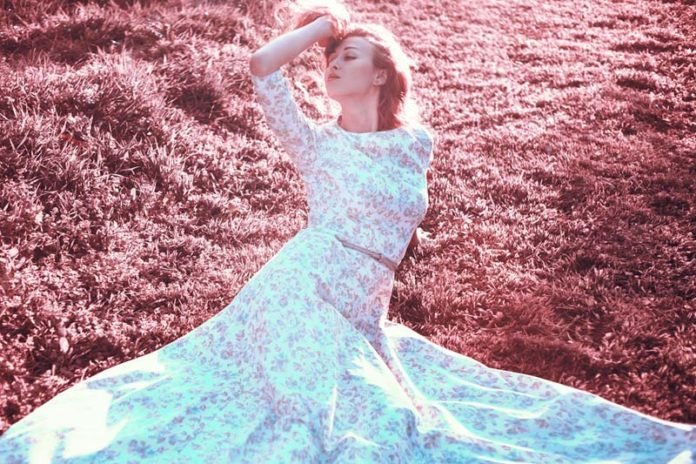 Style Yourself Up with Evening Gowns This Wedding Season! Evening gown fashion styles have been an ever-evolving affair since early 19th century. They gained popularity in the Western world because of the luxurious fabrics used. Due to which it became fashionable at formal affairs. Throughout the Victorian era, the fashion savvy admired the floor-length and ankle-length attires. If you are interested in period jewellery from this era, you may want to look to Berganza London. They have one of the largest collections.
Gradually, changes were made with time; the one taken over by the other, particularly considering the necklines and sleeves. These changes were off-the-shoulder, low-necked designs, short-sleeved dresses, and the flapper style. In 1930, the evening gowns evolved into a glamorous fashion style with fantasy. Its creativity engulfed the domain of fashion. The westernization of Designer Indian Evening Gowns, have made it the first choice for wedding.
Indian women are becoming more conscious about their looks, particularly for special occasions. They prefer ethnic apparels with a touch of modernisation and westernisation. To fulfil these feminine needs, the fashion designers designed the Indo-Western Gowns that give a contemporary look supplemented by a flavour of Indian heritage.
Women of all class and ages prefer 'Fusion' ensembles. You can style yourself with evening gowns that make you stand out in the crowd.
A certain section of Indian women still sticks to the Indian clothing, amalgamated with Western clothing. These are known as Indo-Western garments or Indo-Western Fusion garments. They are a combination of Western-style patterns and Indian designs. These are becoming popular because they have a trendy and elegant appearance. Yet they give it a touch of Indian culture. However, the elements of Indian and Western cultures are well-balanced, and they become comfortable to wear.
If you are fashion savvy, you will definitely 'fall in love' with the fusion evening attires. They are available in the manner of contemporary designs, patterns, current trends, colours and shapes. For asserting your femininity, besides looking elegant, you should look sexy too.
It requires an optimal self-confidence and appropriately matched clothing. The fusion gowns will make it possible for you on any occasion such as weddings, high-end-events and festivals. It brings stylish sophistication to you.
Below are few tips that will help you to make the right choice in buying your evening wear:
It should meet the appropriate level of formality for the occasion you are going to attend.
It should flatter your figure perfectly. Do not yield to outside pressure. Otherwise, you will feel conspicuous and uncomfortable all night long.
Choose a color that will be appropriate and flattering for the gathering. For instance, everybody wears a red dress on a Valentine's Day ball.
The fabric should have an expensive appearance and is also comfortable while moving. Opt for the good quality materials because you are going to wear it for a long period.
Your ensemble should be trendy and gorgeous in a classic style. Only then, you can style yourself appropriately for the occasion.
Silver Evening Gowns this Winter Season
Snow in the winter is fantastic, sophisticated, cheerful, and romantic. Inspired by this theme, talented designers use silver fabric for the silver evening gowns. Those with dark hair look like fairies in silver ensembles. They will look stunning in the platinum couture outfit that is designed by the famous designer, Marchesa. His other creation in deeper shades of silver will match all types of skin tones.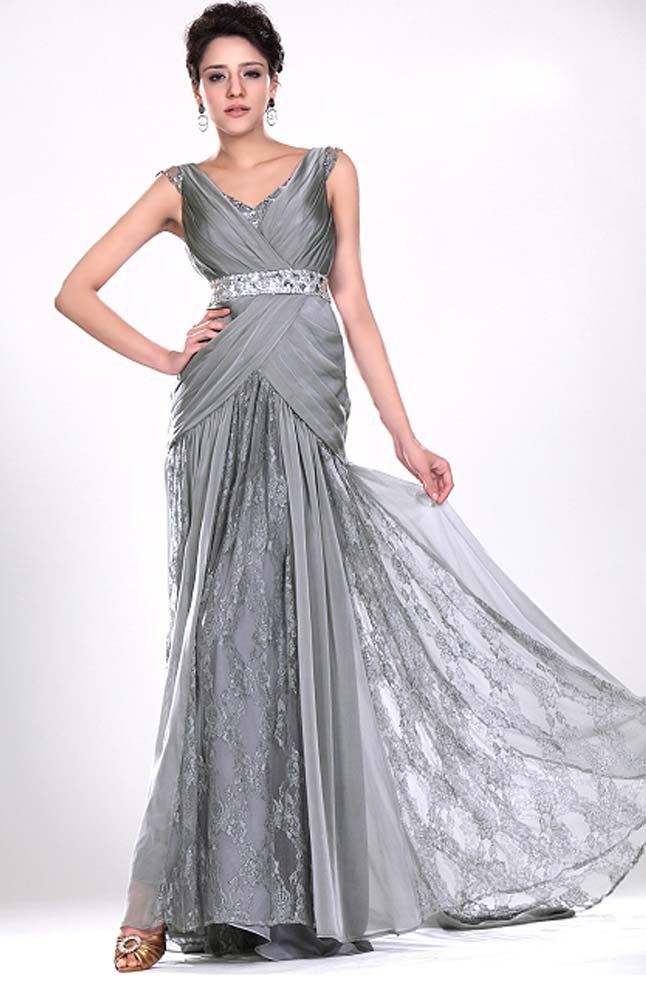 The most popular fabrics for Silver Evening Gowns are Taffetas, Chiffon, Lace, Tulle, and Appliqués. The silver apparel has the style of hollow out and sparkling sequins. It will make you glorious and endearing in your formal parties. If you want to be the cynosure of all eyes at the occasion, style yourself, with the Indian or the Indo-Western gowns. You will get the glances and compliments of other guests.
Saree Gowns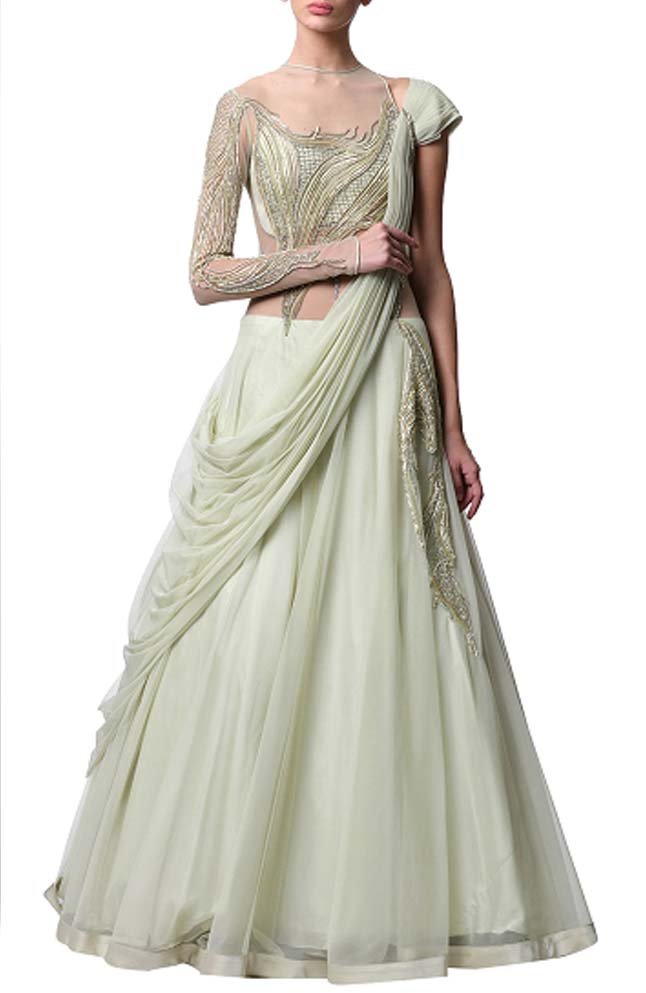 These are the most favoured outfits of Bollywood Celebrities. They offer the western feature of easy wear. It gives the graceful look of the Indian Sarees by recreating a Saree look.
Indian-Inspired Gowns
These are western silhouette gowns, predominated by Indian inspiration. It uses saree like maroon fabric for creating volume over an ivory fishtail fall near the ankles. It exhibits the distinctive use of Indian embroidery.
Fashion is an ever-evolving segment. The fusion wear has become the darling of every fashion savvy Indian women.
Related Videos:
Latest Engagement Gown idea || Gown Dress Designs ||Formal Gowns ||
Secret Styling Tips For Pageant Gowns
Stylish and Classy Evening Gowns To Wear
Latest Designs of Gowns, Ball Gown Design, Long Gown, Evening Dress, Prom Dress
Latest Evening Gowns Collection–2017 || Prom Dresses || Beautiful Gowns?
Full sleeve evening gown design
Style Yourself Up with Evening Gowns This Wedding Season!
types of occasions and what to wear, what to wear to a political fundraiser, what to wear to a formal event, evening gown length etiquette, what to wear over a formal dress in the winter, what to wear to a gala dinner in winter, can you wear a short dress to a ball, cocktail dress, designer evening gowns, long evening gowns, evening gowns with sleeves, cheap evening gowns, evening dresses for weddings, black evening gowns, affordable evening dresses, long formal dresses,