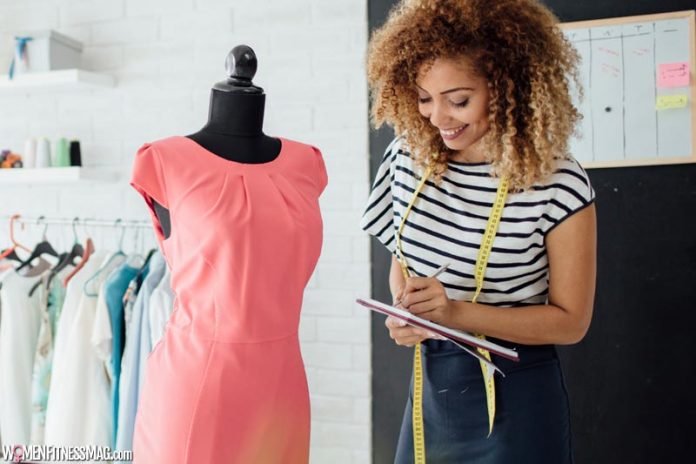 Love Fashion Design? Here's how you can become a Fashion Designer : Fashion designing has now become one of the most profitable, exciting and growth-oriented fields for students who love to create and add color magic in clothes with their exciting original ideas. The field promises its hardworking passionate life full of success and with a pocket full of money but having success in this field is not a bed of roses.
Yes! Like any other field, this field is also only for individuals who are dedicated to creating something new and unique which is never created or seen before. Many universities and institutes are providing a chance to individuals who want to explore their talent by becoming a fashion design guru and they can get to learn more about fashion by enrolling themselves in fashion master courses.
Thus, if you are one that loves to show their creativity to the world and is willing to flaunt their exclusive new fashion designs but do not know what to do then here's a step by step guide on how you can show your magic to the world:
Good Aesthetic Taste:
One can only become a fashion designer if she or he has a good sense of styling, creating and has a good aesthetic taste in color combinations. So, these skills are the foundation for one to flourish his career in fashion designing.
Bachelors Degree:
Students willing to pursue fashion designing as their career must also pursue a degree in fashion designing in which they will be given knowledge of different aspects like fashion history, fashion merchandising, retail management. All these courses help an individual how to work well in the practical market. Thus, for a successful career in fashion designing the second step requires the competition of a degree to shape in your expertise.
Practical Working Experience:
Experience makes a successful fashion designer. Yes! Not scoring good grades in your bachelors' program will make you a good fashion designer, a skill only gets sharper when you put your ideas and sketches from paper to the finished products. This experience can only be acquired through participating in different programs of internship offered by different firms. So getting experience and working with different firms under the leadership of different managers also plays an important role in becoming a fashion designer.
Knowledge Of Business In Fashion:
NOT only a successful fashion designer should have the expertise in designing new trendy clothes but it should also have knowledge of how he will put his plans into action. That is getting the knowledge of different aspects of business like how much budget is required in starting a new business, how he will market the products especially if one is willing to start up their own business. So, individuals interested in running their own business must also have keen information about business in fashion.
Learn How To Make A Portfolio:
Show off your talent! Another important thing that all future designers should work on is how to make a portfolio to attract the firms to consider you as the right choice for their product line. A portfolio shows your own individuality that how much creative you are and your learned skill in this field. It must also include the work experience that you have gained by participating in different internship programs. Thus, a portfolio of a fashion designer must include all his sketches, creative designs, learned experiences, certificates to show off how much lucrative you will be if given a chance to work.
Be Always With The Trend:
Fashion trends change with lightning speed! The art of becoming a successful fashion designer also requires keeping your pace as fast as fashion trends. Fashion trends can change from either season to season or from year to year. One good trendy cut can become out of fashion the very next day. So, people! Be always be in tune and updated with trends and speed up your pace by daily reading fashion magazines and following up with latest fashion shows and blogs as well.
Show Your Individuality:
Be the only one! Show people how different you are from other fashion designers. Be the trendsetter and start making clothes that no one has ever thought before. Be unique. Think creative and these creative ideas can be improved by having an understanding of the different skills used in making clothes.
The Skill Of Communication:
Communication is important! The success of a fashion designer also needs expertise in communicating with other colleagues. If a fashion designer has a good creative idea but he does not have the skill of communicating its vision with other employers then that creative idea is wasted.  Thus, the skill of communication is another important thing to mark your step as a fashion designer.
The Skill Of Working In Teams:
Be the captain of the team! A great fashion designer works well in a team. As the production of many clothes requires the joined effort of many different team members from pattern making to stitching and to shipping it requires a constant team effort that all are working to achieve the same goal thus all upcoming fashion designers must know how to work in a team.
Never Give Up:
Be patient! To be successful in any field it requires untiring efforts and hard work. Not to lose hope when you are faced with obstacles and hurdles in your way to success. Keep trying. Never giving up is what makes all the fashion designers successful and famous. So, someone has rightly said that "NO GUTS, NO GLORY" that means success only comes to those who work hard and struggle for it.
Give Attention To Details:
Details are important! An individual can only become a fashion designer if he knows how important details are in fashion designing. So, adding and working on details in accordance with the design is another important thing an individual should learn if he is willing to work as a fashion designer.
Conclusion:
In last I would like to say that fashion designing is now one of the most lucrative fields which wait for individuals who are not only talented and creative but also have the knowledge of the latest fashion trends. The individuals also must know how to work in teams and be communicative because it plays a major role in the fashion business. Another important thing that makes a fashion designer is making a portfolio that shows all your unique designs and your work experience which you have acquired through working with different firms in internship programs.
So my advice to all the people who think that they can become a fashion designer is that you can not achieve what you are thinking unless you work super hard, day and night for making your dreams come true and to become a fashion designer also require continuous hard work, efforts, and improvement.
Related Videos about Love Fashion Design? Here's how you can become a Fashion Designer :
How to Become a Fashion Designer
How to become a fashion designer – 5 Skills You need
How to Become a Fashion Designer with Alexa Chung
How To Become A Successful Fashion Designer!
Love Fashion Design? Here's how you can become a Fashion Designer