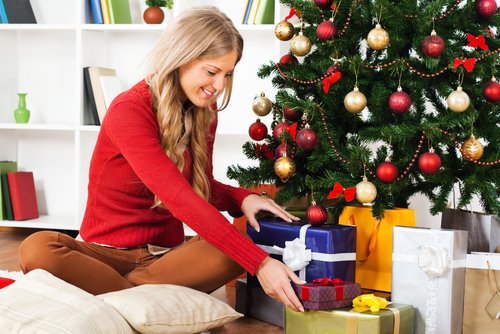 Christmas can be a difficult time for everybody since we have to look for some special and smart presents for our friends and family members. The task gets complicated when you don't have any interesting idea about a gift. Besides numerous expenses are almost inevitable. Don't bother yourself. I'd like to give you some useful recommendations about some great Christmas presents which are suitable for both men and women.

1. Charm Bracelet
Such present is a nice idea to recollect the charm bracelets which we had at school. At that period we had a great joy exchanging charms with our friends. But speaking about adults I don't mean exactly those charm bracelets. You can neglect this idea for a Christmas gift but I think it will be really filled with great and positive emotions. The charm bracelet which you choose for your friends or relatives can be the reflection of some significant and precious moments of their lives. In such case this present will certainly appeal to them. On my opinion it is a wonderful decision to purchase charms for the person you love and appreciate. You will have an opportunity to buy a different charm every year and make a collection.
2. Supplies for Hobby
I think that the person for whom you choose a present must certainly have some hobby. So buying special supplies for your friend's hobby will be a perfect idea. It is very useful and practical gift. No matter what hobbies your friends have (painting, woodworking, embroidery etc.), you just prepare a bag for them in which you put supplies they will surely use every time they get to work related to those hobbies.
3. Gift Cards
If you don't have any gorgeous ideas concerning Christmas presents for your friends I would advise you to buy gift cards. Maybe they are not so much creative gifts but still worth trying. For some people a gift card can be a marvelous Christmas present as they are provided with something they really desire. This card is the best choice for young people such as teenagers, students and new brides, those who don't have much money available. Gift cards will help you greatly if you decided to make a trip on Christmas.
4. Books
When you buy a present for someone who can't live without reading then certainly think about books. It is the most suitable gift for teachers and students. So make sure to purchase some interesting book for them. But be careful while choosing books for your friends. They should meet their preferences. Taking into consideration that most people nowadays have iPads you can buy an iTunes gift card to fulfill this idea.
5. DVD's
It's not a secret that many people can be pleased with DVD's. That's why you can consider them as a possible Christmas gift. The main point is to buy a genre which will satisfy your friend's tastes. I must tell you that the prices for DVD's can vary significantly. So you should think carefully about the expenses you can make and only after that choose a present. DVD's are easily found everywhere. It won't be a problem to buy a fabulous gift for your special person.
6. Gym Membership
You should be really careful with this idea for a present. For example some people even can get offended when you give them such present. So it's reasonable to clear up if a person really has a desire for such gift. But if you find out that the person likes this idea your present will be incredible. You will enable your friend to start a healthy lifestyle without any hesitations and long preparations. Usually it's difficult for people to do the first step and get motivation. But when someone gives you a gym membership you will not have other choices.
7. Rain Boots
This idea about rain boots may sound strange a bit and even not interesting. I must convince you that such opinion is wrong. You can find a great variety of smart and fashionable rain boots at different shops. We often think about buying a pair of nice rain boots but when it is time we can't decide and leave it just a desire. So it would be great to receive this gift from someone. In any case if you decide to present your friends a pair of colorful and smart boots you will surely make them happy and smile.
8. Magazine Subscription
It is an amazing idea for a Christmas gift! There obviously must be some people among your friends who would be glad to receive such present. I'm sure that everyone likes some magazines. But usually we don't buy them due to their price or just the lack of time can be a reason. Make this splendid idea come alive and buy a subscription to the magazine that your friends or relatives like so much. Give them a good mood throughout the year.
9. Coffee Gift Basket
A great number of people are addicted to coffee nowadays. No doubt you will easily find a person to whom you can give this present. I would recommend you do not buy a pre-made basket. You should make it yourself considering tastes and preferences of the person. What should you put in that magic basket? There is a wide range of things you can choose: various coffee blends, peppermint sticks, syrups, sprinkles, creamers, cinnamon, some sweets and even exquisite teas. To complete your gift buy a lovely cup. The basket is ready!
If you consider these brilliant ideas for Christmas presents it will not be difficult to purchase some lovely things for those you love. Besides you will save your time and money. Which of these things would you like to choose? Tell what gifts you plan to prepare on this Christmas.
Lovely Christmas Gifts