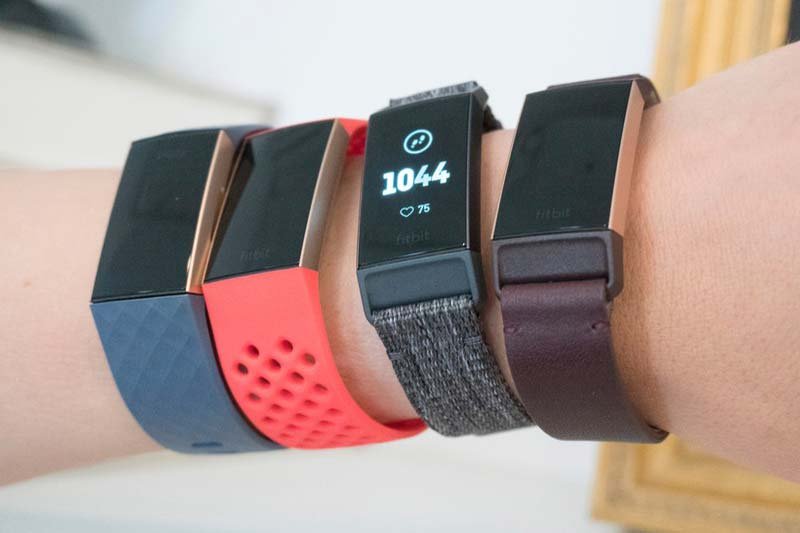 New Range of Fitbit Bands to Up Your Fitness Game : The innovation of fitness tracker continues to progress, trailing on the features of smartphones. From the humble pedometers came more compact, advanced, accurate and more user-friendly bands capable of monitoring your health and activities.
Fitbit were one of the first to introduce powerful devices that are lighter, sleeker and came with the ability to connect with other smart devices, namely your phone. But the innovation doesn't end there as the company develops new and exciting wearable fitness tech perfect for men and women alike.
Introducing the new range of Fitbit bands, that can step up your fitness game and a lot more. Before proceeding, however, you can also visit Mobile Mob to check out the details of the latest Fitbit Sense smartwatch first.
Fitbit Charge 3
The difference of this newest device from its predecessor is huge and a solid upgrade. Retails for $150, the Charge 3 has a bigger display with an actual touchscreen that responds to multiple taps and swipes. It is also water resistant up to 50 meters and equipped with the swim-proof feature, perfect for people who engage in a variety of water activities.
Design wise, the Charge 3 has a new aluminum body and Gorilla Glass 3 screen. The physical button from the predecessor has been replaced by an inductive button similar to Apple's smartphones.
The highlights of this newest device are probably the longer battery life up to seven days and the SpO2 sensor that can diagnose sleep apnea. In addition, there's also a new goal-based exercise mode which lets the user set a specific time, calorie and distance goals ahead of a workout.
Indeed, this new device is not like any ordinary fitness band in the market. Its way above standard performance, coupled with numerous features and improved design.
Fitbit Versa
What makes Versa unique is the female health tracking feature, which lets women log their period cycle and get insight into their fertility and potential health conditions.
Aside from the personalized exercise goals, this watch also has friendly reminders to let users be motivated and active. Texts notifications, calendar reminders and other apps can be viewed by a crisp, bright and clear screen resolution of 300 by 300 pixels.
Fitbit also provides Coach App trial, which is a personal training feature for users. There are workout suggestions and routines personalized to every person's unique body goals and requirements.
Overall, the Versa allows tailored health and fitness guidance, 4-day battery life, quick-replies feature and phone-free music. It's the perfect on-the-go watch for people who wanted to do and be motivated to workout and exercise.
Fitbit Ace
Designed for kids ages eight and above, this fitness watch draws the line between an ordinary watch and a health tracker. With these wristbands being waterproof, kids are able to monitor their progress and improvement when performing water-based sports and activities. The number of steps is also tracked plus the quality of sleep.
In addition to the child-friendly design and adjustable bands, kids can also be motivated to move with celebratory messages when goals are reached.
Being active and healthy doesn't need to be complicated and pricey. Check out these affordable Fitbit bands from Harvey Norman to get started on your fitness journey.
Fit Bit Wrist Bands Amazing Features
FitBit offers users a lot of impressive features that are beneficial for everyday life and not just in respect to health and fitness. These benefits are well explained and discussed below.
Health Information and Data

The FitBit wristband functions as a simple gadget is well fitted around the wrist to track workouts and some body activities. While it successfully does that, the gadget also offers the ability and capacity to give some hidden health information and data that are relevant to every individual.

For example, FitBit wristband measures the heartbeat rate, length of sleep and many other information that are can determine how healthy an individual is. These data is helpful because it serves as a signal to bad health and the need to seek medical attention and assistance from relevant medical personnel.

Accuracy and Precision


Features such as accuracy and precision are of great benefit when users consider a brand of wristbands to buy and choose over many others in the market. The ability of a wristband to accurately monitor every steps taken and movements made by an athlete in a gym, at home on a treadmill or on the street working out is highly desired and when most wristband of different brands fail to achieve the accuracy feat, FitBit wristbands got it right with absolute precision that got many users very excited.

The FitBit wristband offers a very sharp real-time accuracy that detects the smallest movement of your body in any exercise or work out section. You never need to worry about accurate tracking when using any model of FitBit wristband.

Motivation to do More


There is absolutely nothing that motivates and encourages than to be well tracked by a tracking device that tells you what you have achieved so far in your fitness program goals and objectives. Most people undergoing a daily fitness training to get fitter and better as athletes require the perfect wristband tracker to give them the desire to do more and achieve better feats.

For individuals working out to burn out calories and fats, there is no other motivation than noticing a positive change through a wristband tracker that is dependable. This is what the FitBit wristband tracker offers to users. It helps you get over the edge and do more through effective and flawless tracking of your exercises and workouts.

Robust Analysis through Improved Data Capture and Storage.

Coaches and fitness trainers at the gym or anywhere are as concerned with their trainee's fitness development and achievements as the trainee is concerned. They also get motivated by the data and more important get clear about what next is needed to be done at every stage of accomplishment. This analysis is well done and explained when the data collected from a series of daily exercises are accessible and read by third-parties like coaches and trainers.

The FitBit wristbands have a feature and function that supports this through a well- managed data and information processing and storage that makes it easy to access. Data and information of workouts can be transferred to online accounts of each user when wristbands gets service from a near FitBit station and this can be accessible from phones and personal computer. This is another very intuitive feature of the FitBit wristband.

Great Battery Life


Great and exciting features are beneficial and serve good purposes but all depends on the battery capacity and life of any wristband to deliver them. You certainly do not need a wristband that passes out in some few hours after you move out to jug on the street neither do you desire one that captures all the day's data only to die off before sending them across for you to see or assess.

The FitBit wristbands are made to last longer than any other brands of wristband tracker with the 3 days battery life that is available on all its models till date. With the FitBit wristband, you certainly do not need to worry about carry another power source while working out because you are indeed well covered.

Light Weight and Simple Design


The weight and design of any wristband tracker is an important factor to consider because they determine how well a wristband will perform its tasks. Athletes and individuals working out are basically using a considerable amount of energy and adding another weight will be discouraging. For wristbands that are a little heavy, it discourages and weigh down individuals wearing them.

FitBit wristbands are made to be very simple, light weight but very effective and efficient. An individual wearing any of the FitBit wristband models is assured of no extra or added weight that causes discouragement and stress.

High Storage Capacity and Other Features


The FitBit wristband comes with high storage capacity to store up to a week's worth of work out data and information of users. This is of immense benefit for every user. It also boasts of some other very exciting and great features that are not found in wristbands of other brands. These features surpass user expectations of what a wristband tracker should be because it goes beyond it.

The FitBit wristband offers models that come with touchscreen display, weather reports, built-in GPS, water proof and swimming proof features. All these makes for a great and effective wristband provided by FitBit.
In conclusion, the Fit Bit wristband is the most effective gadget for all fitness freaks, from the seasoned professional to the casual jogger. All that is needed to monitor fitness progress, data and information of every exercise is a FitBit band that accurately records all activities for proper analysis while you also enjoy the best of other features and functionalities.
Related Videos for Fitbit Bands to Up Your Fitness :
How to Use Fitbit Charge 2 in the Gym
Review: FitBit Flex Fitness Band
Fitbit Charge 3 Hands-On: Better controls come with a trade-off
Fitbit Alta HR Fitness Tracker – REVIEW
Fitbit Versa Unboxing + Metal Mesh Premium Band First Impressions!
New Range of Fitbit Bands to Up Your Fitness Game
Fitbit Bands to Up Your Fitness